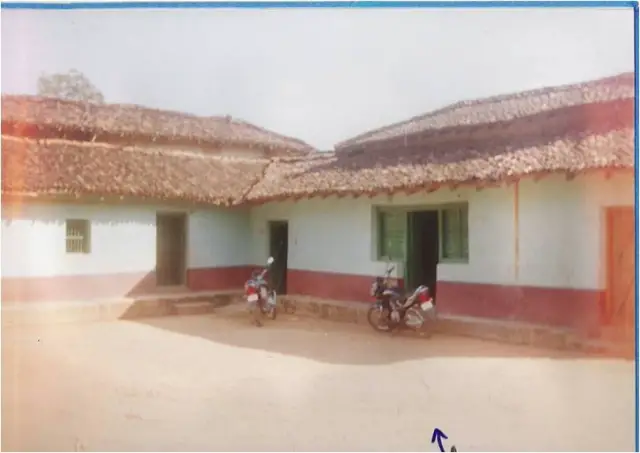 Dwelling is located in the village Kalyanpur in Chattisgarh.
ABOUT CHHATISGARH
Geography – Present Chhattisgarh came into existence on 1st nov. 2000. Extracted from Madhya Pradesh.
Main city – Raipur, Bilaspur, Durg.
Climate – the tropic of cancer passes through Chhattisgarh. Hence the northern part gets warmer after 2nd march. During this time the temperatures in southern districts remain high. It is a region of high rainfall.
Front façade of the house.
It has a lot of empty space known as "bayara"
Roofing:

The roof is mainly made of bamboo hay and "khapraels".
For proper ventilation slits have been provided in the roofing.
There is a verandah next to the front door which is used as a sitting purpose like baithak .There is mud flooring in verandah.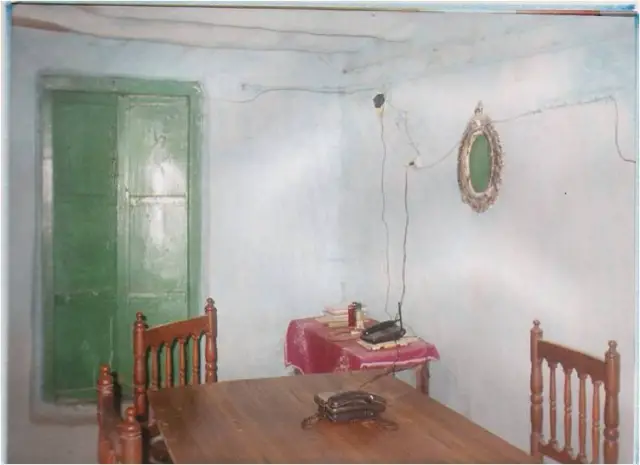 We can see the interior of the house, uses of spaces, wiring ,old furniture of the house. We can seethe level of door which is quite above the ground.
From the verandah there is door to kitchen and bedrooms. Cement flooring is used in courtyard.
Verandah which is used as kitchen ,sitting purpose, around the courtyard ,courtyard is also used for this purpose.
There is a way like a corridor to the gaushala and store. It is used very common for animals.
We can see the gaushala which has no door for animals, the bamboo is used as a tightening purpose. Small window in the wall can be seen.
We can see the floor of gaushala, where animals tied ,floor is very rough. 
We can see the partition in gaushala ,i.e. For animals cant fight with each other.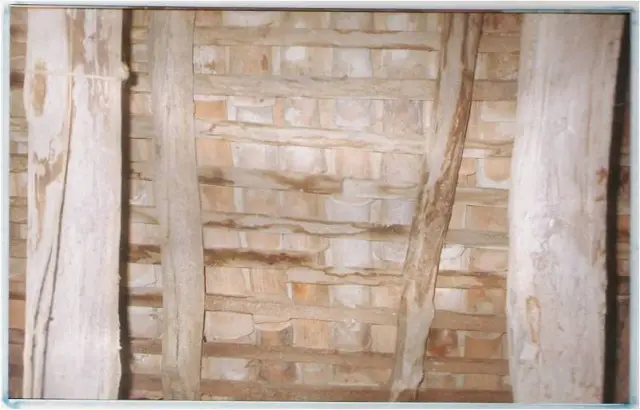 In the roofing matrials used- Bamboo, tiles, mud etc.
TOP PLAN
There is a courtyard in middle of the house.
Empty space in front and back portion.
Location of house from the main road.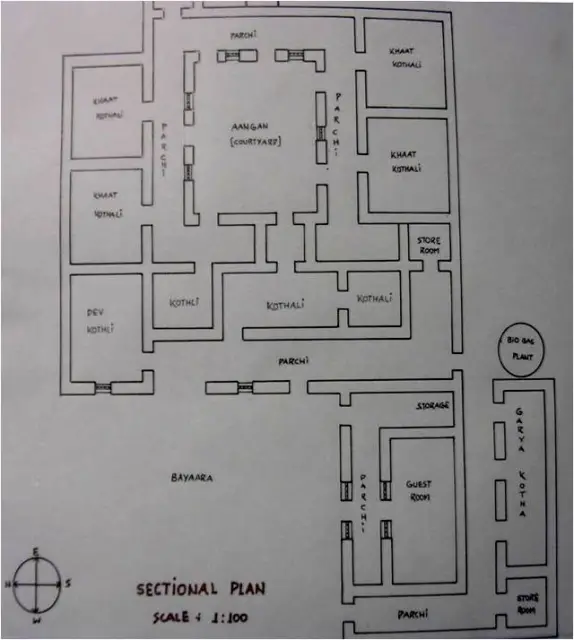 4 Bed room
1 Drawing
1 Guest room
1 Kitchen
3 Extra room
1 Gaushala
2 Store room

Section through courtyard
We can see the activity and the truss ,tiles which is used in the house.