Write For Us - Submit a Guest Post on Our Home Improvement Blog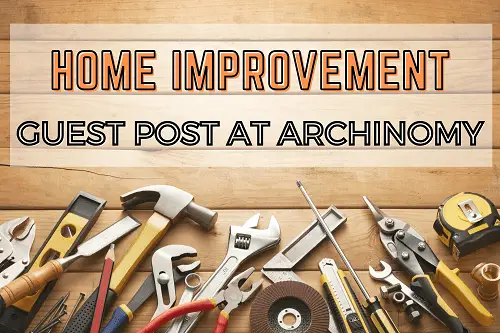 Are you an architect or interior designer with a passion for professional excellence and expertise? Do you own a real estate business or a design studio with valuable experience and insights? Do you have a flair for writing about architectural design and trends? 
If your answer is a yes to any of these questions, we're glad you've reached us. We'll be glad to have your contributions on Archinomy.com.
Why Write For Us?
We expect that your content will contribute new perspectives and ideas to our platform. We highly appreciate such diverse knowledge and expert tips.
We are not specifically looking for celebrity bloggers and influencers. We value new bloggers, startup studios and freelancers with a good potential and passion for growth.
Our website is a great platform to get visibility for your own website and projects. If your content is published on our website, you'll benefit immensely from our huge readership and a loyal following. This is an effective way for building associations and gaining authority.
Guidelines For Guest Post Submissions
Word Count
We accept posts with at least 1000 words
Outbound Authority Links
We accept posts with outbound links, but you'll have to limit to only one outbound link per post. Make sure that the anchor text is not overtly promotional.
Presentation
Your content should be clear and concise. Content presented in clear paragraphs with suitable headings will be appreciated.
Images & Media
We will gladly accept posts with relevant and descriptive images. The images should be clear and in good resolution. If you wish to add video or other forms of media please contact us for specific instructions.
Kindly ensure that the media you've included in the post is original or licensed for royalty-free commercial use.
Submissions
Articles should be submitted by email, preferably as a Google Doc or Drop Box link. We'd appreciate all communications through email.
Acceptable Niche Content Areas
You can share your personal experience with handling home improvement projects. We'd love to have your practical tips in the home improvement guest post about what to do (and what not do).
Architecture (& Exterior Design)
Did you undertake a novel architectural project recently? Your design and construction journey could inspire many budding architects. Your work could also get noticed by potential clients.
Trending interior design styles and decorations are of great interest to our audience. We'd love to showcase inspirational interior design guest posts on our blog. If you have something relevant to share, please do send in your contribution.
Our readers include homeowners and gardening enthusiasts looking out for friendly tips and guides for gardening, lawn care, plants, landscaping or even pest control tips. Your insightful contributions about maintaining and expanding green spaces and plantations are always welcome.
Many of our readers are looking for ideas that could give a boost to the dream of remodeling their old house. If you have some worthy ideas and useful advice in this field, your submissions will be perfect for the guest post.
A huge section of our audience is interested in knowing more about buying and selling property and real estate. If you're directly from the field you can share your expert knowledge with our readers.
We love do-it-yourself projects and so do our readers. You can share your hacks, tips and tricks for anything related to home design and decoration.
Guest Post Publishing Guidelines
Originality:

Your content should be 100% unique and original. We will not entertain any guest articles that are even slightly plagiarized or spun from other articles or websites, even if it's your own content published elsewhere.

Authenticity:

You content should present a conversational tone and realistic ideas. Refer to other posts on our blog to get a hint of the writing style we expect from our guest contributors.

Repetition:

We expect the home improvement guest posts that you submit to bring new topics that have not already been covered on our blog. Any content which appears to be repetitive in theme or topic shall be rejected.

Relevance:

Archinomy.com pertains to home design and decoration, and our readers are interested in only related topics. Although we appreciate varied topics, we will publish only those articles that fall within the acceptable niche areas (discussed in detail before).

Grammar and Spelling:

We shall not accept articles which reflect poor quality and incorrect English. Contributions with grammatical errors and spelling mistakes shall be rejected straight away.

Author Bio:

Our audience expects to know more about the authority and expertise of the contributors. As such we expect you to provide a brief introduction (about 100 words) giving information about yourself and who you work for.

Prohibited Content:

We shall not accept any content that is offensive, inaccurate or inappropriate in any manner.
What Can You Expect From Us?
We receive many guest article contributions and try our best to respond to submissions at the earliest. However, it is not possible for us to correspond with each and every contributor promptly. If your post is selected for publication, we will get in touch with you within 14 days. If you haven't heard from us in the past 14 days, your post has not been selected.
We reserve the right for selecting or rejecting the contributions, and editing or making changes to the selected posts.
Want To Write For Us?
We are happy to know that you're eager to submit a guest post for Archinomy.com. We just want to push a final word to set your writing on the right track for our mutual benefit.
Your writing and content should be smart and interesting. It should reflect your confidence and passion. It should present value to our audience. It should drive the readers to take up a dream project at the very instant.  
So do you have it in you? Can your post get the reader to hit like and share?
That's incredible! We'd love to have you on board!
Please submit the form below to reach us.