Robert Venturi was born in Philadelphia in 1925 where he practices now. He studied at Princeton University and graduated in 1947. His earlier architectural career included periods with Louis Kahn and Eero Saarinen.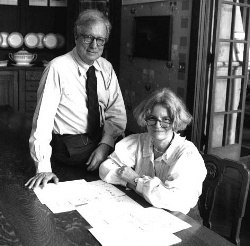 Denise Scott Brown was born in Zambia. She studied at the Architectural Association in London followed by two Masters degrees, in planning and architecture. She has written and lectured extensively, including teaching at the Universities of Pennsylvania, California at Berkeley.
Denise Scott Brown and Robert Venturi met in 1960 and have collaborated ever since, marrying in 1967. Their practice has produced an extensive portfolio of projects, attracting many major design awards. The scale of work ranges through the decorative arts, furniture, architecture, urban design right up to planning. But they are also known for their writing as for their design. Robert Venturi's book "Complexity and Contradiction in Architecture", although published as recently as 1966, has arguably already become a classic.
In 1991 Robert Venturi joined a very select band of recipients of Pritzker Architecture Prize. The jury said "He has expanded and redefined the limits of the art of architecture in this century, as perhaps no other has through his theories and built works."
Their Design Strategies:
Although they are well known as theoreticians, Robert Venturie and Denise Scott Brown argue that theory should not dominate design process. In fact Robert Venturi argues strongly that the "the artist is not someone who designs in order to prove his or her theory and certainly not to suit an ideology" …. "Any building that tries merely to express a theory or any building that starts with a theory and works very deductively is very dry, so we say that we work inductively."
They both feel that designers should be prepared to learn more by copying from the masters, and complain that in recent years, students have been taught not to copy. Paradoxically, Denise Scott Brown points out that they copy ideologies. Robert Venturi says that "it is better to be good than to be original."
Venturi says "You have to have something basic that you either build on or evolve from or revolt against. You have to have something there in the first place and the only way to get it is to copy, in a good sense of the word."
They acknowledge the central importance of drawing in their design process. They consider it essential for designers to have what Denise Scott Brown refers to as "a facility between hand and mind". Sometimes the hand does something that the eye then re-interprets and you get an idea from it.
According to them "People who can draw very well and who control line weight well in hand technique are the ones who use the computer imaginatively".
Robert Venturi believes that even when talking "you suddenly see something else out of the corner of your eye and you think of something you wouldn't have done otherwise." He believes that ideas come quickly and easily while on other projects "the idea only comes after great struggle and agony."
Note: I have sourced the above article from a very good book "Design in Mind" by Bryan Lawson as I found it very interesting and thought it will be beneficial for all to read it.