Glare: It is the sensation produced within a visual field sufficiently greater than the luminance to which the human eye are adapted thereby causing annoyance or loss in visual performance.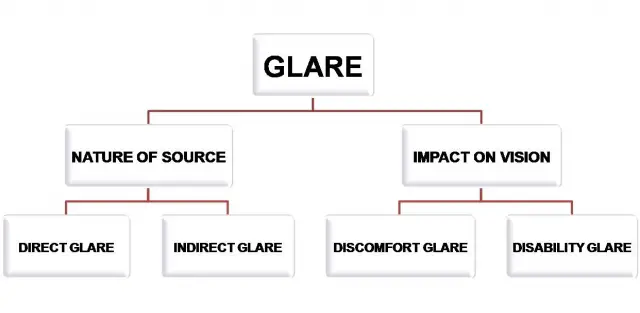 Direct Glare : Most type of brightness conditions directly associated with the source of lighting or the immediate surroundings.
Indirect Glare : Results from specular reflection of high luminance in polished or glossy surfaces in a field of vision specially in close proximity to the visual task.
Discomfort Glare : Does not necessarily impair visual performance.
Disability Glare : Results in reduced visibility.
Visual comfort and efficiency can be ensured by the control of luminance in a visual field.

DIRECT AND REFLECTED GLARE ZONES
The direct and reflected glare zones are generally defined as shown by the diagram below: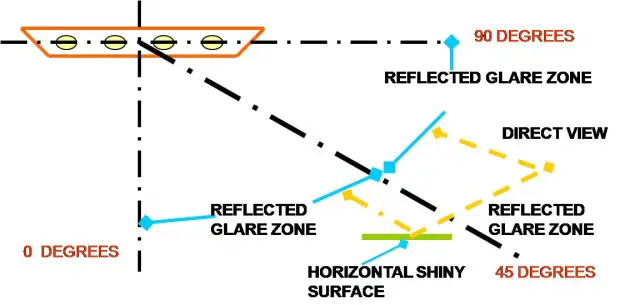 It is evident that there is no sharp line of demarcation between these two zones at an angle of 45 degrees.
FACTORS  CONTROLLING DIRECT GLARE
To protect the eyes from potential direct glare zone the luminaries should be shielded to 45 degrees.

Decreasing the luminance of light sources and equipments.
Diminishing the area of potentially glaring high luminance.
Increasing the angle between the glare source and the line of sight.
Controlled brightening of the surroundings against which the glare source is seen.
FACTORS CONTROLLING REFLECTED GLARE
A lighting unit positioned at A is an inherent source of reflected glare in the desk top, where as at G there is little likelihood of its causing visual discomfort.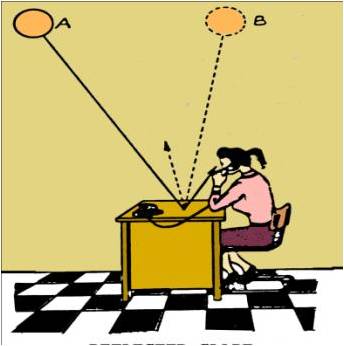 Low degree of specularity (non glossy) of task and surround.
High reflectance of task and its background, but the reflectance of the background should not exceed that of the task.
Systematic positioning of the light sources such that the illuminance on the task comes from several different directions.
Calculated location of work surfaces with respect to fenestration and electric light sources such that the image of the source is reflected away from the observers eyes.
ADJUSTMENT OF DRAFTING BOARDS TO AVOID GLARE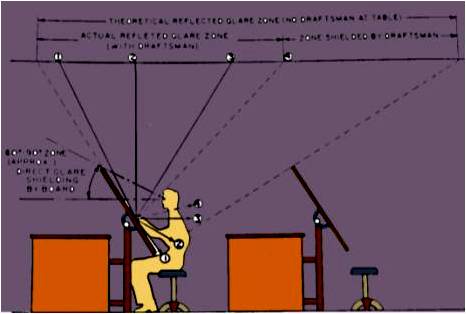 Drafting board should be tilted almost vertically to reflect off the specular reflections towards the floor.
The height thus attained shields draftsmen eye's from luminaries brightness.
To learn more about lighting, visit:
This presentation was created by: Ankita Gupta, Vineet Goyal, Akhilesh Maurya & Biswajit Behra