Source of light  is sun, but inside a building light from the sun may reach in the following ways:
A – Diffused or skylight , ( through window or opening).
B – Externally reflected light ( by ground or other buildings) through the same windows
C – Internally reflected light from walls , ceiling  or other internal surfaces.
D – Direct sunlight  along a straight path from the sun through a window top a given point.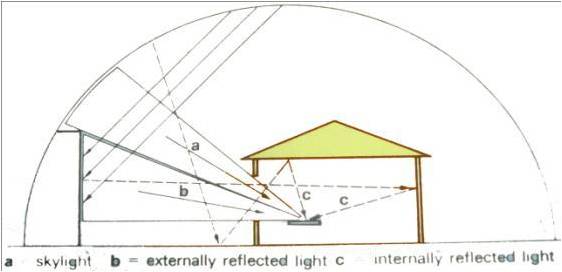 Daylight Factor
It is the ratio of illumination in a given building to the simultaneous outdoor illumination. It is taken as a constant expressed as a %.
Its valid only under overcast sky conditions, i.e when there is no direct sunlight.
D.F = Ei/Eo *100
D.F = sky component + externally reflected component + internally reflected component
Design Sky – It is the illumination value for a particular location evaluated from records of illuamination taken over a long period of time which is exceeded in 90% cases in daylight hours.
Warm Humid Climates
Direct sunlight is avoided for thermal reasons. Bright sky can provide sufficient light but also causes glare.
View of the sky is screened using planters or shading devices. A view of the sky up to 15° from the horizon is permissible.
Daylight must be reflected from ground or blades up to ceiling which should be of a light colour.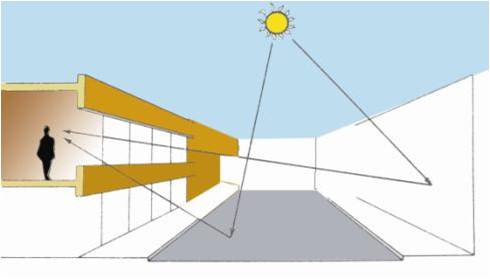 Hot and Dry Climate:
Internally reflected light is the best form of daylighting. The small size of openings and blue skies reduce the sky component in such areas.
Shading devices used should be non reflective and positioned so that they are not directly visible as they can cause glare.
High level windows should be used. Low level windows are acceptable only if they open onto a shaded and planted courtyard.
Strong luminance contrast between a sunlit view and window can be avoided by painting adjacent walls and inside of window frames white.
DAYLIGHT FACTOR FOR VARIOUS SPACES
| | | |
| --- | --- | --- |
| TYPE OF BUILDING | SPACE | DAYLIGHT FACTOR (%) |
| DWELLING | KITCHEN | 2.5 |
| | LIVING ROOM | 0.625 |
| | BEDROOM | 0.313 |
| | STUDY | 1.9 |
| | CIRCULATION | 0.313 |
| SCHOOLS | CLASSROOMS | 1.9 |
| | LECTURE | 1.9-2.5 |
| | LABORATORIES | 1.9-3.8 |
| OFFICE | GENERAL | 1.9 |
| | DRAWING | 3.8 |
| | ENQUIRY | 0.625-1.9 |
| LIBRARY | STACK ROOM | 0.9-1.0 |
| | READING ROOM | 1.9-3.8 |
| | COUNTER AREA | 2.5-3.8 |
| | CATALOGUE ROOM | 1.9-2.5 |
| HOSPITALS | GENERAL WARDS | 1.25 |
| | PATHOLOGICAL LABS | 2.5-3.8 |
To learn more about lighting, visit:
This presentation was created by: Ankita Gupta, Vineet Goyal, Akhilesh Maurya, Biswajit Behra