Nawabi Bunglow of Faizabad (Uttar Pradesh)
FAIZABAD – A Historical Perspective
Faizabad comes into the 'province of oudh'.
The city of Faizabad is 120 km from Lucknow near Ayodhya.
Ayodhya and Faizabad are called the twin city.
Ayodhya is famous for the birth place of lord Rama "RAM JANAM BHUMI".
The city of Faizabad derives its name from the Mughal emperors.
The city is well recorded in Mughal times since it was largish settlements under their rule.
Safderjung consolidated the position of the "Nawab of Oudh". His son Shuj-ud-daula was powerful enough to attract the attention of the east India company.
The Nawab and his successors  till Wajid Ali Shah were great patrons of art and architecture.
Nawab Asaf-ud-daula is responsible for the construction of the finest and grandest monuments in the city of Luckhnow and Faizabad.
BUNGALOWS IN FAIZABAD
Bungalow was the most common dwelling for Britishers in India.
Façade of bungalow reflected the hierarchy and life style of Britishers and Mughals.
Bungalow typology was colonial.
Bungalow style was Mughal.
Four centered arch and ornamentation reflecting the style of Mughal.
Bungalow were generally single storied raised on high plinth, with a flat or sloping roof and surrounded by deep verandah.
The sense of social distance was reinforced with an impressive entry, walls , gates and watchman.
VERANDAH
The main features of the bungalow which allowed to keep the inner air cooler were deep wide verandah on both side.
The rooms opened in to verandah and the doors and windows were louvered to allow cool breeze to come in.
Verandah with four centered arch creating monotony.
PORCH
A wide porch provided for the officers car.
Verandah connected to the porch with two step.
Porch connecting lawn to verandah.
CLIMATIC RESPONSE
Faizabad lies in composite climate.
Summer season
Hot and dry
Temperature rises up to 45 degree – April to june
Winter season – Days are pleasant – Day temp. 18-20 degree
Temperature goes down to 3-4 degree.
Precipitation occurs during June and September.
Annual mean rainfall – 101.65 mm

Response to Climatic Factors:

The building is oriented in east direction facilitate the winter sun.
Holy river "saryu" is 2 KM. Far from site.
No courtyard in house.
Different level terrace providing ventilator opening in rooms and hall.
House is compact in nature.
Walls are thick.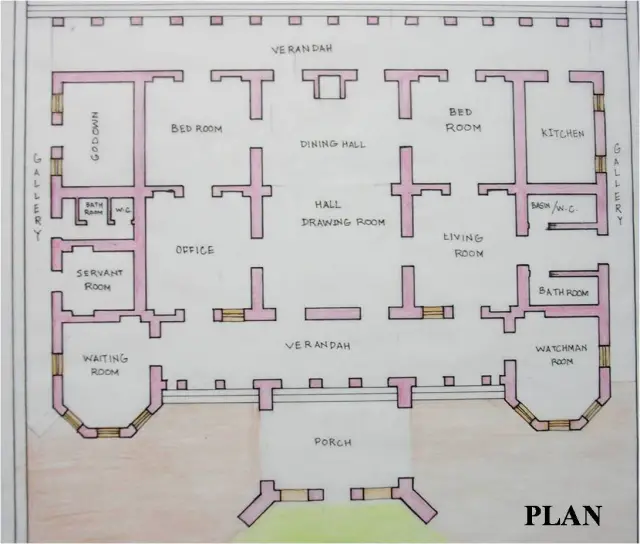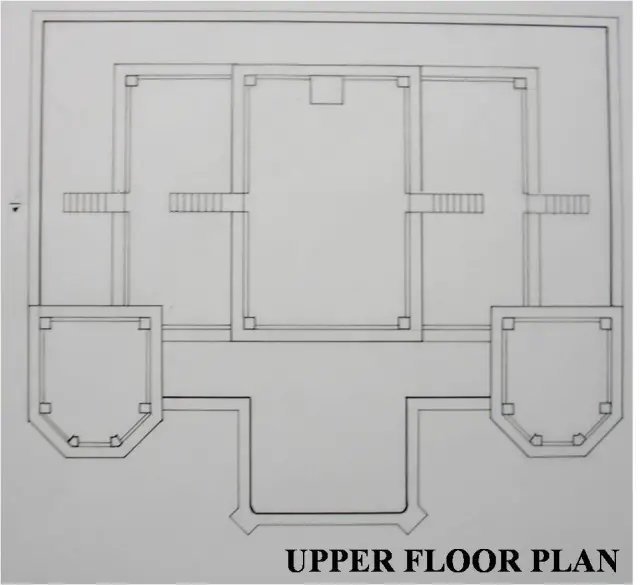 Colonial element and Mughal element are used in combination to create a hybrid architectural character creating the nawabi style.