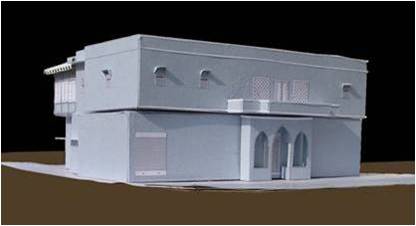 A case-study of Traditional Dwelling of Delhi, India
(Above: Paper Model of the Dwelling)
GEOGRAPHICAL SETTING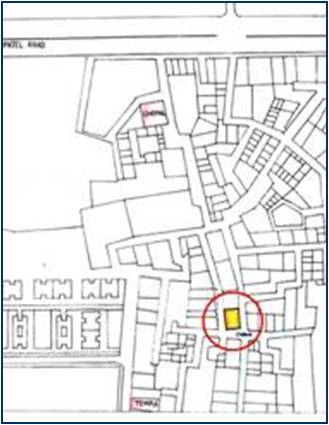 The house is situated in village Khampur that is near to west Patel Nagar in west Delhi.
LOCATION
A narrow street, which is purely residential, approaches to the house.
The village  has dense settlement having external open spaces as narrow streets and houses along both sides.
Streets act as an organizational element and extension of activity space. Junction of streets form a chowk – a meeting place for people where rituals, announcements, panchayats used to happen.
The house is situated in the centre of village along the chowk.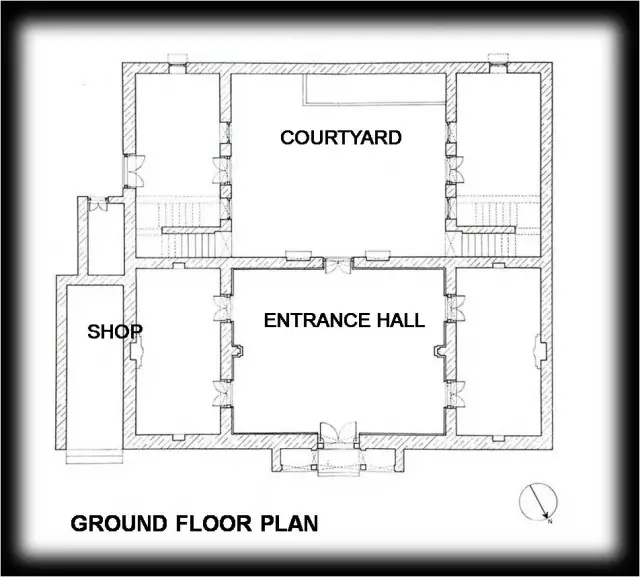 It was considered inauspicious to have plot of irregular form other than square or rectangle.
Therefore, the shop and bathroom on ground floor does not have entrances from inside the house.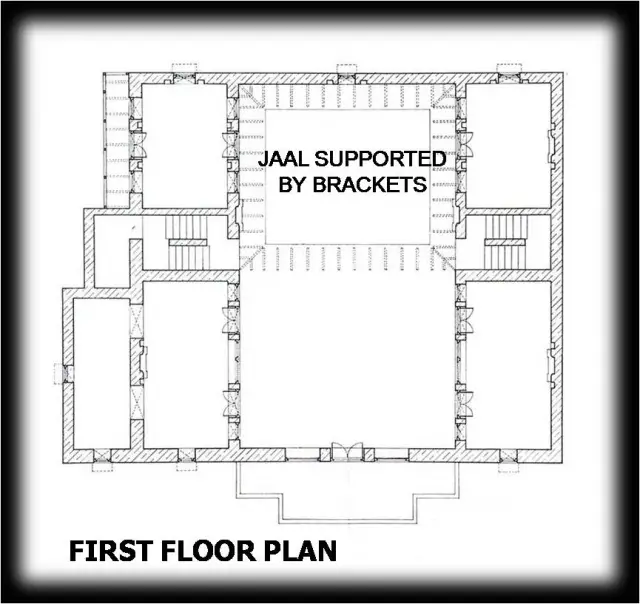 The rooms on east side facing west were used for storage of granary, upplas whereas rooms facing east were used for household activities and sleeping.
The jaal in between the rooms covering the courtyard was used as space to perform activities.
The terrace was used for drying clothes, upplas, and for sleeping at night.
No space was as such specified for cooking.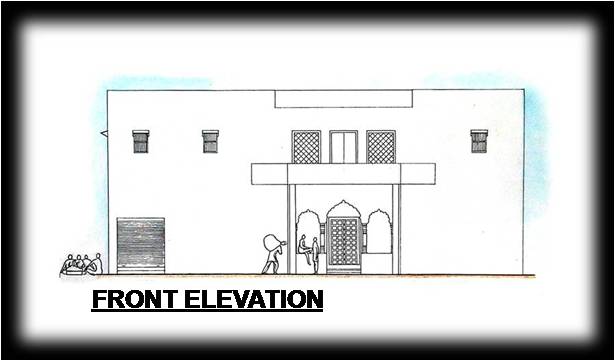 The house relies on a functionally and symbolically rich doorway to proclaim itself to the public.
The houses is connected by two streets through the two entrances out of which one being the elaborate celebrated doorway with cusped mughal arch and chabutras.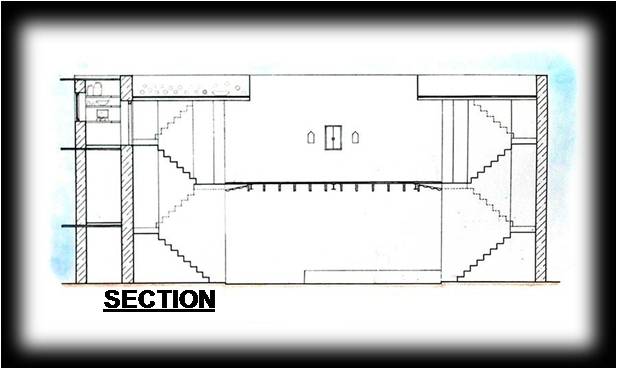 Toilets were provided at the landing of staircase and were uncomfortable.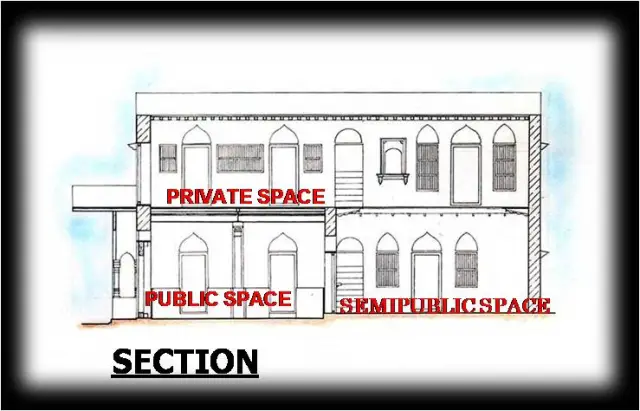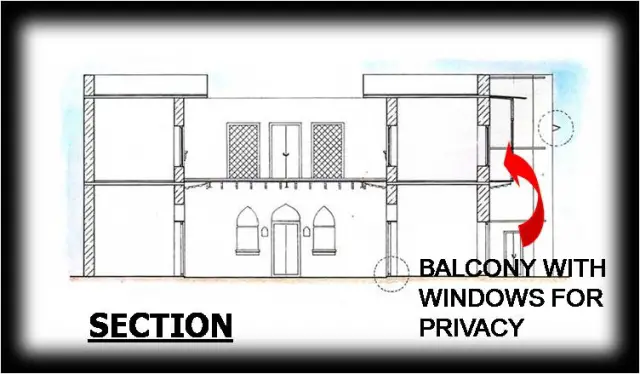 ZONING
Vertical zoning existed in the house.
Since the house was situated along the chowk where rituals and panchayats used to happen, the ground floor was predominantly occupied by males and outsiders and was semi private area whereas the entrance being the public space where males used to have meetings with haukas.
The first floor was used by females and was private space.
Balcony provided on first floor was enclosed by windows for privacy.
No outsider could directly approach the first floor.
CLIMATIC EFFECTS
Delhi has composite climate.
The house is located slightly north of west with the elaborate entrance facing north and the other entrance facing east.
The walls out of stone with thickness of 400-500 mm increase the thermal capacity (time lag) providing cooler environment inside the house.
A large number of openings and a courtyard increase the air exchange rate and promote heat loss in summer and decrease humidity in monsoon.
The chajja acts as a shading device for rooms on first floor. Ventilators, toilets, windows and datts exhaust the hot air.
During evening, air is cool and therefore it settles down creating a reservoir of cool air due to which people prefer to sleep on terrace.
 Shop and bathroom area act as a barrier (baffle wall) and divert the airflow to the entrance leading to the courtyard.
CONSTRUCTION

The house is constructed entirely of stone with wall thickness of 400-500 mm. Badarpur, Satna were used for masonry, which were thoroughly mixed in big chakki, which was moved by cattle.
Roofing was done of stone slab of thickness 50 mm which was supported by wooden planks of cross section 100 mm x 100 mm. In the entrance hall, because of large span, i shaped girder is provided which is supported by ornamented column.
Courtyard was covered by jaal which was provided on first floor was supported by I-shaped girder and stone brackets.
The house speaks itself about the culture, the lifestyle, and the influence of people living there. The built form is the resultant of various factors which include climate, site conditions, family size, movement, need of privacy, need of storage, need for shelter, social interaction, material and technology and many more. The house has the influence of neighborhood houses since tradition is born out of community.
WHY STUDY TRADITION?
Houses being the direct expression of changing values, images, perception, and ways of life become a fruitful study. Different cultures and sub cultures coexist in our cities with consequent need for different housing and settlement pattern.
The influence of man, particularly his personality, in traditional building is less than what we find today, and such influences do not exist individual or personal but of groups.