The Signature Towers project is a three-tower, mixed-use complex that is to be built in Dubai, U.A.E. It was designed by Iraqi born architect Zaha Hadid, after winning an international design competition which included proposals from Rem Khoolhaas among others. It's being developed by Dubai Properties, the company that's responsible for the massive Jumeriah Brach Residences. Apart from these three towers, the project will also include a new building to house the Dubai Financial Market, a large podium containing retail space and a pedestrian bridge crossing the creek extension.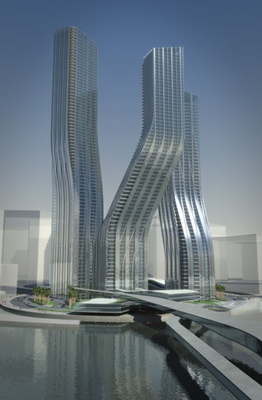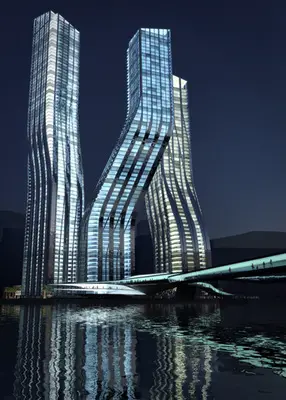 The Signature Towers, formerly named "Dancing Towers" will form the centerpiece of the Business Bay and
consist of one office, one apartment and one hotel tower. The three
towers will be share a common podium featuring retail, restaurants and
related amenities. The office and hotel towers will be connected at the
base, while the hotel and apartment towers will be connected at the
top. The three towers will also be connected together at its top, to
share a panoramic restaurant with views of the Dubai Creek and Business
Bay.
On Level 7, the floor spaces of the hotel and the office towers will
merge to create a link to the hotel business centre with meeting rooms,
office facilities and services for guests.
The residential tower merges into the hotel on level 38, for
residents to share collective leisure facilities, including the indoor
swimming pool and other amenities.
On level 65 of the hotel, the three towers meet again to share a
panoramic restaurant offering spectacular views of Dubai Creek,
Business Bay, Burj Dubai Downtown, and the Arabian Gulf beyond. The advantage of conjoining the three towers in one design is to
allow people to live a full day cycle between the offices, residences
and the hotel.
Business Bay is Dubai Properties' 80 million square feet master
development, located along the extension of the Dubai Creek. It aims to
provide world-class environment and infrastructure for global
businesses, as well as a self-sustaining lifestyle for residents.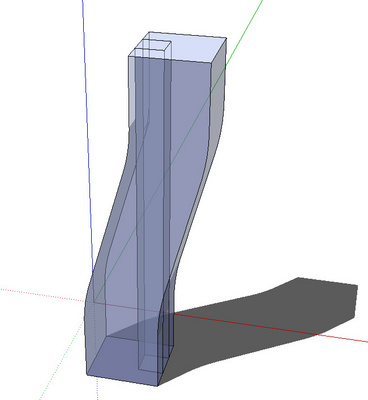 Here's how I think the elevator shafts will work. First of all the
largest tower (the one on the left) will have a normal core going up to
the top. The one on the right will also have a core going straight to
the top but since the tower bends a bit more it'll look more like in
the 2nd pic. The middle tower however bends so much that it can't have
a core going to the top so one will go from the bottom to about 2/3rds
of the height. This tower is connected to the res tower at the top so I assume the top part of the middle one will be serviced by the core of
the other.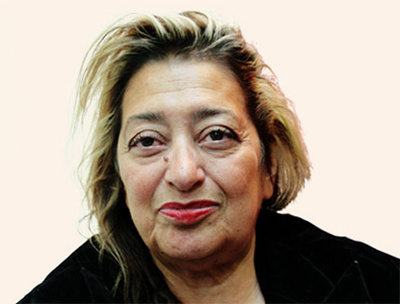 Zaha Hadid was the first woman to receive the distinguished
Pritzker Architecture Prize in 2004. Once considered impractical, her
architectural concepts are now seen in landmark projects across Europe,
North America and Asia.