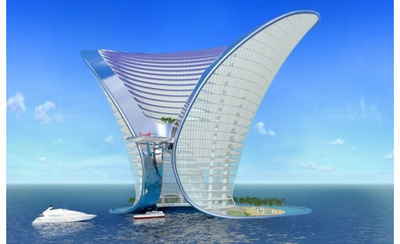 This structure is not officially named. It is designed by Sybarite Architects…
The local public has nickanmed it as 'The Rollmop', 'The Pringle' and 'The Funnel'!
It is a seven-star hotel that will cover a jungle. It feature a two-storey jungle at the top of the 28-storey building. The top two floors would house a temperature-controlled butterfly jungle with tropical species. It is a 28-floor Aperiron building at a distance of 300m from the Dubai coast and is accessible only by boat or helicopter. Accomodating 438 luxury suites, it would contain a spa, an art gallery, and an underwater restaurant with views into a surrounding lagoon.