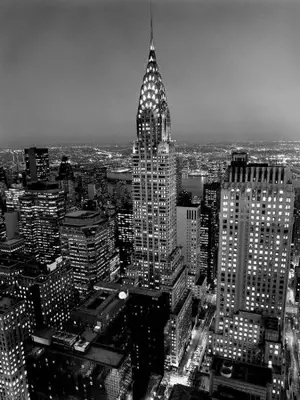 With its spectacular, stainless steel, stepped-dome top surmounted by its spear-like spire, the Chrysler Building is easily the world's most identifiable skyscraper.
For a few months, it was the world's tallest until it was surpassed by the Empire State Building.However, the Chrysler Building remains the world's tallest brick building.
The Chrysler Building is a 67-story, 1,050 foot-high (310 mts high) tower with an observatory with a rather squat glass dome that was to be illuminated
from within at night. It was designed by architect William Van Allen to house the Chrysler Automobile Corporation. It was an example of the ART DECO movement, an international design that was purely radical, elegant, functional and mordern having no political or philosophical connections. The building completed in 1930 was the first building to pass 1000ft(310 mts) mark and was then the tallest building and 2nd tallest structure after Eiffel Tower. The owner Walter P Chrysler fixed a circular spire overnight on top of the building to make it the tallest building in the world, surpassing its competitor, the 40 street Trump Building. But after 410 days, the Empire State Building underwent its scheduled completion becoming the tallest building of the world.
Van Alen's original design for the skyscraper called for a decorative jewel-like glass crown. It also featured a base in which the showroom indows were tripled in height and topped by twelve stories with glass-wrapped corners, creating an impression that the tower appeared hysically and visually light as if floating on mid-air. As Walter Chrysler was the chairman of the Chrysler Automobile Corporation,
various architectural details and especially the corners of the 61st floor are graced with eagles, replicas of the 1929 Chrysler hood ornaments. The basic framed structure of the building was made of steel and concrete and approx 4 million bricks were used to make the non-loadbearing walls. The bricks employed were hite in colour. The Chryslers Building was the first building to have a Metal Finish, made of silvery rust free steel. What is remarkable about the stainless steel
cladding is how much of the top it covered and, more importantly,
how original, striking and exotic was its intricate design. The stainless steel cladding was ribbed in a radiant pattern and had
many triangular windows that followed the parabolic curves of
the seven narrow steps of each of the crown's four facades. The top actually consisted of seven intersecting cross vaults covered with metal on the outside, forming  the arches. The interior reception area and the lobbies had wall murals and wall paintings along with granite flooring on the floors. Here are a few pics of the marvellous building…