BATHROOM FIXTURES
Soil appliances
Waste water appliances
Accessories
PIPING 
WCs
URINALS
BIDETS
WASH BASINS
BATHS – bath tubs and jacuzzis
SHOWERS
Accessories 
GYSER
TOWEL RAIL/ TOWEL RING/ TWIN HOOK
SOAP DISH/ LIQUID SOAP DISPENSER/ ODONIL CONTAINER
GRAB BAR
TOILET PAPER HOLDER/ TOOTH PASTE HOLDER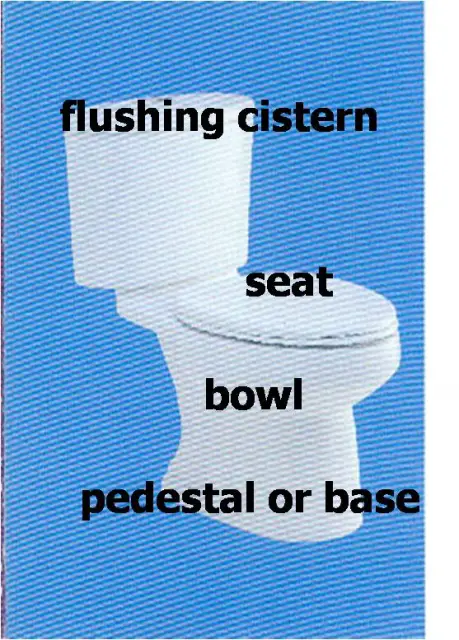 Water Closets
PANS
SEATS
seat with cover,combination closet with footrest, without footrest
FLUSHING CISTERNS
DISCHARGE OUTGO   
Classification On The Basis Of Pans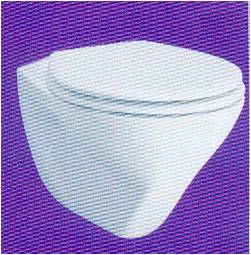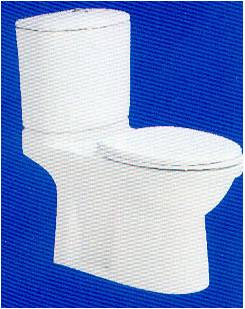 Western
P trap
Concealed piping
Space saving
Both S and P traps
Piping not concealed
Indian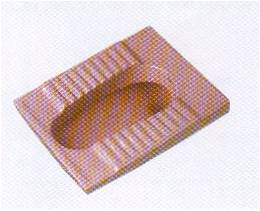 Classification On The Basis Of Seats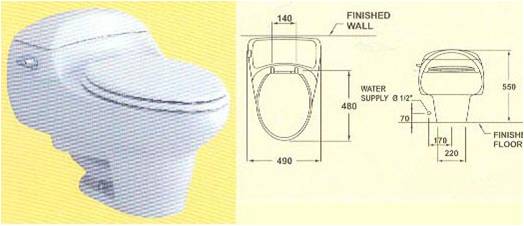 Seat With Cover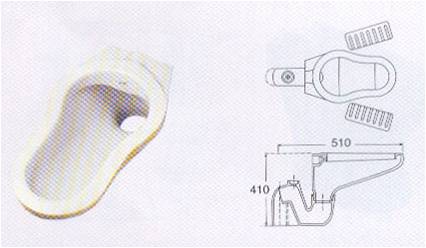 Without Footrest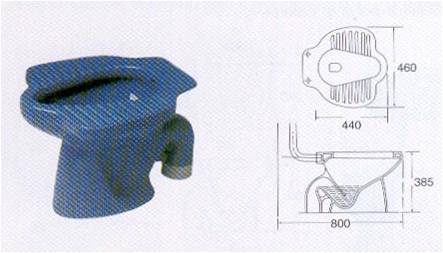 Combination Closet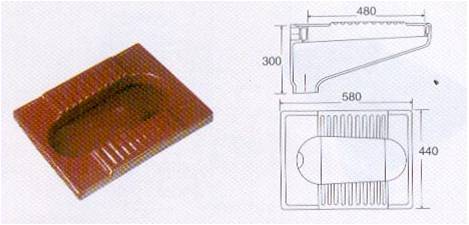 With Footrest
Classification On The Basis Of Flushing Cistern
Manual flushing system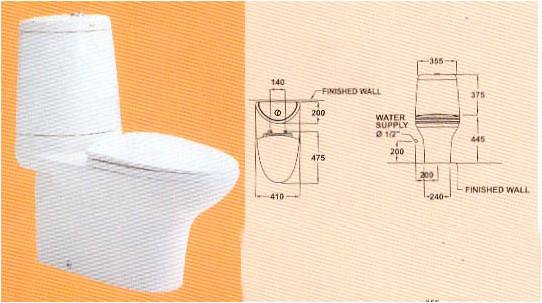 Maintenance easier
Allows adjustment of water to an ideal level to ensure water saving
Chain pull
Pushbutton
Handle
Automatic flushing system

Infrared Object Lock Technology.
Matches flushing needs with optimum water conservation,
Ensures Urinals & Toilets are always flushed
Auto Flush


Adjustable water settings that can reduce water consumption by 50%
Vandal resistant top mount & solid metal construction
Infrared Technology
Adjustable distance settings
Optional Pre-Flush
This innovative system reduces major points of cross-contamination and ensure that urinals and toilets are always flushed, clean odor free and presentable.
Pressure-flush Toilets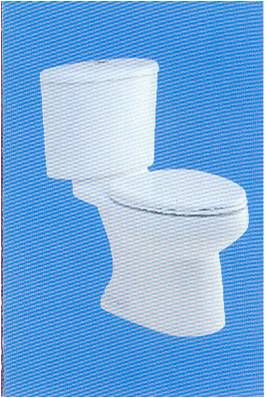 Turbo Toilets 
it injects pressurized water into the bowl and only take a few seconds to flush
two handles to select either a moderate 1 gallon  or a stronger 1.6 gallon flush.
Pressure-flushers have a lot of power
Drawbacks
Noisy
some need electricity to run
more splashing in some cases, they average up to 50% more than a comparable gravity toilet.
Setting Water Closets
Closet Flange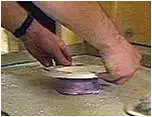 The fitting that connects the toilet to the waste pipe is the closet flange
To install a closet flange, dry fit it into the waste pipe so it sets level on the floor. Glue it into place so the slots will line up with the toilet bolt holes.
Most toilets are assembled in two pieces: a bowl and a tank.
The bowl is installed first and  then the tank.

NOTE:
The closet flange should be plugged with a rag. Or the flange may have a plastic "seal" in its center. So that sewer gases are blocked until the toilet is set.
Removing Toilets

If the toilet is two-piece, unscrew the two nuts under the tank and remove it. Unscrew the two closet flange nuts/bolts anchoring the toilet to the floor.
Lift the toilet bowl off the flange and stuff a rag in the drain to prevent sewer gases from entering.
Urinals
Bowl
Stall urinal
Bowl urinal
squatting
Flush
Hands free- electronic sensor based
Integrated units
Manual  cistern
Partitions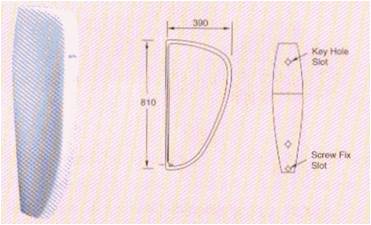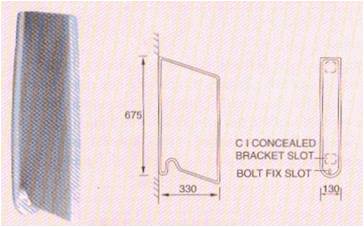 Urinal – bowl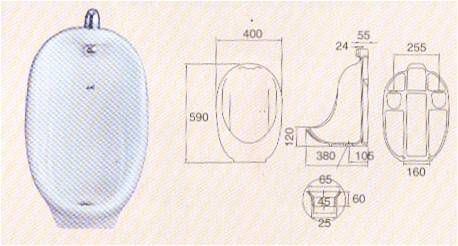 Stall Urinal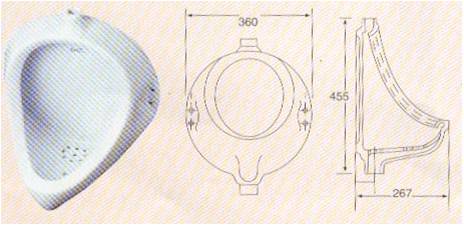 Bowl Urinal

Squatting
Advantages
Economical
Resistant to vandalism privacy
Disadvantages
Laborious to clean
Lack of privacy
Frequent cleaning
Uncomfortable
Bidet
Bidets  are appliances  for washing  excretory organs

Components
Glazed  ceramic pedestal  bowl
Flushing rim
Overflow connected to a  waste
Inlet for spray – rises from  bowl or a hand held spray
Wash Basins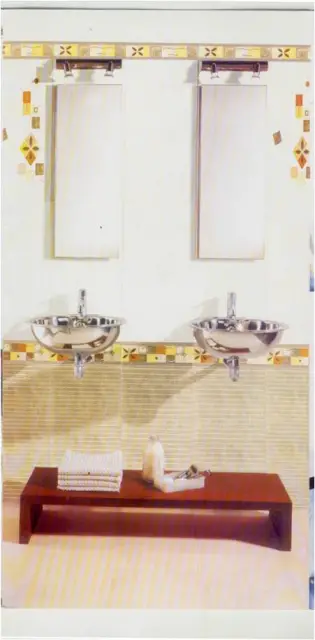 Comparision on the Basis of Material
Basins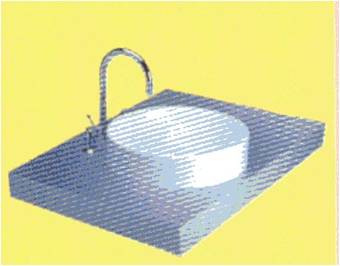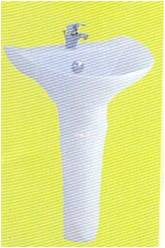 Wash basins are designed for washing the upper part of the body.
Components
Bowl
Soap tray
Outlet
Water overflow
Holes for fixing taps
Supports
Pedestal  consists of a basin and a pedestal that is screwed to the floor  on which the basin is mounted . The  pedestal is to hide the trap, service pipes. They don't provide a bathroom  with countertop space nor storage, but create more space.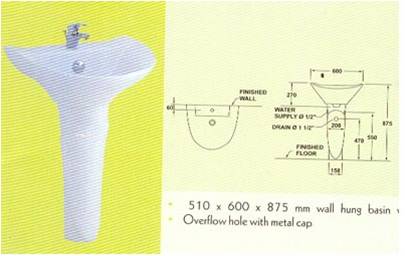 Counter top is fixed on cast iron brackets screwed to wooden plugs in the wall. Under counter models utilize fasteners to hold the sink in place below the countertop's surface.

Installing Pedestal Sinks


The sink mounts to a bracket on the wall and also sets on the stand
Mount the wall bracket for the sink and check it's level.
Position the stand and test fit the sink on both the bracket and stand.
Drill a hole and fasten the bolt with a nut under the subfloor or mortar it in, then secure the stand
Installing Counter Top Sinks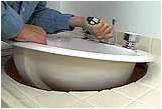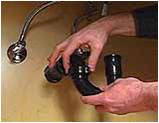 Cut the counter top opening if it isn't already.
Set the counter top over the lines and against the wall.
Check that the cabinet is setting level/square and secure it in place
Installing a counter top is an excellent way to get more storage and counter top space.
Pillar cock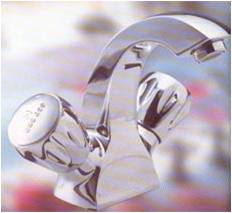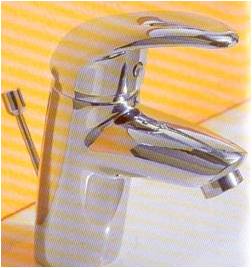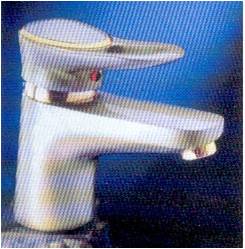 It is designed to be fitted to the bath, basin or sink it serves, with the supply pipe connected vertically to the base of tap. It has to be rotated 90° to draw water. These also include mixer taps which mix hot and cold water.
Bib cock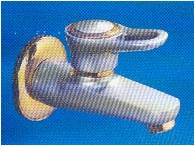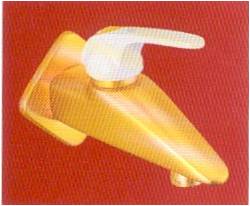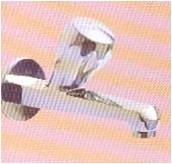 It is designed to be fitted at the end of a pipeline to open to discharge water. The supply of the bib tap is in line of the pipe line. This type is fixed above bath , basin or sink it serves .
Quarter turn cocks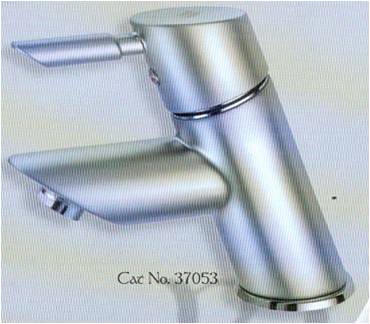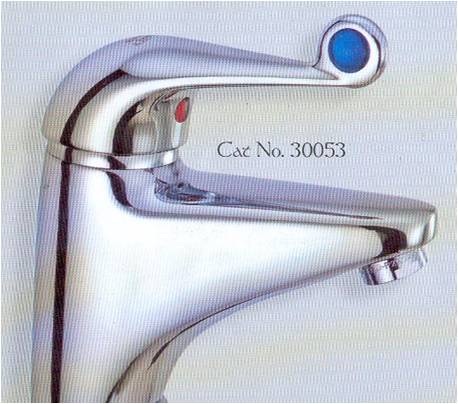 The  quarter turn cock contain two discs . The lower disc is fixed and the top disc can be turned through 90° . When the two holes coincide with those in the bottom fixed disc, the water flows. A lever, when turned or depressed operates a spindle to effect the necessary quarter turn to open the tap for water to flow .
Auto Faucets


Operates by means of a dual infrared sensor and microprocessor based logic.  Design incorporates all of the operating components of the faucet, including the sensor, solenoid, circuitry and battery above the sink within a die-cast metal spout.
Advantages
Increased sanitation & hygiene
The automatic no-touch sensor eliminates cross-contamination.
70% water savings
Bathtubs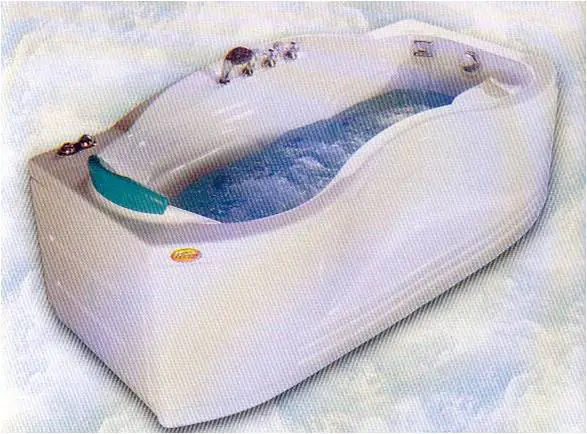 Generally  bath tubs have a rectangular profile to accommodate end and side panels, an outlet, overflow,  holes for taps.
Tubs are made from
composite (a plastic material encased by enameled steel)
fiber glass
acrylic
cast iron
steel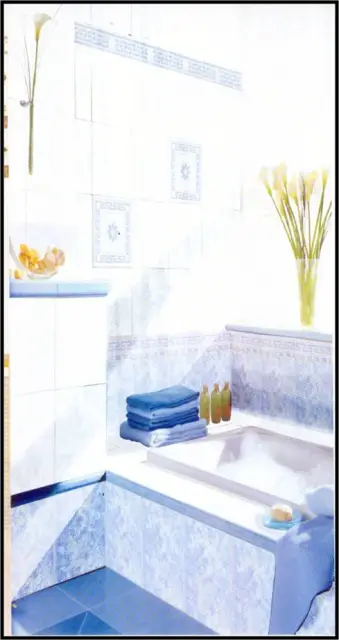 Advantages & Disadvantages
Fiber Glass & Acrylic: large sizes & selection, lightweight — may feel flimsy, scratch easily.
Steel: inexpensive — limited choices, noisy, dissipates heat.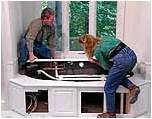 Installing bath tubs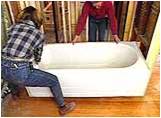 Measure and mark the tub outline on the floor to estimate where the drain will be.
Run a drain line to the soil stack. Dry fit, then glue a tee in the waste line to connect the tub drain and overflow.
Add a trap below the tee and try to locate it between joists.
Jacuzzi
3 Wall Alcove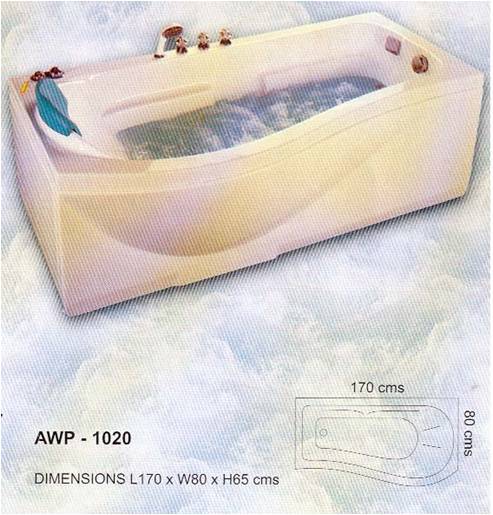 Corner Tub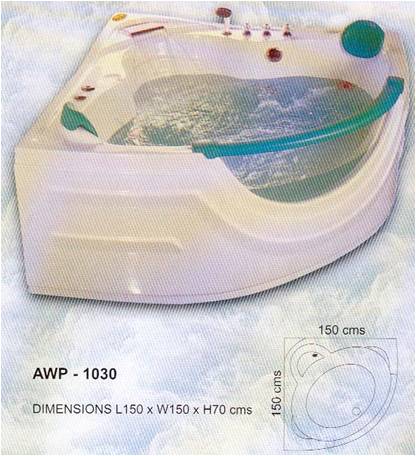 What is a WHIRPOOL? 
A whirlpool is a special type of tub that has circulation jets in various areas. These jets provide a massage to the bather, a very relaxing and therapeutic feature.
The tub is installed against three walls, thus, only one side with a decorative finish.
At least two sides will stand against a wall, and one or more decorative sides will be visible.  
Principle of Air Jets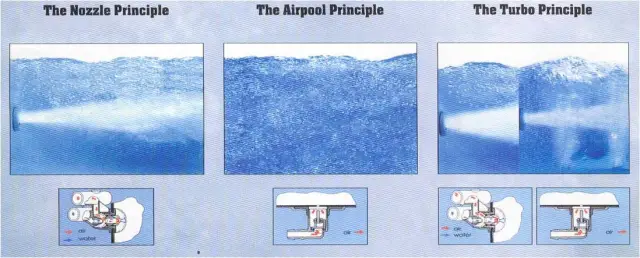 The bath water is sucked through suction assembly using a powerful pump. The water is pulsed through the bath via strategically placed nozzle. Mixture of air and water can be controlled by a turbulence controller
It consists of injecting high volume of air into the bath water through the nozzle which are fitted with non return valve.
It uses the massaging forces of water increased by turbo valve to give optimum bubbling and massaging intensity.
Showers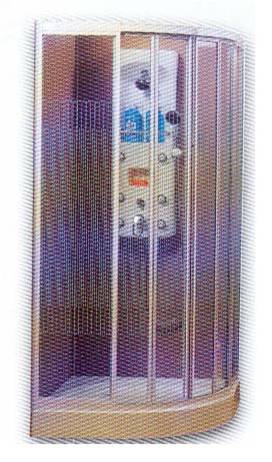 The conventional shower or shower bath  consists of a shower tray or receiver to collect water, with a fixed or hand held shower.
The wall around  fixed showers are lined with some impermeable material (tile) and open side is fitted with  a water proof curtain.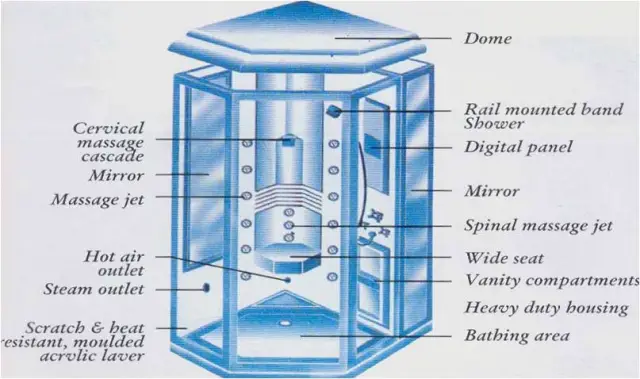 Telephone Showers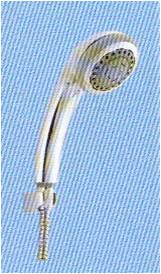 Overhead Showers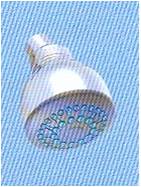 Pressure-balanced valves prevent water temperatures from fluctuating, and two shower heads, 3-way pulsating heads and extra body spray nozzles add more water and convenience.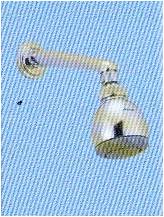 Accessories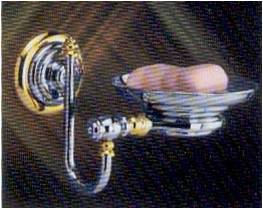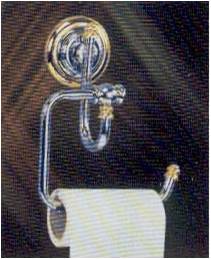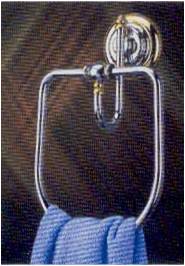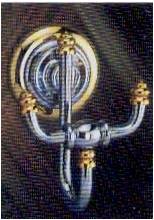 Piping
Traps and waste pipes – for bathrooms and kitchens waste pipes in white black and brown push fit and solvent weld.


Underground pipes – 110mm soil pipes and black brown grey and white available.
Advantages of Copper Pipes
Copper safe guards drinking water against bacteria
Copper resistant to corrosion
Copper pipes offer excellent flow rate minimizing sedimentation from water
Copper pipes are easy to install and durable
Joining Copper Pipes
1st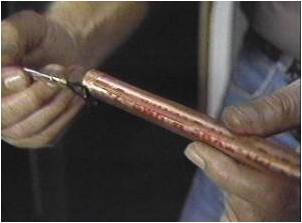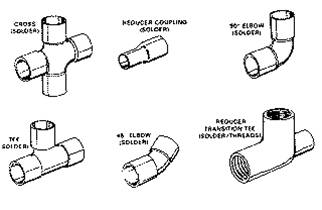 2nd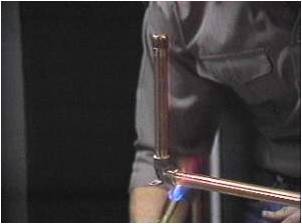 3rd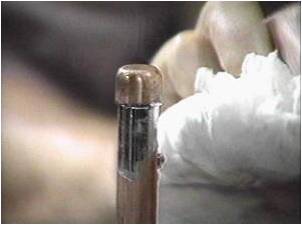 Disadvantages Of Copper Pipes
Babies (less than 12 months old) are most susceptible to copper toxicity, as are people suffering from liver disease or a rare condition called Wilson's Disease
Blue-water (copper corrosion) can appear when water is supplied through and reacts with copper pipes and bitter taste in the water.
Expensive
Sizes of Copper Pipes
Copper pipe is available in a number of sizes commonly:
8 and 10 mm – for use microbore central heating systems
12 and 15 mm – generally for connections to individual taps, appliances etc.
22, 28 and 35 mm – generally for long runs where use of 15 mm piping would cause excessive pressure drop
Plumbing System
Introduction
Plumbing systems are the most important part of the building services. It is essential that plumbing fixage and joints are carried out carefully and with expertise as they have the greatest tendency to leak and fail.
Defects Occurring In Bath Tubs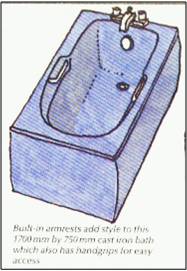 Clogging is common due to dirt particles.
Improper workmanship at the edges of the wall may lead to seepage at the other side of that wall.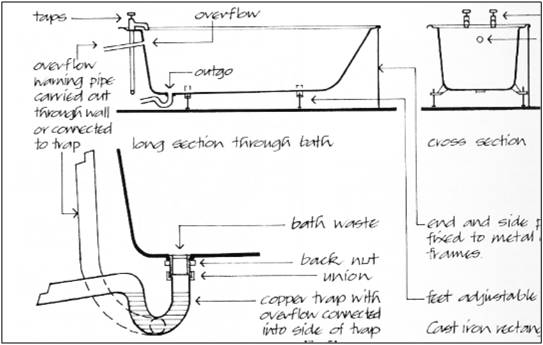 Traps
A trap is a depressed or bent sanitary fitting which always remains full of water. It's function in a drainage system is to prevent the passage of foul gases or air through it. The effectiveness of the trap usually depends on the water seal.
Types of Traps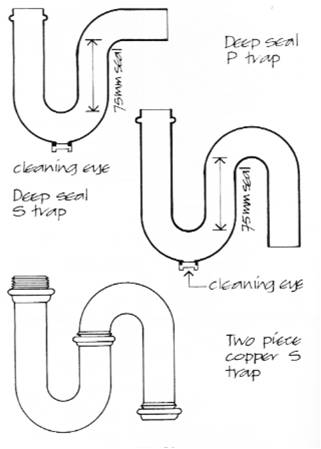 These traps are named according to the shape of the letter they resemble. These traps can be broadly summarized according to their various functions.
Classification Of Traps According To Use
Floor Trap
Gully Trap
Intercepting Trap
Intercepting Trap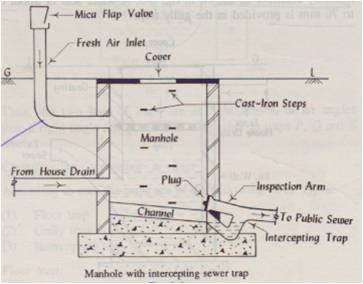 The floor trap is provided in floors to collect used water from floors of bathrooms, kitchens or washing floors.
Grease Trap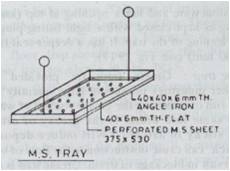 The grease trap is provided in large hotels restaurants or other industries producing large quantity of grease waste with the primary aim of removing the grease content of waste water before discharging into the drain.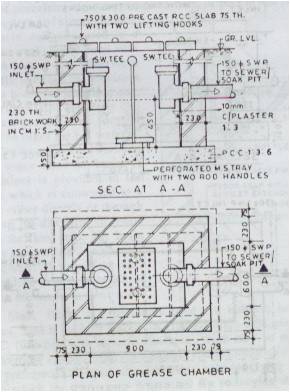 Silt Trap
The silt trap is provided only in situations where the waste water carries large amount of silt, sand, coarse particles etc.
Traps [Examples]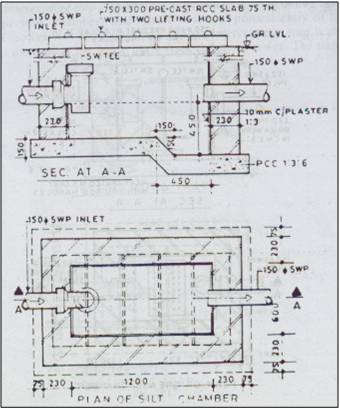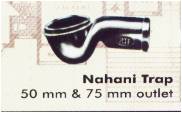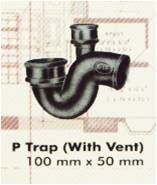 Floor Trap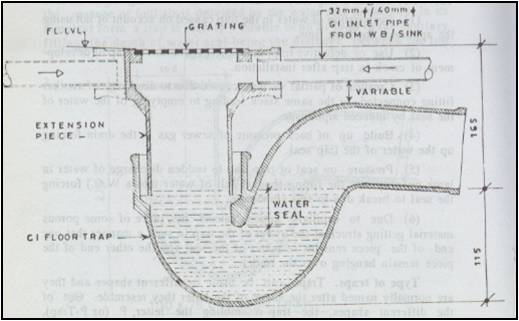 The floor trap is provided in floors to collect used water from floors of bathrooms , kitchens or washing floors.
Leakage Due To Floor Traps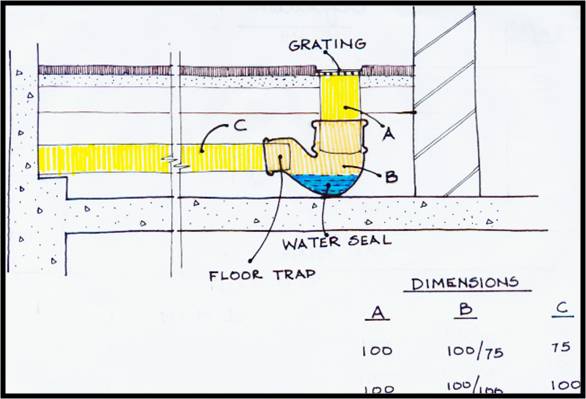 PVC or CI pipe is embedded in concrete.
Due to poor jointing or creep in concrete over the years, leaks may develop.
M-seal or re-applying of concrete is effective.
Illustration Of Joints In A Typical Domestic Toilet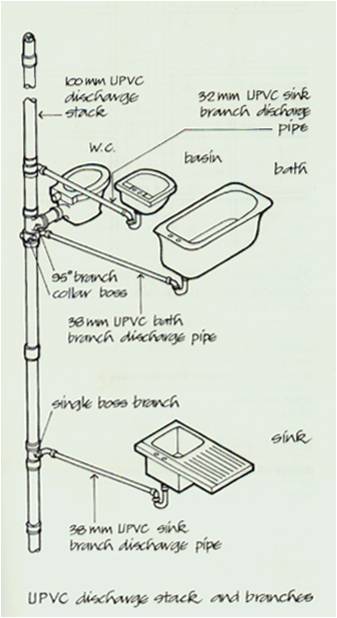 Here we see a single stack system in operation in a house. There is no provision for a separate anti-siphonage pipe ,as for two stories the single stack is quite efficient.
Shaft Dimensions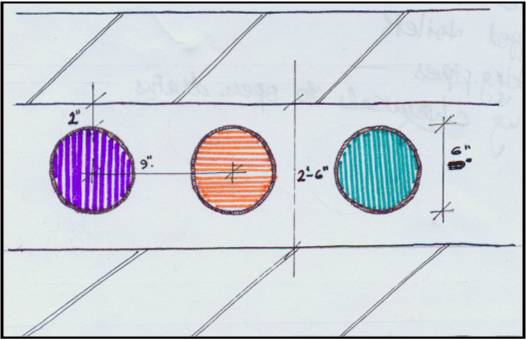 The vertical stacks are placed 2" from the wall.
Centre-to-centre distance of pipes is 9".
The pipe dimensions due to the collar are considered as 150mm
The depth of the shaft should be at least 2 1/2ft
The length is then calculated on the basis of no. Of pipes.
Connection Of Vertical Stack To Wall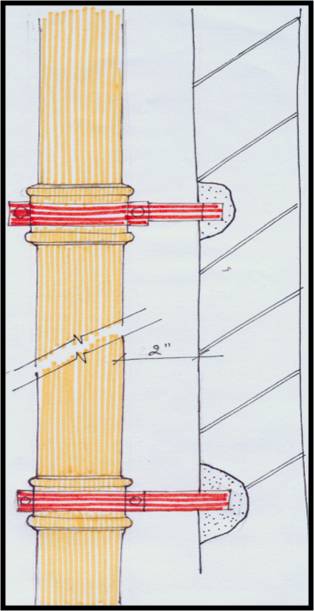 The vertical stacks are held against the wall with the help of clamps.
The clamps go around the collar of the pipe at the junction (6ft)
Selecting The Right Dimension Of Pipes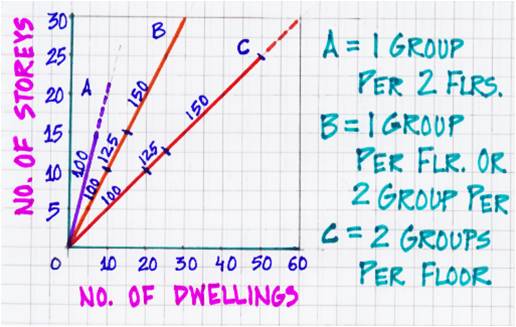 Pipes [Examples]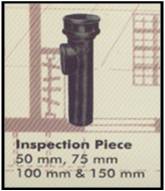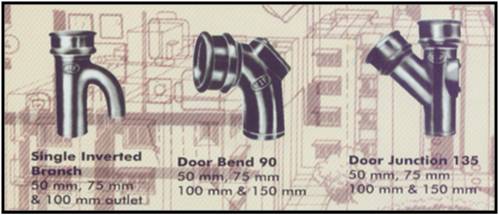 Cowels [ Examples]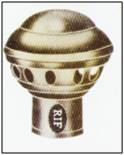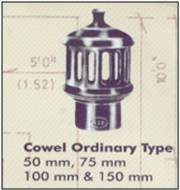 PVC Pipes V/S Cast Iron Pipes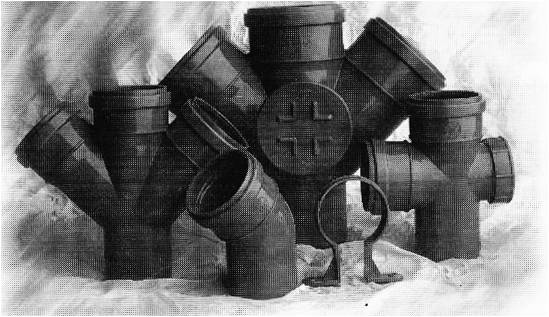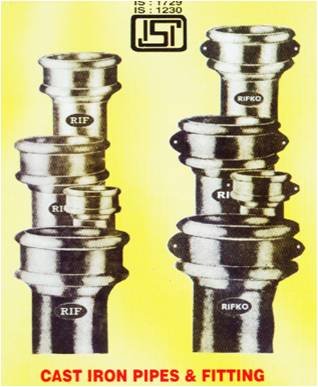 Lighter, easy handling.
Cost (including labor) is RS 450/ rm.
PVC jointing is done using epoxy resin.
Have been in use since for long.
Sturdy. Easy & reliable jointing.
Long lasting.
Cost is more @ RS 700/rm.
From The Gully Trap To The Manhole
Gully Trap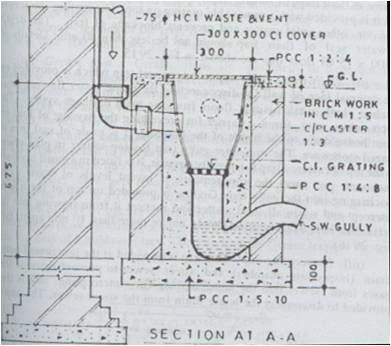 The gully trap is a deep seal trap which is provided on the external face of wall for disconnecting the waste water flowing from kitchen ,bath , washbasins and floors from the main drainage system.
Connections In Gully Trap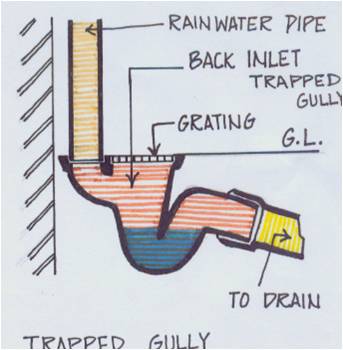 Conclusion
It is difficult to prevent plumbing defects which result in leakages etc in spite of excellent and carefully detailed plumbing . in course of time the building materials undergo settling, contraction and expansion due to temperature variation ,thereby, making plumbing defects unavoidable. Care may be taken therefore by examination of the exposed plumbing after a period of few years and executing appropriate repair work for the same. Sensitive detailing and good workmanship can ensure plumbing which will last for years.