INTRODUCTION
Sign are one of the most important visual communication factors.
Signage is an essential means of way finding.
A comprehensive, well thought out sign program helps direct people to their destinations, effortlessly, without causing aimlessness, confusion or disorientation.
COLD CATHODE LAMPS
Cold cathode lamps are filament-like device known as a cathode at each end of the lamp
Cold cathode lamps are installed in a tubular glass structure

Cold Cathode Lamp
Cold cathode lamps are not preheated unlike typical fluorescent lamps
Require high voltage transformers that have the potential to be noisy and hot
APPLICATIONS
Signage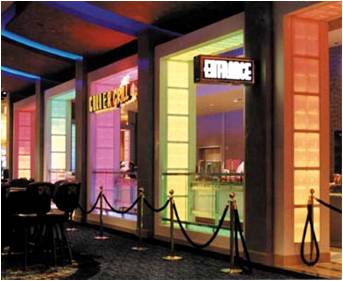 Different Commercial Outlets in South-Ex
Merchandising, lobbies, auditoriums, atriums
Sales outlet
Brand name especially focus.
ADVANTAGES & DISADVANTAGES
Advantages
Fair efficiency
Small size
Custom form to any shape
Many colours
Easily dimmed
Low glare potential
Very long life
Instant on to at least 5o% output
Variety of colour available

Disadvantages
Large noisy transformers require  relatively high initial cost
Inconsistent quality
High voltage cabling issue
Group relamping a necessity for colour
THE INFO PANELS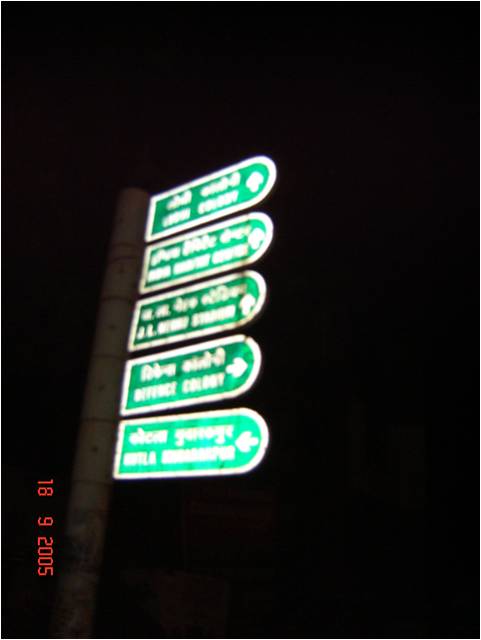 The info panel system provides a fast and simple method of creating either pole, post or wall mounted exterior directories.
Info panels are made from hollow aluminum extrusions and are available in the following depths: 50mm, 75mm, 100mm, 150mm and 200mm.
Colours of the poles and panels can be matched to our own requirements.
Vinyl logo's and lettering complete the sign
C-FIX FINGER POLE SYSTEM
It is an attractive modular sign system for exterior and interior locations.
Used for directional identification or information purposes.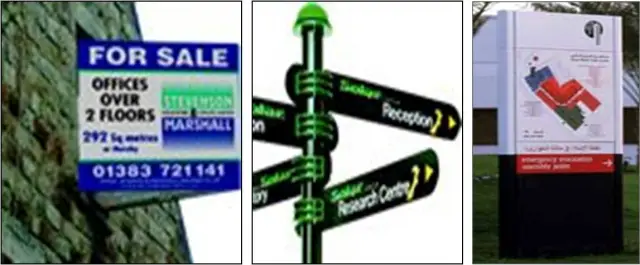 Optional caps or round/rectangle crown panels which are perfect for displaying additional information or advertising
BANNER SIGNAGE
Slat signage- door, wall, projecting, suspended and desk signs are one of the largest scale sign systems of its kind
Aluminum banner display- easy to use free standing system for the display of temporary or permanent information in public spaces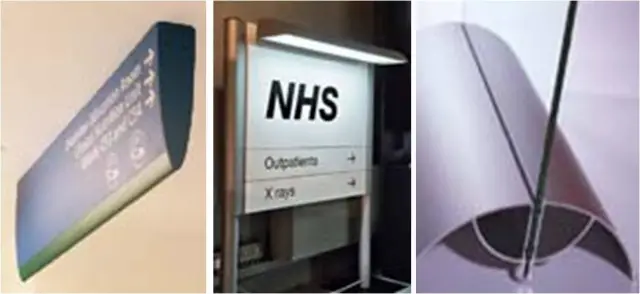 All components are silver anodized.
All banners are PVC vinyl in any RAL colour.
All aluminum composite panels are sliver metallic as standard and also available in black and white
LED
LED as a light source or visual display
LED technology and expect some products which are currently dominated by neon being in fact transformed almost entirely to led illumination.

LEDs have long been used as direct-view mode for indicators and message displays
Highly effective for sign products with monochromatic sign faces, especially red
It is very difficult for leds to compete with exposed neon in terms of "brightness"
NEON SIGNAGES
Neon signs are great for bars, pool halls, pool rooms, night clubs, game rooms, dormitory rooms, restaurants, fraternity houses, pubs, lounges, bowling alleys, liquor stores, malls, and home theaters.

Neon signs can be used in many retail settings.
The ability to transform large amounts of electrical energy leads to a required minimum size to achieve a long lifetime
NEON SIGN
Capable of representing any kind of colors by using fluorescent and colored tubes
Adaptable to any kinds of shapes such as straight lines, curved lines, two-dimensional objects and three-dimensional objects

By computer-controlled flashing devices, all kinds of motion such as simple on-off switching, gradual on-off switching and complex flashing program are possible
In contrast to strong and monotonous forms of light such as fluorescent lamp light, the light emitted by neon signs has a pleasant effect upon people
ILLUMINATED SIGNS
It is suitable for luminaries and signage for large glazed surfaces and small spotlights. Naturally, it also lends itself to accessories, furniture, shop fittings.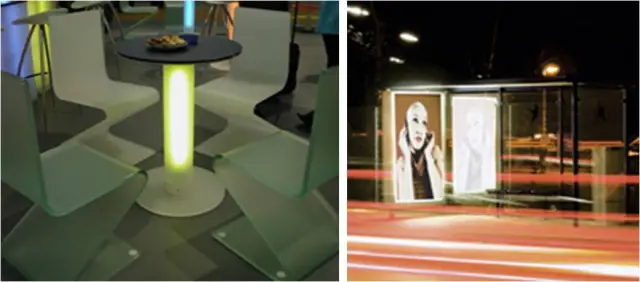 The special molding material leads to soft illuminating and supports a harmonious atmosphere
An illuminated sign can also provide additional benefits by serving as:
Weather-protection canopy shop-window lighting
A time and temperature display
A flexible information board, etc.