ABOUT THE BUILDING
Introduction
Name of the building : PVR Plaza
Location :  Connaught Place , New Delhi.
Renovation Year : 2003
Architect (Renovation): Monit Rastogi, Morphogenesis Arch. Studio
Owner : PVR Group
GENERAL LAYOUT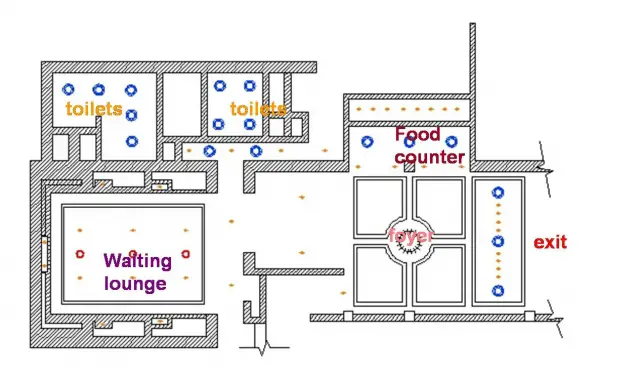 Auditorium
REFLECTED CEILING PLAN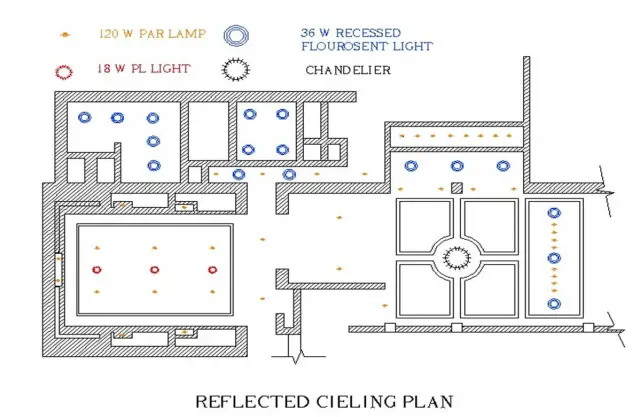 LIGHT FIXTURES AND LUX LEVELS USED IN THE CINEPLEX
LUX LEVEL REQUIRED
| | | |
| --- | --- | --- |
| Space | Level Required | Presently |
| Foyer | 200 lux | Adequate |
| Food Joint | 200 lux | More |
| Staircases | 100 lux | Adequate |
| Waiting Lounge | 500 lux | Adequate |
| Entrance Hall | 500 lux | Adequate |
LIGHT FIXTURES USED IN THE CINEPLEX
Recessed dimmable artlite RL 1759-adjustable-120w- wide angle With black reflector.
Recessed artlite RL1770-fixed-100 w –on emergency circuit.
Recessed type with rosette.
Fluorescent type- 36 w.
150w metal halide light fixture.
Chain light.
18 w pl light fixture.
120 w par lamp.
36 w floor light fixture.
The auditorium is provided with dimmable halogen and simple halogens with latter also being on emergency circuit.
LIGHT QUALITY IN LOBBY
QUALITATIVE FEATURES IN LOBBY
As one enters lobby he finds:
Ceiling mounted lighting fixtures in a circular pattern.
Central light fixture with pasters on the walls.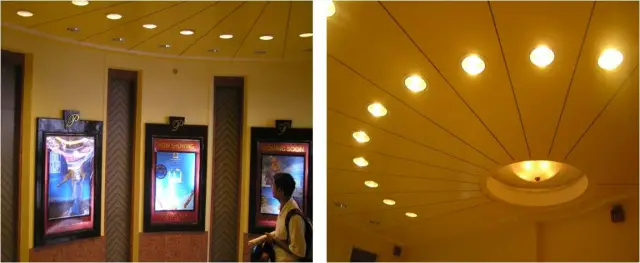 Ambient lighting has been used to highlight the entrance by use of recessed halogens (50 w).
The circular nature create a sense of movement towards the staircase.
Accent lighting has been used to highlight the posters.
LIGHT QUALITY ON STAIRCASES
QUALITATIVE FEATURES ON STAIRCASES
Staircases are adequately lighted with a lot of variation in color and type of lighting used.
All the lighting fixtures are ceiling mounted and recessed or hidden .
Landings have been separately lighted.

A transition state has been created on each landing by the use of yellow light fixtures .
The stairs have been lighted with white light .
Hidden lighting fixtures have been used at certain points to break the monotony of the ambient lighting.
LIGHT QUALITY IN CORRIDORS
QUALITATIVE FEATURES IN CORRIDORS
One experiences variations in the intensity of light as we move towards the entrance .
The side corridor is dimly lighted , the lux level in the front corridor is comparatively higher.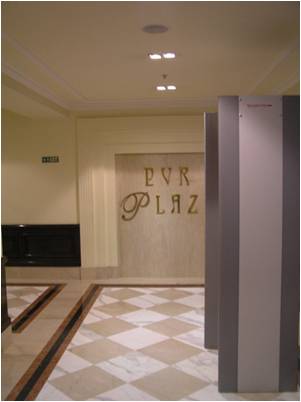 Front Corridor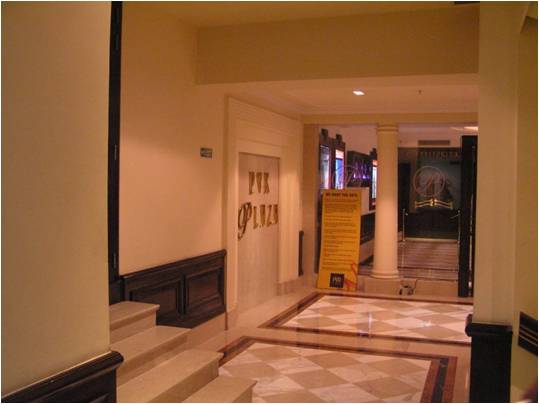 Side Corridor
The changes in the lux levels has been done purposely to accentuate the feeling of being closer to the auditorium.
White light is used in the front corridor to create a soothing environment and to reduce the anxiety level while yellow light has been used in the side corridors.
All fixtures are ceiling mounted , recessed halogens (50 w)
LIGHT QUALITY IN THE FOYER
QUALITATIVE FEATURES THE FOYER
The main foyer is highly illuminated by the use of wall and ceiling lighting fixtures.
Variation in the light intensity can be seen in different parts of the same space .
The food joints have been very brightly illuminated.

Ambient and accent lighting has been provided which also take care of the task lighting.
Chandelier has been placed in the center with ceiling mounted halogens alongside .
The food joints have been over illuminated shifting  the focus towards it.
The reflective nature of the walls , floor and the ceiling helps creating a soothing environment.
There are two types and color of light that have been used in the foyer categorizing different functions.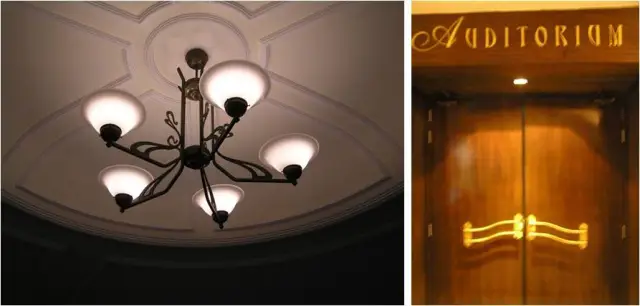 Although the foyer has been adequately lighted , the lighting quality produced by the chandelier creates a different ambience within itself .
Accent lighting has been used to accentuate the entrance to the auditorium in the same space but with different color.
LIGHT QUALITY IN WAITING LOUNGE
QUALITATIVE FEATURES IN WAITING LOUNGE
Each sitting space has been highlighted with white light
Rest of the circulation space has been dimly illuminated with diffused yellow light.

The variation in the light quality is clearly visible within the sitting area and the way the ambient (diffused) and accent lighting has been used , it creates a separate enclosure within itself without any physical demarcation.
LIGHT QUALITY IN WALL DISPLAYS
QUALITATIVE FEATURES IN WALL DISPLAYS
Various type of lighting fixtures have been used for accent lighting of the wall displays in relation to the surrounding environment.

Wall mounted fixtures have been used to focus on the displays .
Different color lighting has been used for getting different effects for the displays.
Yellow light has been used to provide depth to the displays
White light has been used to achieve greater clarity.
ACOUSTIC GENERAL
Acoustic planning should ensure that optimum audible conditions are created for listeners in room where speech and music are to be carried out.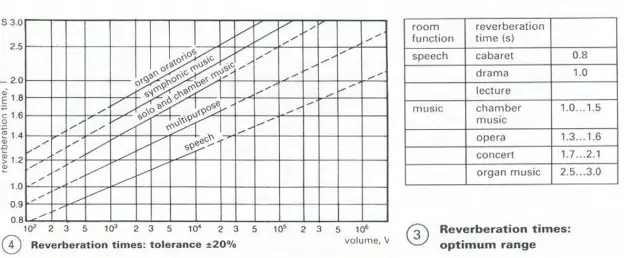 Two important factors considered in acoustic planning are :
Reverberation time: time taken for the decay of a noise level of 60db after the sound source has been turned off.
Reflections as the consequences of the primary and secondary structure of the room.
ACOUSTIC CINEMA
Neighboring auditoriums should be separated with partition walls of approximately 85 db 18-20000 hz.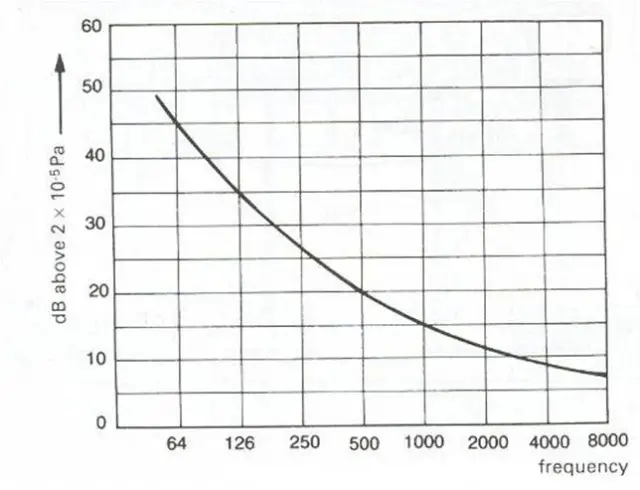 Acoustic deflecting surfaces on the ceiling with low acoustic delay difference time.
The reverberation time can increase with increasing room volume and decrease from 0.8-0.2 secs from low to high frequency.
The rear wall behind the last row of seats should be sound absorbent to prevent echo.
ACOUSTIC TREATMENT DONE IN AUDITORIUM
ACOUSTIC TREATMENT
A double layered gypsum board(2 x 15 mm thick) for false ceiling with 100 mm thick fiber glass(32 kg/cum) .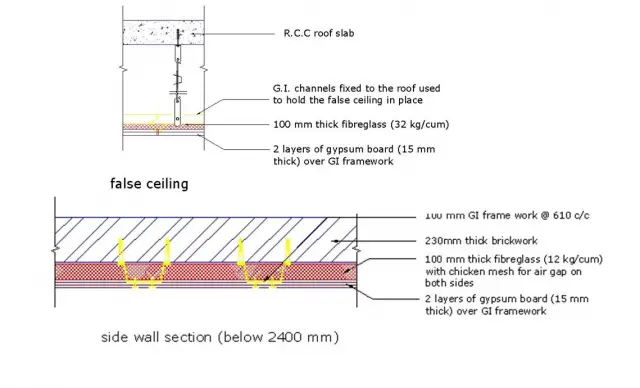 For walls fiber glass(32 kg/cum) of 100 mm thickness and black tissue facing is supported in 100 mm GI stud frame work@610mm c/c with chicken mesh on both sides of insulation with air gap.
The side walls have been treated with 100 mm thick fiber glass (12 kg/cum ) supported in 100 mm GI stud framework @ 610 mm c\c with chicken mesh for air gap and finally fixing 2 layers of gypsum board ( 15 mm thick ) over GI frame work.
The side walls above 2400 mm have been treated with 50 mm thick fiber glass (32 kg\cum) with black tissue facing supported in 48 mm GI stud framing @ 610 mm c\c with chicken wire mesh.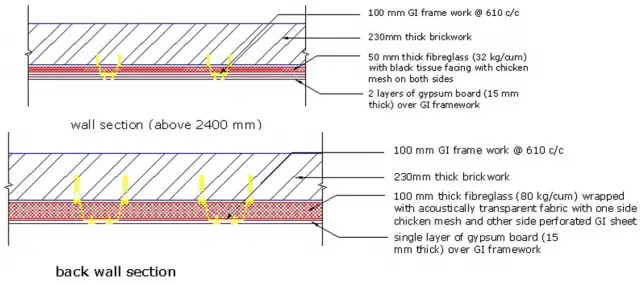 Fix 100 mm thick acoustic panels comprising 100 mm thick fiber glass ( 80 kg/cum ) wrapped with acoustically transparent fabric supported in 100 mm GI stud framework with one side chicken wire mesh & other side finished with perforated GI sheet. The panel is to be mounted on single layer of 15 mm thick gypsum board fixed on the wall with GI section.
CONCLUSION
As the building has been renovated and converted into a cineplex , as expected it has not been given those bright and vibrant lighting as is seen generally in other cineplexes , rather out here the lighting is very subtle and classic sort , which has been done on purpose as all the interiors of the building are done in the classic style.
Being a cineplex one of the main concern for the people running it was  the acoustics of the building , which they have taken lots of pain to make efficient.