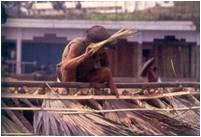 The Built Environment is more than just Four Walls & a Roof
It is (among many things)

Shelter
Security
Locus of family and community life
Cultural continuity
Expression of identity and solidarity
Home: sense of place and time

Knowledge generation, cultural transmission and conservation around the built environment must be viewed in this holistic perspective.

The commoditization of the built environment leads to its:
De-linking from the community and the sacred
Institutionalization of the 'tragedy of the commons'
The rent vs. ownership polarization has been rationalized by the need to reduce transaction costs – the real price is much higher
Even the framers of the Constitution fell into this 'trap'
Need for a re-examination of the plurality of property and its relations: private …common access …commons
This plurality (a little like bio-diversity) is the cornerstone of 'indigenous' and sometimes 'traditional' (read caste India) cultural relationships and knowledge of the built environment
'Rebuilding the built environment is often equivalent to re-generating local community and culture'
Real Estate as a Metaphor for 'property rights'
Vernacular housing in India is based on 'human-scale', locally available, low energy and transportation intensive technology that is largely within the locus of control of the user-producer
This makes up less than 25-50% of the value of 'real estate' in metropolitan and urban areas
Much of this 'value' is speculative, unsustainable and hugely exploitative of the people employed in producing it
As the value of real estate, embodied energy and transportation increases so does the potential 'income' from exclusive IPRs from industrial materials
Technology, certified skills, standards and specifications and 'law' are barriers to entry that ensure 'super-normal' profit to professionals and the organized sector
Vernacular traditions and culture have been the first victims of these processes.
Why Culture is central to the built environment in India
India will continue to be predominantly rural for a long time (at least two decades)
Rate of urban growth has declined for the 2nd decade in a row
Urban informal building retains many of the attributes of the 'remembered village'
Artisanal (and self) production of buildings will continue to be dominant mode of production
The transmission of knowledge will continue to follow a traditional non-formal on-the-job mode
This is in spite of the best/worst efforts of the entire techno-scientific-legal establishment
Changes in economic structure, relative scarcity of materials and skills and changing 'aspirations' will profoundly effect this.
Key Building Materials In India
Natural

Biomass (Thatch, Timber, Bamboo etc.)& Earth
Stone

Fired Clay-based
Industrial

Steel
Cement
Other industrial products (sheets, blocks etc.)
The Indian Building Transformation Matrix (1991)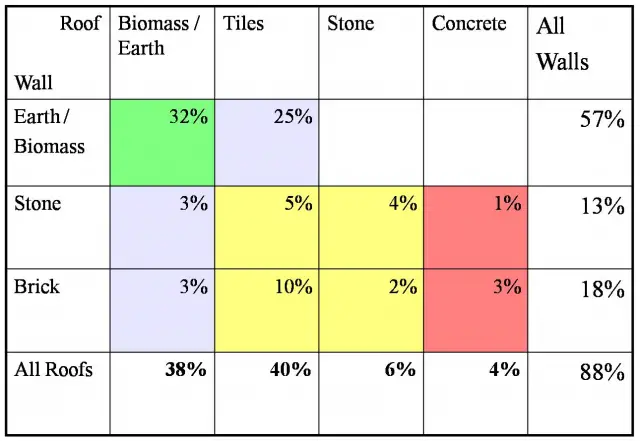 Housing: Modes of Production in India (NSS 98 etc.)
Community Self-help (~ 5%)
Self-built     (~20%)
Self + Artisan (~40%)
Artisan (~30%)
Contractor  (~5%)
Unit cost range two orders of magnitude: Rs. 5 – 400/sqm
Gross on-site employment ~ 3.5 million
Will change with change in technology & locus of control
Processes in the Built Environment: Life-cycle Analysis
Building Materials production/extraction
Building materials production
Building construction processes
Building maintenance
Recycling of materials
Services provision
Vernacular tradition is central to each of these processes, but 'modern' industrial technology has the upper hand in terms of durability, productivity, speed of production, institutionalized knowledge generation and ideological momentum.
Is the Assam Pattern House Indigenous, Traditional or Modern?
Exotic origin: Shillong earthquake
Indigenous adaptation
Traditional appropriation (incl. by the PWD)
Modern

Modular
Composite structure
Disaster resistant

Post-Modern

Local materials, employment and control
Bamboo-ply sheet replaces galvanized iron?
Indigenous or Traditional 'Treatment' of Timber
Indigenous selection, seasoning and treatment of timber – advanced 'scientific' and cultural practice
Traditional treatment: 'let it rot'
First, hugely difficult to replicate
Second, a stupid and wasteful practice
This is a classic management challenge

Traditional users/artisans largely in control over resource/material
Technical knowledge lies in 'ivory' towers
Never the twain shall meet

No amount of regulation or legal protection (alone) can address these problems
Why are country tiles being used for Hotel roofs?
Death of the 'village potter' in central, western and eastern India
Huge life-cycle costs of timber and bamboo
Annual maintenance and loss of tiles
Fewer old houses to recycle tiles from
More monkeys !
More 'eco-tourism' resorts
Is the 'Mangalore' Tile roof Traditional or Industrial?
Exotic: Basel Mission
Most important roof cladding in Western, part of Southern India

Industrial quality
Cost-effective, timber saving
Recyclable

Design challenges
How do we promote, protect or conserve the 'Mangalore' Tile?
Focus on:

Incentives for fuel efficiency
Changing tile design
Improving roof substructure (less wood, greater life span)
Expanding its use to additional areas
Using the same production facilities for other products
Enhance the 'perceived aesthetic and status of the material
Threats to the Traditional Culture of the Built Environment – I
Largely 'internal' to India because of the nature of the built environment: massive, usually energy intensive, costly to transport, coded into culture
Resource extraction
Government programmes
Lack of ability to access locally-controlled technical innovation
Deskilling
Yawning gap between 'scientific' and cultural transmission systems
'External' threats focused and radiate from Urban centres driven by aspirations, industrial growth and 'contractor' culture.
Threats to the Traditional Culture of the Built Environment – II
But 'sector endogenous' threats loom large because of the

Declining ability of skilled building artisans to survive
Fundamental contradiction of artisanal innovation

Most of the Indian legal instruments (except possibly bio-diversity) have little connection or impact on the 'real' dynamics of this sector.
Knowledge building priorities
Where the bulk of the people live ..?
Where the bulk of the employment is … ?
Where the bulk of the monetary investment lies..?
Where the bulk of the 'super-normal' profit can be earned ?
Potential Public Policy  Interventions (I)
Rethinking the policy framework for this sector: construction still has the highest employment elasticity
Public good vs. private profit: a case for regulation
Changing by doing (rather than by talking)

Improvement: 'scientific' development of indigenous buildings
Testing and confidence building
Training: linking contractor-artisan-'user'
Enterprise development
Mainstreaming into 'contracting' practice

Promotion:

State-sponsored building using upgraded traditional techniques
SM(Building)Es

Harmonise policy objectives and instruments
Mobilise from below to subvert entrenched interests
Accredit and 'regulate' artisans and contractors around improved skills and practices
Revise the techno-legal regime around the built environment
Build high quality technical teams linked to institutions of 'scientific' excellence
Visioning Future 'Sustainable' Cities & Settlements
Lack of  clear and shared 'vision(s)' of the built environment lies at the heart of this dilemma
Breaking the 'Built Env = Building Houses = Real Estate' linkage is central
Stepping beyond the Institutionalised impoverishment of 5,000 years of built culture
Moving towards:
Biological rather than Mechanical metaphors
Closed 'through-put' chains and Factor 5 – 10 multipliers
Convergence of conservation, equity and efficiency   concerns