Introduction: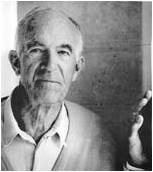 He established his own practice in Copenhagen in 1950. Utzon has created a style marked by monumental civic buildings and unobtrusive housing projects.
He transcends architecture as art and develops his forms into poetic inventions that possess thoughtful programming, structural integrity and sculptural harmony.
He was the recipient of the Pritzker Prize, 2003.

Architectural works:
Water tower in Svaneke, Bornholm, Denmark, 1949-1951
Architect's own house, Hellebæk, Denmark, 1950-1952
Middelboe house, Holte, Denmark, 1953-1955
Kingohusene, courtyard housing in Elsinore, 1956-1960
Elineberg Housing, Helsingborg, Sweden, 1954-1966. Built by Swedish partners Erik and Henry Andersson
Planetstaden housing project in Lund, Sweden, 1956-1958. Built by Swedish partners Erik and Henry Andersson.
Sydney Opera House, Sydney, Australia, 1956-1973
Fredensborghusene, courtyard housing, Fredensborg, Denmark, 1959-1965
Melli Bank, Tehran, Iran, 1959-1960
Hammershøj care centre, Elsinore, Denmark, 1962-1966. Built by Birger Schmidt.
Bagsværd Church, Bagsværd, Denmark, 1968-1976
Espansiva building system, pre-fabricated single family houses, Denmark, 1969
Can Lis, Architect's own house, Majorca, Spain, 1971-1973
National Assembly of Kuwait, Kuwait City, Kuwait, 1972-1984
Paustian Furniture Store, Copenhagen, Denmark, 1985-1987
Can Feliz, Majorca, Spain, 1991-1994
1. Sydney Opera House, Sydney, Australia, 1956-1973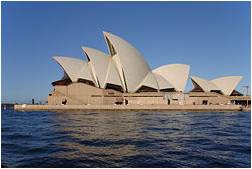 The Sydney Opera House is an expressionist modern design, with a series of large precast concrete 'shells, each taken from a hemisphere of the same radius, forming the roofs of the structure. The Opera House covers 1.8 hectares (4.5 acres) of land. It is 183 metres (605 ft) long and about 120 metres (388 ft) wide at its widest point. The roofs of the House are covered with 1,056,006 glossy white and matte cream Swedish-made tiles,
The Concert Hall and Opera Theatre are each contained in the two largest groups of shells, and the other theatres are located on the sides of the shell groupings.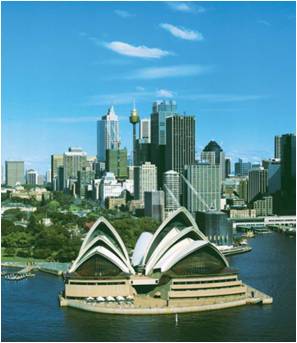 The five venues making up the main performance facilities:
The Concert Hall, with 2,679 seats.
The Opera Theatre, a proscenium theatre with 1,507 seats
The Drama Theatre, a proscenium theatre with 544 seats
The Playhouse, an end-stage theatre with 398 seats.
The Studio, a flexible space, with a maximum capacity of 400 people, depending on configuration.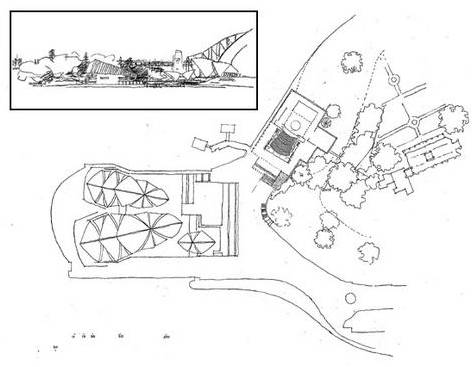 Site Plan: Sydney Opera House
Other spaces used for performances and other events include:
The Utzon Room
A small multi-purpose venue
Seating up to 210.
The Forecourt
2. Bagsvard Church, Denmark, 1973-76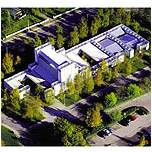 Utzon's next major design triumph was a Church in Bagsværd just north of Copenhagen.
It is characterized by a contrasting rectilinear exterior and sharply curving sanctuary ceiling.
The power and clarity of this building echoes the expressionism and humanism of Aalto.
The exterior/ interior dialog at Bagsværd is similar to that at Aalto's Mount Angel Library.
Precast concrete infill elements of standardized dimensions are combined, in a particularly articulate way, with in-situ reinforced concrete shell vaults which span the principal public volumes.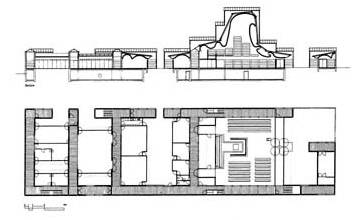 Plan and Section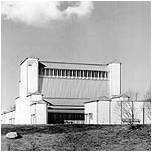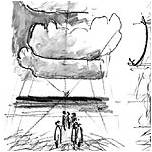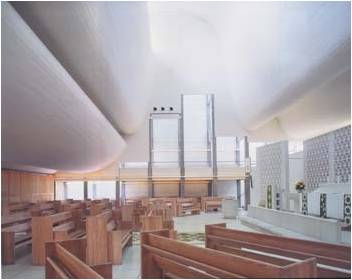 Exterior View, Sketches, Curved Ceiling (Bagsvard Church)
3. Kuwait National Assembly, 1972-82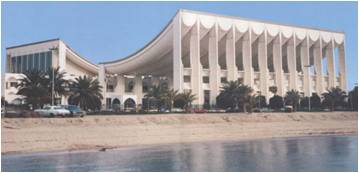 The two storey complex comprising the National Assembly, ancillary offices and reception halls, is square in plan and based on a 5x5m grid.
Offices are
arranged in modules of 20x20m, with open central courtyards and separated from
other office modules by a 5m corridor.
This compact structure is crossed by a 12.5m wide central walkway leading to the
main entrance, which stands under a high monumental canopy of 3000 m2 that also covers a public square.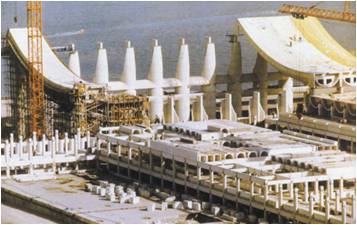 Office modules can be added on three-sides of the building and all the public spaces such as reception halls are arranged perpendicularly to the central walkway, on the bay side of the building.
The flat roof is dotted with skylights in the form of the half-barrel vaults providing natural lights to corridors, as well as the library and cafeteria modules that do not have their own courtyard.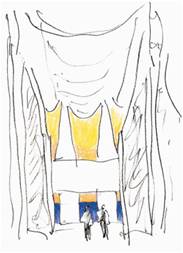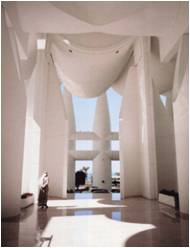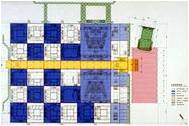 Floor Plan