Some Important Criterias :
Climatic Conditions
Soil Characteristics
Plant Materials
Available Watering Time
Property Size And Shape
Location Of Buildings, Trees And Other Fixed Objects
Elevation Changes
Economic Consideration

Types Of Irrigation
Sprinkler System
Quick Coupler System
Drip Irrigation System

Application & Design
Golf Courses
Interior Planting
Athletic Fields
Gardens And Landscapes
Farms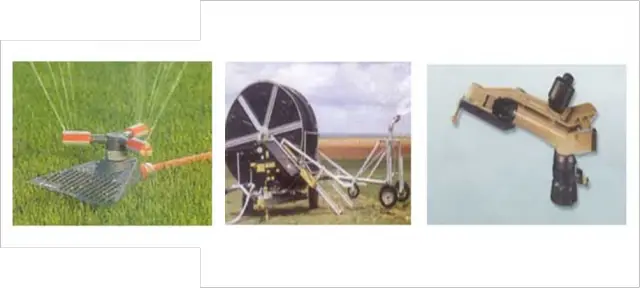 Sprinkler Irrigation System
Pipes
Polyvinyl chloride (P.V.C.) Pipes
Polyethylene (P.E.) Pipes
Copper pipes
Galvanized steel pipes
Asbestos cement pipe
Cast iron pipe
Concrete pipe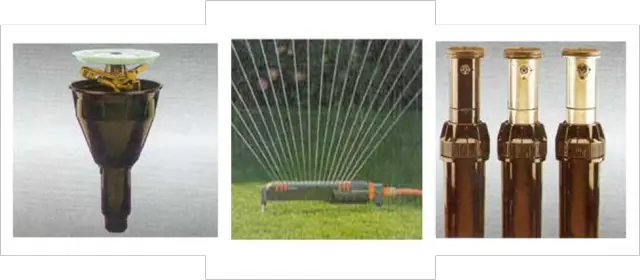 Compared with Sprinkler Irrigation
The energy used by an irrigation system depends on both the total amount of water pumped and the pressure needed to distribute it. Micro-irrigation systems operate at lower pressures than sprinkler systems, so micro- systems use less energy to move the same amount of water.
Further, micro- systems are more efficient users of water than are other irrigation methods, since they apply water to plants only, not to the entire soil surface. Thus the total amount of water pumped in a micro- system can be as little as, half that of a sprinkler system, resulting in further direct energy savings.
Types of Drippers
 

Pressure Compensating Drippers allow for pressure differences within the system while giving a uniform flow rate at each dripper,

Non-Pressure Compensating Drippers work well on small to medium size systems,
Adjustable Drippers are non-pressure compensating, and can be adjusted for different flow rates, and Inline Drippers are made to work with small diameter poly tubing.
Motoroll


Motoroll is an aluminum pipe (lateral) mounted on large wheels.
 The Motoroll irrigates in place and it is moved from position to position between irrigation runs.
 
The supply line may be located along one edge or in the center of the field.
Irrican Irrigation Systems
. When an irrigation run is finished, the operator simply turns off the mainline valve and disconnects the flexible hose.The drain valves automatically drain the pipe due to the reduced pressure.
Water Supply Systems
Types Of Water Tanks
  
Elevated Tanks
Dead End System
In This System A Central Is Laid Which Takes Its Supply From The Service Reservoir And To Which Is Connected A Number Of Sub mains Or Branches In Both Directions, And Which Have No Interconnection Except At The Beginning And Thus Making Dead Ends
 
Grid Iron System
Pipes are laid in the shape of network resembling a grid iron, connected at intervals at street intersections and there are no ends
Circular System
The supply main is laid around the periphery of the area of the district and branches are connected crosswise to the main connection
Radial system
Centrally laid separate reservoir are provided at each district or zone and the supply pipes are laid radially.