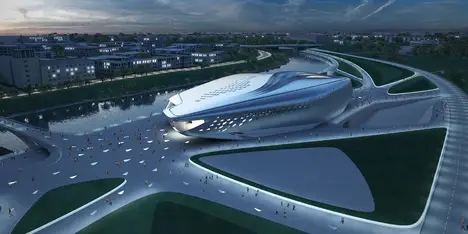 Zaha Hadid (lady architec, winner of Pritzker Prize) has won the competition to design
the new Guggenheim-Hermitage Museum in Vilnius, Lithuania, beating
Daniel Libeskind and Massimiliano Fuksas.
Hadid has worked with the Guggenheim Foundation before, having come up with proposals for a museum in Taichung, Taiwan.
The New York-based
Guggenheim Foundation will share exhibition space with the Russian
Hermitage Museum at the site, which is expected to attract up to
400,000 visitors a year, and will focus on exhibitions of new media art.
A
joint team will now complete a feasibility study for the Hadid scheme
this summer, with the institution due to open in 2011, two years before
the Guggenheim's Abu Dhabi museum. This latest architectural competition is part of a feasibility study –
backed by the Solomon R Guggenheim Foundation in collaboration with the
State Hermitage Museum in St Petersburg, Russia – to look at the
'architectural, economic, and cultural perspective of establishing a
new museum in Vilnius'.
The three designs proposed for the museum will now be exhibited at the Vilnius Mekas Visual Arts Centre.