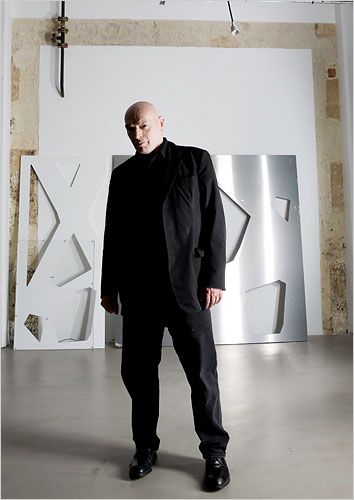 JEAN NOUVEL, the bold French architect known for such wildly diverse projects as the muscular Guthrie Theater in Minneapolis and the exotically louvered Arab World Institute in Paris, has received architecture's top honor, the Pritzker Prize.
Mr. Nouvel, 62, is the second French citizen to take the prize, awarded annually to a living architect by a jury chosen by the Hyatt Foundation. (Christian de Portzamparc of France won in 1994.) His selection was announced on Monday 31st march, 08.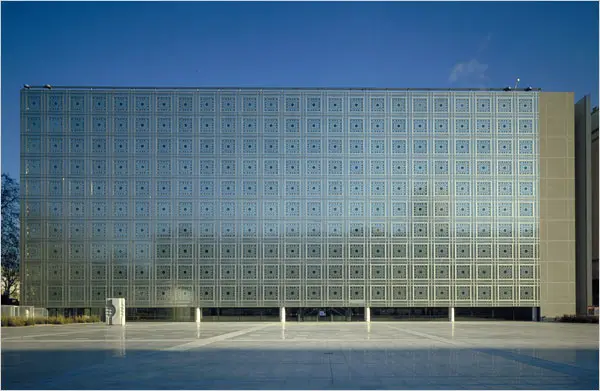 "For over 30 years Jean Nouvel has pushed architecture's
discourse and praxis to new limits," the Pritzker jury said in its
citation. "His inquisitive and agile mind propels him to take risks in
each of his projects, which, regardless of varying degrees of success,
have greatly expanded the vocabulary of contemporary architecture."
In
extending that vocabulary Mr. Nouvel has defied easy categorization.
His buildings have no immediately identifiable signature, like the
curves of Frank Ghery ot the light-filled atriums of Renzo Piano. But each is strikingly distinctive, be it the Agbar Tower in Barcelona
(2005), a candy-colored, bullet-shaped office tower, or his KKL
cultural and congress center in Lucerne, Switzerland (2000), with a
slim copper roof cantilevered delicately over Lake Lucerne.
"Every
time I try to find what I call the missing piece of the puzzle, the
right building in the right place," Mr. Nouvel said this month over tea
at the Mercer Hotel in SoHo.
Yet he does not design buildings
simply to echo their surroundings. "Generally, when you say context,
people think you want to copy the buildings around, but often context
is contrast," he said.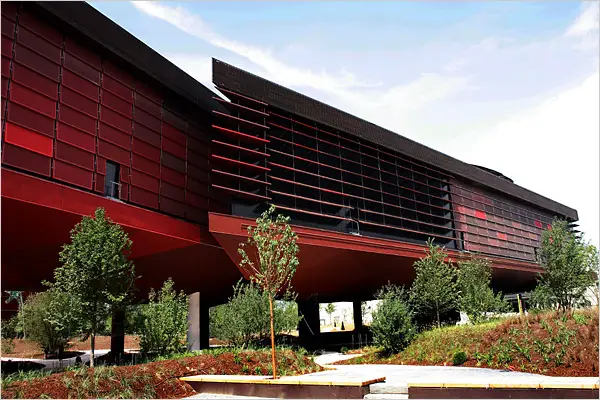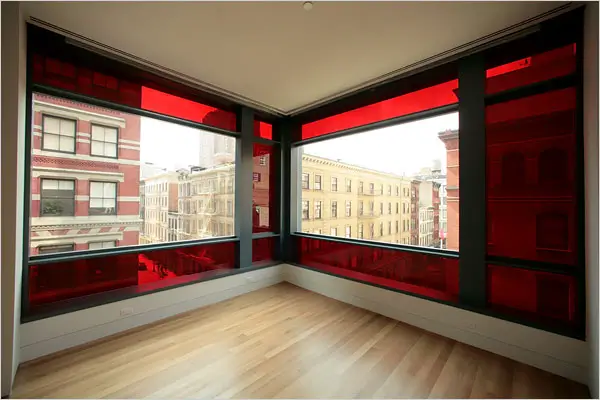 "The wind, the color of the sky, the
trees around — the building is not done only to be the most beautiful,"
he said. "It's done to give advantage to the surroundings. It's a
dialogue."
The prize, which includes a $100,000 grant and a
bronze medallion, is to be presented to Mr. Nouvel on June 2 in a
ceremony at the Library Of Congress in Washington.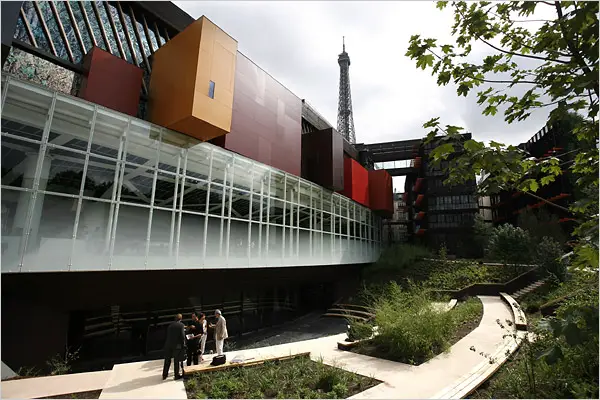 Among
Mr. Nouvel's New York buildings are 40 Mercer, a 15-story red-and-blue,
glass, wood and steel luxury residential building completed last year
in SoHo, and a soaring 75-story hotel-and-museum tower with crystalline
peaks that is to be built next to the Museum of Modern Art in Midtown.
Writing in The New York Times in November, Nicolai Ouroussoff said the
Midtown tower "promises to be the most exhilarating addition to the
skyline in a generation."
Born in Fumel in southwestern France in
1945, Mr. Nouvel originally wanted to be an artist. But his parents,
both teachers, wanted a more stable life for him, he said, so they
compromised on architecture.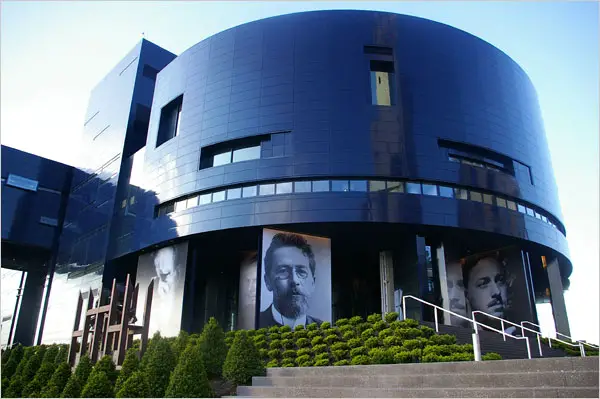 "I realized it was possible to
create visual compositions" that, he said, "you can put directly in the
street, in the city, in public spaces."
At 20 Mr. Nouvel won
first prize in a national competition to attend the École des
Beaux-Arts in Paris. By the time he was 25 he had opened his own
architecture firm with François Seigneur; a series of other
partnerships followed.
Mr. Nouvel cemented his reputation in
1987 with completion of the Arab World Institute, one of the "grand
projects" commissioned during the presidency of Francois Mitterland.
A showcase for art from Arab countries, it blends high technology with
traditional Arab motifs. Its south-facing glass facade, for example,
has automated lenses that control light to the interior while also
evoking traditional Arab latticework. For his boxy, industrial Guthrie
Theater, which has a cantilevered bridge overlooking the Mississippi
River, Mr. Nouvel experimented widely with color. The theater is clad
in midnight-blue metal; a small terrace is bright yellow; orange LED
images rise along the complex's two towers.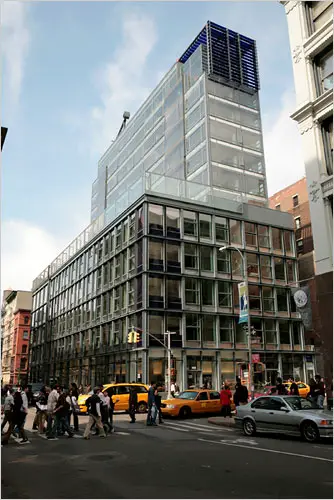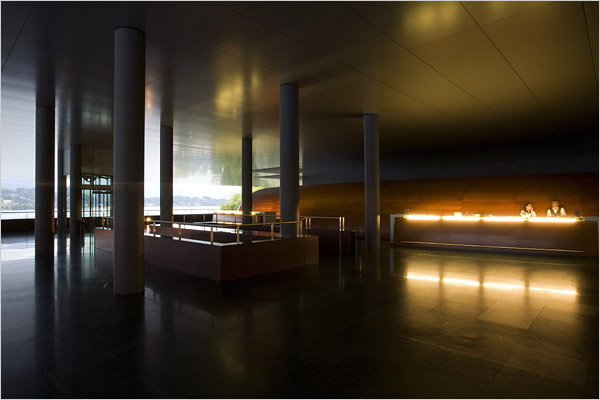 In its citation,
the Pritzker jury said the Guthrie, completed in 2006, "both merges and
contrasts with its surroundings." It added, "It is responsive to the
city and the nearby Mississippi River, and yet, it is also an
expression of theatricality and the magical world of performance."
The
bulk of Mr. Nouvel's commissions work has been in Europe however. Among
the most prominent is his Quai Branly Museum in Paris (2006), an
eccentric jumble of elements including a glass block atop two columns,
some brightly colorful boxes, rust-colored louvers and a vertical
carpet of plants. "Defiant, mysterious and wildly eccentric, it is not
an easy building to love," Mr. Ouroussoff wrote in The Times.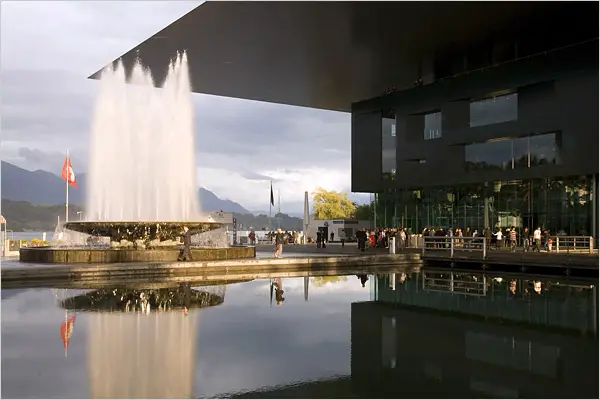 A year later he described Mr. Nouvel's Paris Philharmonie concert hall, a
series of large overlapping metal plates on the edge of La Villette
Park in northeastern Paris, as "an unsettling if exhilarating trip into
the unknown."
Mr. Nouvel has his plate full at the moment. He is
designing a satellite of the Louvre Museum in Abu Dhabi, in the United
Arab Emirates, giving it a shallow domed roof that creates the aura of
a just-landed U.F.O. He recently announced plans for a high-rise
condominium in Los Angeles called SunCal tower, a narrow glass
structure with rings of greenery on each floor. His concert hall for
the Danish Broadcasting Corporation is a tall rectangular box with
transparent screen walls.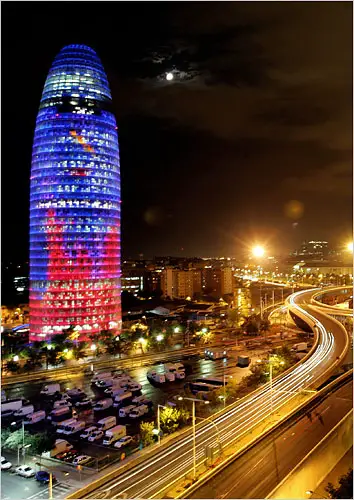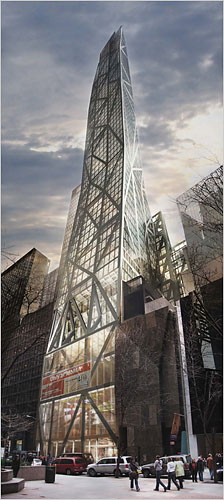 Before dreaming up a design, Mr.
Nouvel said, he does copious research on the project and its
surroundings. "The story, the climate, the desires of the client, the
rules, the culture of the place," he said. "The references of the
buildings around, what the people in the city love."
"I need
analysis," he said, noting that every person "is a product of a
civilization, of a culture." He added: "Me, I was born in France after
the Second World War. Probably the most important cultural movement was
Structuralism. I cannot do a building if I can't analyze."
Although
he becomes attached to his buildings, Mr. Nouvel said, he understands
that like human beings, they grow and change over time and may even one
day disappear. "Architecture is always a temporary modification of the
space, of the city, of the landscape," he said. "We think that it's
permanent. But we never know."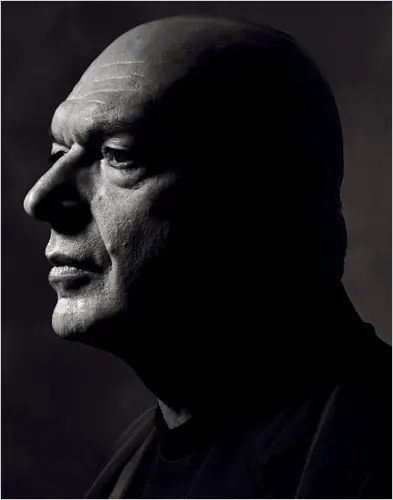 source : The New York Times