FABRIC AND JUTE CLADDING
Types of Fabrics
HEMP is currently being used by designers in clothing. When thinking of hemp, the illegal plant, marijuana comes to mind. No, hemp fabric does not contain the narcotic chemical that, when smoked produces the "high" that smoking marijuana produces. Marijuana is from the dried flowers and leaves of the Cannabis Sativa plant. Hemp fabric is made from the stems of the plant. The stems are processed to dissolve the gum or pectin and separate the fibers which are then processed again and woven into yarns and fabric. The finest hemp for fabric is produced in Italy. Hemp fabric is like linen in both hand and appearance. Hemp fabric withstands water better than any other textile product. It wrinkles easily and should not be creased excessively to avoid wear and breakage of the fibers.
RAMIE is also similar to linen and is a bast of plant fiber. It is natural white in color, has a high luster and an unusual resistance to bacteria and molds. Used in fabrics, and often mistaken for linen, it is extremely absorbent and dries quickly. Ramie has excellent abrasion resistance and has been tested to be three to five times stronger than cotton and twice as strong as flax. It is an inexpensive fiber from an East Asian plant and can be spun or woven into a fabric.
JUTE is a glossy fiber from a plant. It is seen most often in sacks, rope, twine, and as backing on carpeting.
LINEN, elegant, beautiful, durable, the refined luxury fabric. Linen is the strongest of the vegetable fibers and has 2 to 3 times the strength of cotton. Linen table cloths and napkins have been handed down generation to generation. Not only is the linen fiber strong, it is smooth, making the finished fabric lint free. Fine china, silver and candles are enhanced by the luster of linen which only gets softer and finer the more it is washed.
  Linen is from flax, a bast fiber taken from the stalk of the plant. The luster is from the natural wax content. Creamy white to light tan, this fiber can be easily dyed and the color does not fade when washed. Linen does wrinkle easily but also presses easily. Linen, like cotton, can also be boiled without damaging the fiber.
  Highly absorbent and a good conductor of heat, this fabric is cool in garments. However, constant creasing in the same place in sharp folds will tend to break the linen threads. This wear can show up in collars, hems, and any area that is iron creased during the laundering. Linen has poor elasticity and does not spring back readily.
MANUFACTURED OR MAN MADE FABRICS 
Manufactured Fabrics are usually made of filaments extruded as liquid and formed into various fibers. Because the fiber starts as a liquid, many of the fibers are colored before they become filament, thus they are difficult to dye after the fiber is woven into a fabric.
ACETATE is not a strong fiber but can be extruded into fibers of different diameter and woven into fabrics that have the luxurious look of silk but do not wear like silk. Acetate does not absorb moisture readily but dries fast and resists shrinking. This is a resilient fabric that resists wrinkling in addition to being pliable and soft with a good drape.
ACRYLIC is a fine soft and luxurious fabric with the bulk and hand of wool. Light weight and springy, this fabric is non-allergenic, dries quickly, draws moisture away from the body and is washable. Acrylic does not take even a moderate amount of heat. Modacrylics are used in pile fabrics like fake fur and are more flame resistant.
LASTEX is an elastic fiber made from Latex. It is most often used with other fibers to create fabrics such as Spandex and foundation garments. Lastex will deteriorate after repeated washing and drying, losing its elasticity.
NYLON Nylon is stronger yet weighs less than any other commonly used fiber. It is elastic and resilient and responsive to heat setting. Nylon fibers are smooth, non-absorbent and dry quickly. Dirt doesn't cling to this smooth fiber nor is it weakened by chemicals and perspiration. Extensive washing and drying in an automatic dryer can eventually cause piling.
Nylon melts at high temperatures.
POLYESTER is a strong fiber that is resistant to crease and thus keeps it shape. Polyester melts at medium to high temperatures. Polyester is manufactured in many weights including fiber-fill used in pillows and upholstery. Threads spun from polyester fibers are strong, wear exceptionally well, and are used extensively in home sewing and manufactured sewing.
RAYON, from cellulose, has many of the qualities of cotton, a natural cellulose fiber. Rayon is strong, extremely absorbent, comes in a variety of qualities and weights, and can be made to resemble natural fabrics. Rayon does not melt but burns at high temperatures.Rayon drapes well, has a soft, silky hand, and has a smooth, napped, or bulky surface. Rayon will wrinkle easily and may stretch when wet and shrink when washed. Viscose rayon, one of the newer high performance rayon's, wrinkles less, can be washed and is also woven into heavy or light fabrics.Washable rayon will state the care on the fabric label. Like silk, if you pre-wash rayon fabric prior to construction of the garment, you have a washable garment.
Fibranne is French term for Viscose rayon.
Velvet, although made from silk, is most often produced from the rayon fiber.
SPANDEX is an elastic type fiber that can be stretched many times its length and then spring back to the original length. Spandex is more resistant to washing, perspiration, and heat than latex. Spandex is used in foundation garments and hosiery.
Jute fabric and cloth
In this presentation we will be talking about various aspects of application, uses, availability and suitability of such materials
Applications
Farics are used in a variety of spaces such as lecture theatres, music rooms, offices, boardrooms, sports and community halls, classrooms,cinemas,interview rooms
Uses
Fabric provides an easy solution for acoustical problems as they are very cost effective sound absorber
Use of fabric can change a room from cold and dominating space to a cozy and soothing space.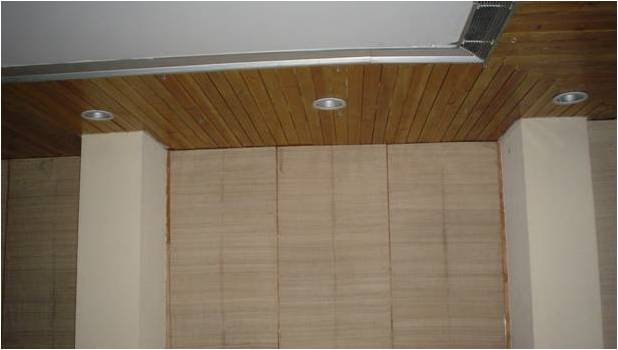 ACOUSTICS
APPLICATION
These acoustic panels are used to reduce reverberation noise levels in buildings such as lecture theatres, music rooms, offices, boardrooms, sports and community halls, classrooms,cinemas,interview rooms and many other applications.
MANUFACTURE
These acoustic panels are made from resin bonded fiberglass specifically tooled and pressed for maximum sound absorption. The panels are fabric finished hence forming an acoustic panel which is decorative, durable and resistant to mild impacts.FIRE SAFETYThe acoustic glass fibre core is rated as Class0 to BS476. Standard fabrics comply with Part7 (class1) to BS476.
WEIGHT
The panels weigh approximately 3Kg/m². The Upvc trims weigh approx. 1Kg/length.CUTTINGThe panels can be cut with a sharp knife.
FABRIC MAINTENANCE
Fabric coverings can be wiped clean with a damp cloth and vacuumed or brushed periodically
Fiberglass Absorption Panels
These sound absorption panels are an efficient, durable, cost effective solution for reducing excessive reverberation in large spaces. They consist of an acoustic fiberglass core with a high quality fabric covering.
They are easy to install, lightweight and can be made in a wide range of custom sizes. Fixing can be with optional impaling clips or adhesive. Units can also be supplied with a wooden frame surround for ceiling or wall mounting.
Units can also be custom made with 'Z' clips for easy ceiling application and split batons for easy wall mounting which is ideal if you require them to be removable.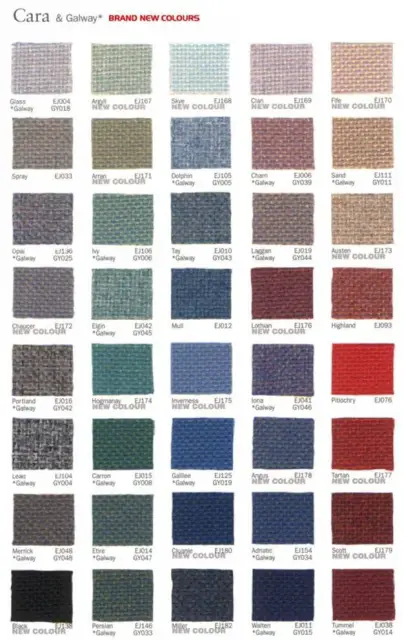 Cara Range
Composition:  100% Polyolefin.
Weight:  220g/m² +/- 5%
Width:  170cm +/- 2% usable
Maintenance:  Wipe clean with a damp cloth
Flammability:  BS 476 Part7 Class 1,    BS EN
1021 – 1 : 1994 (cigarette)
Installation 
METHOD 1.
For wall mounting a split batten is fixed to the wall. The acoustic panel is offered up to the wall brackets and simply lowered in place. The split batten on the back of the panels allows easy removal as well as providing an additional airspace behind the absorber for improved acoustic absorption. For flush mounting wall panels the metal 'Z' clip system can be used if specified in advance.
METHOD 2.
For ceiling mounting the female 'Z' clip is fixed to the ceiling. Again the panel is simply lifted up and dropped down onto the ceiling clip.
METHOD 3. Metal 'impaling' clips are screwed into the wall. Adhesive is applied to the panel and the wall. The panel is then offered up against the wall spikes and fixed in place. This method does not allow easy removal of the panels.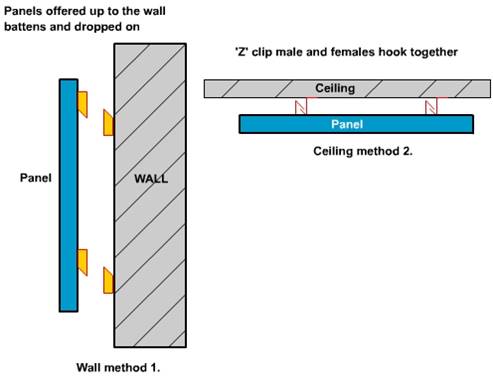 ACOUSTIC PANEL SYSTEMS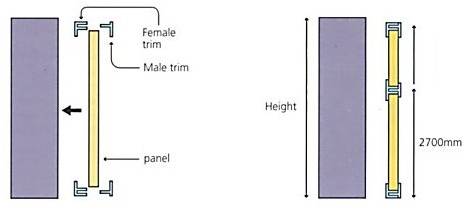 NOMINAL DIMENSIONS
Panel Size:
2700mm x 1200mmThickness:
25mmWhite Upvc fixing trims:
2700mm lengths
TYPE A: 'T' JOINT PANEL SYSTEM
This is the most economical panel utilising white Upcv fixing sections. The panels have cut edges on all four sides. The Upvc sections serve two functions. One is to decoratively mask the edges and the other is as structural fixing sections. This system is the most flexible as panels can be cut onsite to suit wall dimensions. The fabric cover is adhered to the front face only and will remain in place even when the panels are cut, the raw edges are hidden by the fixing trims
FIXING GUIDE
A. Screw fix Upvc female perimeter trim to top, bottom and end of walls.
B. Screw fix Upvc female 'T' joint, trim vertically between top and bottom Upvc female perimeter trims, allowing for the panels width and height.
C. Cut and insert individual panels to fit between female perimeter and female 'T' joint trims. Push fit top and bottom male perimeter trims then neatly cut vertical male perimeter and vertical male 'T' joint trims to fit between the top and bottom perimeter trims and push fit togeather. Make sure to place the 'pullstrip' labelled end upwards. Insure that all trims are fully pushed in and located.
INSTALLATION
Use a spirit level to align all horizontal and vertical surfaces. Drill oversized holes in the Upvc female trims larger than the screw shank but smaller than the screwhead. Use the 'V' line as a guide. Screw fix at maximum of 400mm centres.
TYPE B: BUTT JOINT PANEL SYSTEM
This eliminates the requirement of a tee joint section as this panel has reinforced long edges and the fabric facing is wrapped around the two long edges of the panel. This results in a neat, crisp butt joint between the panels. The fabric cover is wrapped around the two long sides which also have reinforcing strips to protect the edges.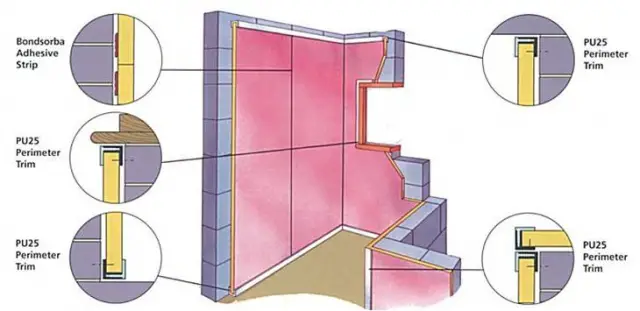 FIXING GUIDE
A. Screw fix Upvc female perimeter trim to top, bottom and end of walls.
B. Cut panels to soze. Position individual Butt Joint panels to fit between the female perimeter trims. Ensure that the visible panel butt joints are tight and straight.
C. Remove panels away from the wall and apply an even brush coat of contact adhesive (approx. 100mm wide x 150mm long strip) on the wall to coincide with the perimeter edge of the rear of the panels about half way down the panel height and allow to touch dry for about 15 minutes. Then apply a similar strip of adhesive on the corresponding position on the back of the panels so they coincide with the glue positions on the wall. Allow to touch dry (10-15 minutes). Carefully reposition the panels in the original positions. The panels must be carefully repositioned as once contact is made with the adhesive they cannot be readjusted.
D. Push fit top, bottom and end male perimeter trims into female trims. Ensure that all trims and panels are fully pushed in and located.
NOMINAL DIMENSIONS
Panel Size:
2700mm x 1200mm
Thickness:
25mm
White Upvc fixing trims:
2700mm lengths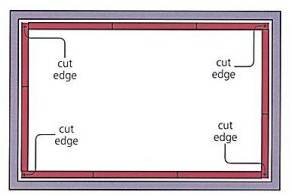 If paneling runs generally end in a corner of a room the neatest method of installation is shown above. Because no panel run has more than one cut edge at each end therefore all these are hidden in corners by the uncut panel. This eliminates the need for any internal corner trims hence resulting in a neater finish.
TYPE C: SHADOW JOINT PANEL SYSTEM
This panel has no visible fixing sections on any of the four sides of the panel. The panel has reinforced edges on all sides with the fabric bonded to the face and all four sides are wrapped to rear. This results in a beautiful individual panel which can be used in single units or joined togeather to other panels or with shadow gaps as a design feature. The fabric cover is wrapped around the two long sides, and the two short sides which all have reinforcing strips to protect the edges.
INSTALLATION TO WALLS
Panels are fixed with contact adhesive. This is a simple and strong adhesive system for bonding the panels to walls or ceilings. Panels can be applied direct to concrete , brickwork, wood, plaster or metal. There is an immediate bond, therefore no mechanical support is required or the need for drilling any fixing holes.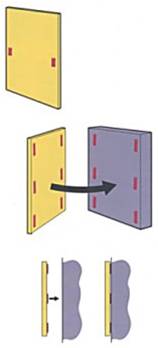 SURFACE PREPARATION
The wall or ceiling must be clean, dry and free from loose paint, plaster, dust etc. Wallpaper should be removed, gloss paint roughened and emulsion paint brushed with a stiff brush to ensure it is firm. On absorbent surfaces an initial priming coat may be necessary and should be allowed to dry for at least 30 minutes before applying the bonding coat.
FIXING PANELS
Mark the position of the panels on the wall. Apply an even brush of contact adhesive (approx. 100mm wide x 200mm long strips) on the wall to coincide with the perimeter edge on the rear of the panel at maximum of 900mm centers and allow to touch dry for about 15 minutes. Also apply an even brush coat of adhesive on the corresponding positions on the back of the panel so they coincide with the positions on the wall. Allow to touch dry (10-15 minutes). Carefully position the panel, fit one corner first, then aligh vertically and horizontally. Apply even, firm pressure along the lines of the adhesive positions. The panels must be carefully positioned as once contact is made they cannot be readjusted.
NOMINAL DIMENSIONS
Panel Sizes:
2700mm x 1200mm
2400mm x 1200mm
2100mm x 1200mm
1800mm x 1200mm
1500mm x 1200mm
200mm x 1200mm
900mm x 1200mm
Thickness:
25mm
White Upvc fixing trims:
2700mm lengths
Fixing Damaged Wall Panels
Materials you will need:
Plywood paneling with a 200 flame spread rating
Molding rabbeted to fit over edge of panel
Panel adhesive
1 and ¼ inch finishing nails
Tools you will need:
Level
Measuring tape
Hammer
Keyhole saw
Power saw or handsaw
Installing Wainscoting 
STEP 1: Measure & Remove Battens
If there are batten strips between panels on your wall, remove them from wainscoting area for a smooth surface. Battens cover seams; they have no structural significance. Use a keyhole saw to cut the strips above the wainscoting line, leaving space for the top trim molding. Pry off the lower lengths of batten strips, but leave them in place between panels on the upper wall.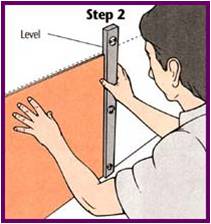 STEP 2: Cut & Install
Wainscoting height can vary according to your needs. Start in a corner. Cut panels so lengthwise edges meet over wall studs. Use level to be sure the first panel is straight up and down.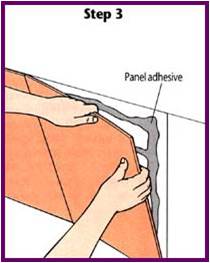 STEP 3: Glue Panel
Using panel adhesive, squeeze a bead of adhesive on back of wainscot. Press the board to the wall, pull apart slightly and wait 30 seconds. Press in place against the wall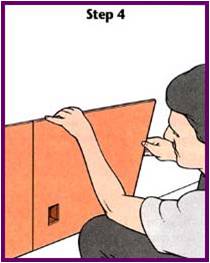 STEP 4: Fit Panels
The edge of next panel should touch edge of first panel very lightly. To work around doors and windows, use a pattern measured and drawn on newspapers. Remove electrical outlet covers. Cut hole in paneling the size of the outlet box.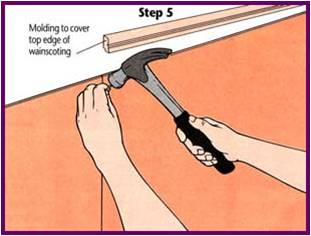 STEP 5: Nail Panels & Molding
Using finishing nails, tack the edges of the panels to the wall studs. Fit molding over top of panel. Nail to wall studs. Replace electrical outlet covers
SILK
The fabric that makes its own statement. Say "silk" to someone and what do they visualize? No other fabric generates quite the same reaction. For centuries silk has had a reputation as a luxurious and sensuous fabric, one associated with wealth and success. Silk is one of the oldest textile fibers known to man. It has been used by the Chinese since the 27th century BC. Silk is mentioned by Aristotle and became a valuable commodity both in Greece and Rome. During the Roman Empire, silk was sold for its weight in gold.
Today, silk is yet another word for elegance, and silk garments are prized for their versatility, wearability and comfort. Silk, or soie in French, is the strongest natural fiber. A steel filament of the same diameter as silk will break before a filament of silk. Silk absorbs moisture, which makes it cool in the summer and warm in the winter. Because of its high absorbency, it is easily dyed in many deep colors. Silk retains its shape, drapes well, caresses the figure, and shimmers with a luster all its own.
Contemporary silk garments range from evening wear to sports wear. A silk suit can go to the office and, with a change of accessories and a blouse, transform into an elegant dinner ensemble. Silk garments can be worn for all seasons.
Silk — elegant, versatile and washable. In the past, owning a silk garment meant not only the initial price of the garment but also the cost of dry cleaning. All silk is washable. Silk is a natural protein fiber, like human hair, taken from the cocoon of the silkworm. The natural glue, sericin, secreted by silkworms and not totally removed during manufacturing of the silk, is a natural sizing which is brought out when washing in warm water. Most silk fabrics can be hand washed. Technically, silk does not shrink like other fibers.  If the fabric is not tightly woven, washing a silk with tighten up the weave…. thus, lighter weights of silk (say a crepe de chine of 14 mm) can be improved by washing as it will tighten up the weave.  A tightly woven silk will not "shrink"  or will "shrink" a lot less. Silk garments, however, can shrink if the fabric has not been washed prior to garment construction. When washing silk, do not wring but roll in a towel. Silk dries quickly but should not be put in an automatic dryer unless the fabric is dried in an automatic dryer prior to garment construction. A good shampoo works well on silk. It will remove oil and revitalize your silk. Do not use an alkaline shampoo or one which contains ingredients such as wax, petroleum, or their derivatives, as these products will leave a residue on your silk and may cause "oil" spots. If static or clinging is a problem with your silks, a good hair conditioner (see above cautions) may be used in the rinse water.
Silk may yellow and fade with the use of a high iron setting. Press cloths and a steam iron are recommended. Silk is also weakened by sunlight and perspiration.
Glossary of Silk Fabrics and Weaves 
Brocade, Canton ,Crepe ,Charmeuse ,Chiffon ,China ,silk ,Doupioni ,Faille ,Georgette ,Matelasse ,Noil ,Organza Peau de Soie,Pongee ,Poult de siue ,Silk Shantung ,Silk Broadcloth ,Silk satin ,Tussah silk.