WHAT IS WATER PROOFING?
Water proofing is defined as treatment of surface or structure to prevent the passage of water under hydrostatic pressure .
NEED FOR WATER PROOFING
Water seepage into building reduces the life of building materials.
Dampness in the building spoils its aesthetics.
Dampness attracts and breeds biological growth and termite leading to unhygienic condition.
TAPECRETE Is a white milky single compound acrylic latex polymeric additive used for increasing adhesive bond strength waterproffing, chemical resistance, abrasion resistance of cement mortar and excellent adhesion and protection with steel and concrete.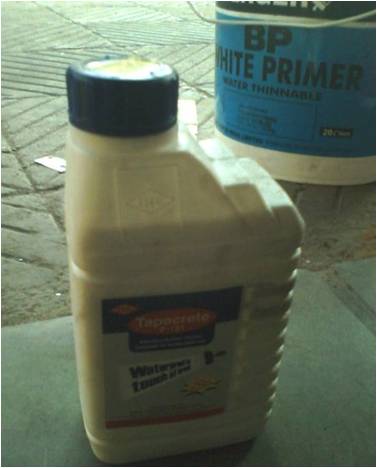 USES:
Tapecrete find its application in the following areas:
For waterproofing of building terrace, toilet, walls, basements.
For waterproofing of watertanks and swimming pools.
For bonding new concrete to old concrete.
As a repair mortar for thin layers.
For patching and levelling applications.
For hard wearing lining in channels and water treatment plant.
As an additive with cement paints which improves waterproofing     property, coverage and life of cement paint.
As a coating on new wall before putty and paints for better bonding.
As waterproofing additive for cement slurry coats.
For manufacture of cement mortar with improved chemical resistance.
Can be used for protection of steel sheet roofing.
Recommended for use in underground structure and repair of damaged conctrete. for protection of corroded reinforcement in existing structure
Easy to use
It is good chemical resistance.
It is non-toxic.
Resistance to fungus and micro organism growth.
Increase bond strength, flexural, tensile strength and elasticity.
Coating is highly durable even in continuous contact with water.
Excellent adhesion with steel and concrete.
 Initial setting time: 4-6 hours
Initial curing time: 72 hours
Complete curing time: 28 days under water immersion
Packing: available in 1, 5, 20, 225, lt. pack
Price: rs. 245 per ltr.
It must be protected from very fast drying under the extreme  temperatures.
 Tapecrete have other applications too:
Bonding material: bond cement with almost all types of building material
Repair mortar for cracks and crevices
Polymer concrete
Durable cement paints
Terrazzo flooring: increases the workability of the terrazzo mix.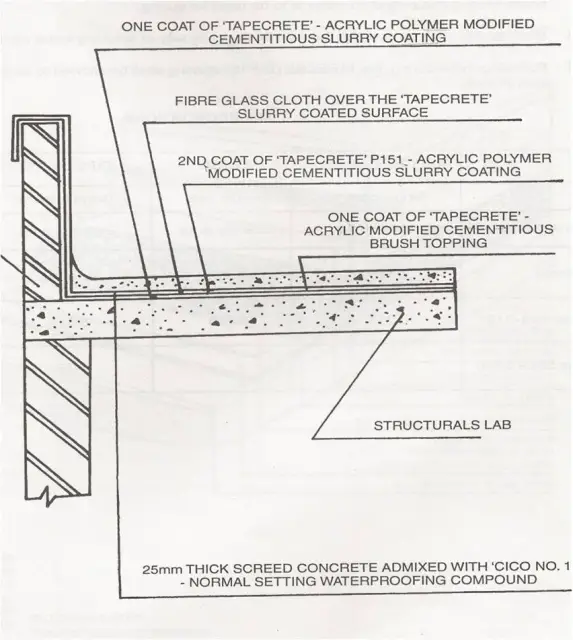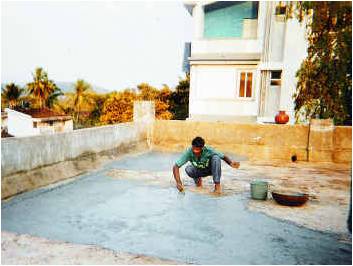 Application of polymer modified coating helps to avoid water penetration
METHOD OF THE APPLICATION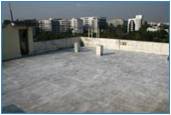 Cementitious Substrate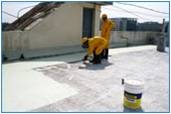 Application of 1st coat of Dr. FixitNewcoat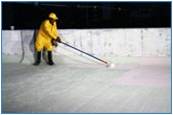 Application of 2nd coat of Dr. Fixit Newcoat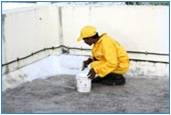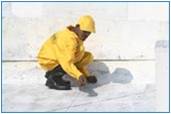 Application of Dr. Fixit Prime seal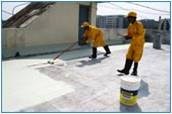 Roller Application of Dr. Fixit Newcoat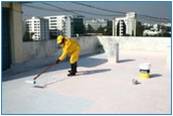 Application of 3rd of Dr. Fixit Newcoat
 

 

 

Dr. Fixit Newcoat(Acrylic based heavy-duty micro fiber reinforced waterproofing system)

Used for waterproofing treatment for terrace

 

 

 

 

Dr. Fixit Crack X Powder

Used for filling cracks in plastered surfaces (internal & external)

 

Dr. Fixit Primeseal

        

 Used as water based acrylic primer for exterior & interior
APPLICATION- Surface Preparation :
Prior to application of tapecrete, surface must be prepared as mentioned below to avoid failure and to achieve maximum beneficial properties.
The surface shall be cleaned to remove all dust, foreign matters, loose materials or any deposits of contamination which could affect the bond between the surface and the tapecrete Coating. This can be done by scarifying, grinding, water blasting, sand blasting, acid washing or by any other approved method.
New flat surface like sub-base concrete shall be made reasonably smooth so as not to impede the application of tapecrete Coating and to avoid sharp projections.
All concrete surfaces shall be thoroughly pre-wetted prior to the application of tapecrete Coating by pouring water on flat surface or by spraying water on vertical/inclined surfaces.
 When placing tapecrete Coating, water should be removed so that surface is only damp. In no case there should be standing water. Depressions are to be filled and levelled using tapecrete fillers. For filler, the mixing ratio is 1 kg. cement : 1.5 kg silica sand : 0.50 kg. of tapecrete.
BRICKBAT COBA
It is an artificial pozzolana made by powdering burnt bricks.
In older times, a very special lime surkhi, was used, which was  successful, needed very skilled and experienced people.
Brick bat coba is common in north india.
Due to lack of quality labour, materials and paucity of time, this system is not successful.
The surkhi or brick bat coba is used to provide slopes on the flat terraces
Is mainly used for easy draining of rainwater to avoid the contact between water and roof.
And it is also used for some sort of poor insulation.
 Cleaning the base surface :- Cement based water proofing treatment with brick             bats  (Indian water proofing or alike) laid in required slope to drain the water for any span is providing after cleaning the base surface.
 Applying a coat of cement slurry.
 Laying the brick bats on bottom layer , filling up to half depth of brick bats.
 Curing this layer for 3 days.
 Applying cement slurry over this layer jointing of brick bats  admixed with approved water proofing compound.
 And finally top finishing with average 20 mm thick layers of same mortar added with jute fibre at 1 kg per bag including finishing the surface smooth with cement slurry.
 Marking finished surface with false squares of 300 mm x 300 mm making the junctions at the parapet rounded and tapered towards top for required height, with drip mold at the junction of plaster and parapet.
 The screen provided over the brick concrete cracks because of non-compatibility of Brick bat coba (surkhi) with cement.
These cracks allow ingress of water, which travels through the    brickbat (which is so porous) to the RCC slab. This whole process results in the failure of the waterproofing system and the slab starts leaking.
Generally, bitumen felt is applied on roof surfaces, which have a failed surkhi or brick bat coba system.  Bitumen or bitumen felt is no solution as the bitumen tends to crack due to the oxidation/UV radiation in a couple of seasons and in fact worsens the situation.
 Waterproofing chemical are available in market mainly in these forms:
Integral liquid waterproofing compound.
Integral waterproofing powder.
Waterproof undercoat (primer).
Transparent water repellent coating.
White water proofer.
INTEGRAL LIQUID WATERPROOFING COMPOUND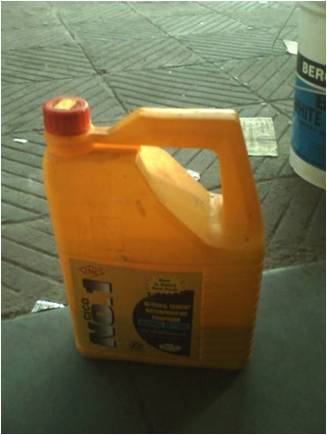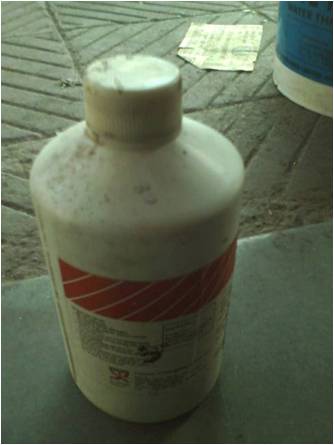 ADVANTAGES:
 Reduces permeability of concrete.
 Increases workability.
 Improves surface finish.
 Durability.
 Reduces chances of hairline cracks.
 provides plastic zinc properties to concrete. Low dosage required
 Easy to use.
AREAS OF APPLICATION:
DPC of structures.
Concrete mortar.
Plastering
 rendering
PACKAGING:
100 ml., 1ltr., 5ltr., 20 ltr., and 200 ltr.
PRICE:  Rs. 100 : 1 ltr dr.fixit, cico no.1 5ltr.: Rs. 175,
conplast X4211c for 1 ltr. Rs. 100
INTERGRAL WATERPROOFING COMPOUND IN POWDER FORM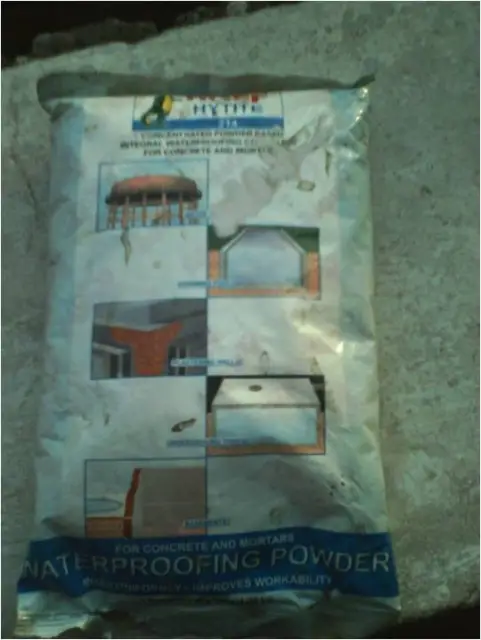 ADVANTAGES:
Reduces porosity of concrete.
Can be used with any portland cement.
Increases concrete permeability
waterproofs the mortar/plaster.
Low dasage required
Cholride free and hydrophober
AREAS OF APPLICATION:
DPC of structures.
Concrete mortar.
New plaster
Screeding.
PACKAGING:
0.5kg. 1 Kg.  25 Kg.
Roof hytite Rs. 35 per 500g.
Fills minor undulations on walls
Smooth finish
AREAS OF APPLICATION: Interior walls, ceilings, concrete.
PACKAGING: 1ltr., 4ltr., 20ltr.
Transparent water repellent coating
No change in appearance of the surface coated.
For concrete block, plaster etc.
Packaging: 1ltr., 5ltr., 20ltr.
ADVANTAGE: White fine finish Reflective surface.
Where to use: roof, sloping roof, dome, shelf roof.
MAJOR BRANDS IN WATERPROOFING
Chemistic Inc.
Dr. Fixit
CICO Technologies ltd