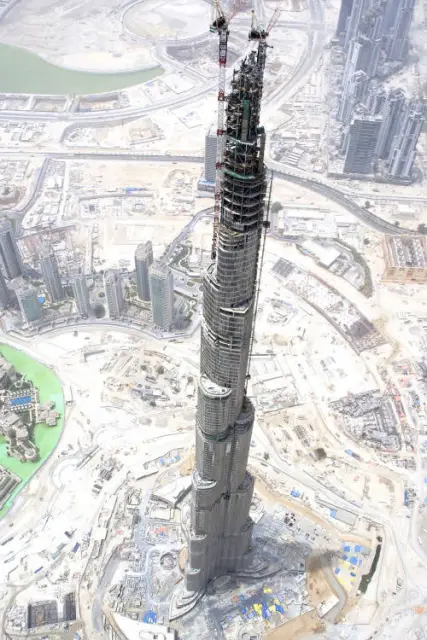 The grand inauguration of Burj Dubai, world's tallest building will showcase a spectacular display of sound, water, light and fireworks on 4th January, 2010 as reported by Emirates news agency (WAM) on Monday.
Burj Dubai smashed the previous world record, which was held by Taiwan's 508m Taipei 101. This iconic building can be seen from 95 kms away and all the buildings surrounding look as if small seedlings surrounding a big plant.
The inauguration ceremony will present a combination of sparkling fire-works, light beams, choreographed water displays and sound & music effects.
The facade will be integraded with 868 high powered 'stroboscope' lights which will individually fire and create a series of lighting sequences.
Event experts from all across the globe (France, Britain and United States) collaborated on the project which also demonstrates the global spirit of teamwork which defines Burj Dubai itself.
The public will be able to watch the show from the "Waterfront Promenade" adjacent to the "Dubai Mall".
The ceremony will start with a short movie film which puts forward the story of Dubai and the evolution of Burj Dubai as world's tallest building. After that, the display of a properly choreographed sound, water, light and fireworks show will follow.
According to Ahmad Al Matrooshi, Managing Director, Emmar Properties, said that the performance will be a symbolic representation of status of Burj Dubai in the world.
"Just as Burj Dubai leaves an indelible impression on the mind's eye, so the performance dedicated to the tower's inauguration on January 4 will be a memory to cherish," Al Matrooshi said.
Construction Timeline:
21 September 2004: Emaar contractors begin construction
February 2007: Surpasses the Sears Tower (since renamed to the Willis Tower) as the building with the most floors.
13 May 2007: Sets record for vertical concrete pumping on any building at 452 m (1,483 ft), surpassing the 449.2 m (1,474 ft) to which concrete was pumped during the construction of Taipei 101.
21 July 2007: Surpasses Taipei 101, whose height of 509.2 m (1,671 ft) made it the world's tallest building.
12 August 2007: Surpasses the Sears Tower (Willis Tower) antenna, which stands 527.3 m (1,730 ft).
3 September 2007: Becomes the second-tallest freestanding structure, surpassing the 540 m (1,772 ft) Ostankino Tower in Moscow.
12 September 2007: At 555.3 m (1,822 ft), becomes the world's tallest freestanding structure, surpassing the CN Tower in Toronto.
7 April 2008: At 629 m (2,064 ft), surpasses the KVLY-TV Mast to become the tallest man-made structure.
17 June 2008: Emaar announces that Burj Dubai's height is over 636 m (2,087 ft) and that its final height will not be given until it is completed in September 2009.
1 September 2008: Height tops 688 m (2,257 ft), making it the tallest man-made structure ever built, surpassing the previous record-holder, the Warsaw Radio Mast in Konstantynów, Poland.
17 January 2009: Topped out at 818 m (2,684 ft).
1 October 2009: Emaar announces that the exterior of the building is completed.
4 January 2010: Grand opening of Burj Dubai.
Some Facts About Burj Dubai:
World's tallest building (2625 ft -160 storeys)
Architect: Skidmore, Owings and Merrill
37 Office Floors
Visible from 95 km apart from the ground.
57 lifts (with lifts with speed 60 km per hour)
World's highest musical fountain
There is an observatory in the 124th floor which will be helpful for scientific research.
It has 1044 flats.
The inauguration of Burj Dubai at a state of recession implies either one of these two things:
Either Dubai has surpassed recession OR "Burj Dubai" is a way to overcome recession.
 Some Photos: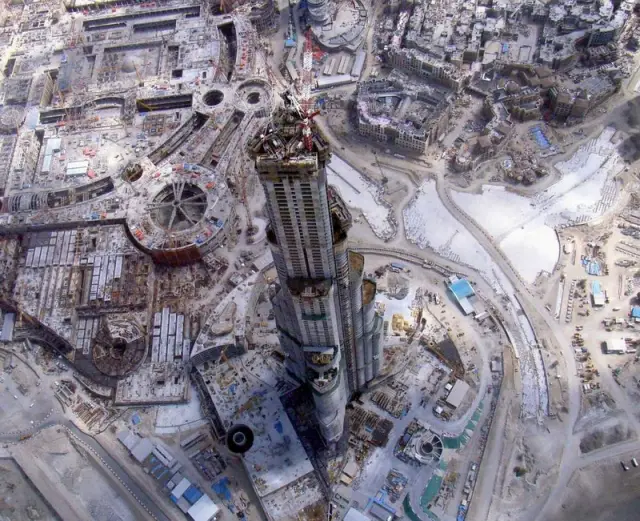 A view of Burj Dubai during construction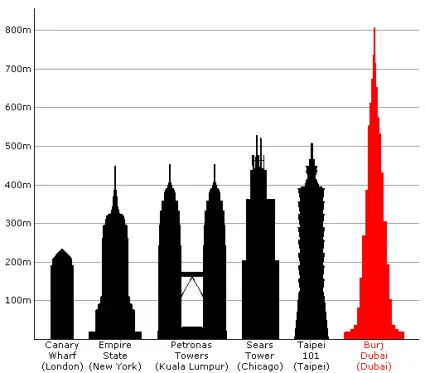 An indicative diagram showing Burj Dubai's height supassing its competitors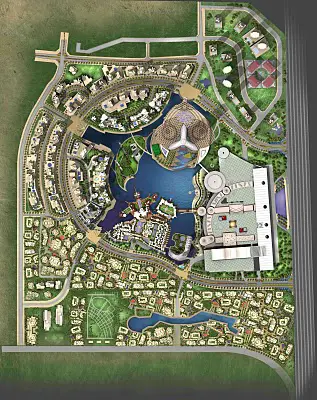 An image showing the site-plan of Burj Dubai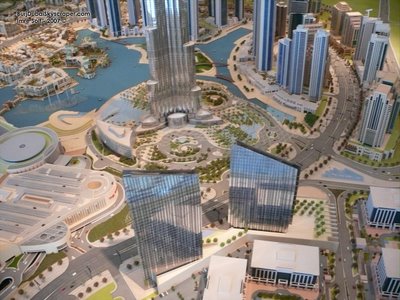 This is how Burj Dubai will look if seen from a helicoptor.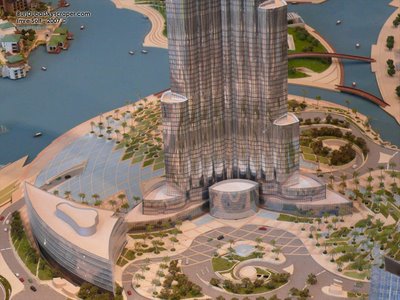 Burj Dubai with little more closeup