Historic Highlights

Bam is situated in a desert environment on the southern edge of the Iranian high plateau.

The origins of Bam can be traced back to the Achaemenid period (6th to 4th centuries BC).

During Safavid times, the city occupied six square kilometers, was surrounded by a rampart with 38 towers, and had between 9000 and 13,000 inhabitants.


Its heyday was from the 7th to 11th centuries, being at the crossroads of important trade routes and known for the production of silk and cotton garments.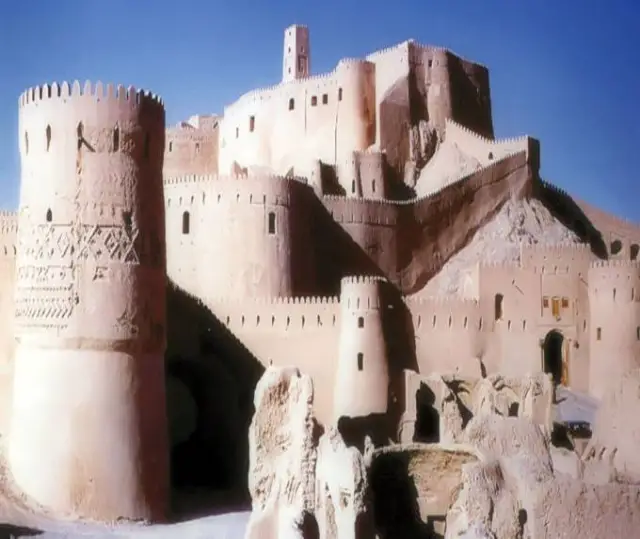 Travellers following the Silk Road from China through Persia had a single place of respite in this testing stage of their journey: Bam.

About the origin of the word Bam, "Bam" is metamorphosis of the word "Bahman", which is the name of a prince. In a poem, Bahman was the son of Esfendayde who had fought against Rostam, one of the chief heroes in the Shahnameh.

As Ferdowsi epically narrates, Bahman fights against one of the sons of Rostam, who was called Faramarz. A sandstorm hindered Faramarz and Bahman defeated him; as a triumph he built a statue on the rock hill there, where the Bam Citadel is now situated.



Planning Features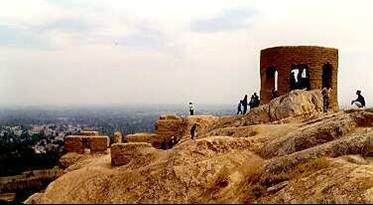 A walled city was built from unbaked clay bricks, palm trunks, straw and stones.

The governor's residence was surrounded by hundreds of houses, a caravanserai and a bazaar.

In the city's infancy, a Zoroastrian temple was constructed for the worship of a sacred fire.

Later, a church, synagogue and mosque were added for the benefit of residents and travellers.

By the 16th century, Bam had become the Emerald of the Desert: six square kilometres of settlement divided into four sections and watched over by 37 towers. The citizens enjoyed the use of a gymnasium, bathhouses, schools and cultural buildings.


All of Bam was wrought from the dust of the Plains of Emptiness
 Urban Design
 

Bam prospered because of pilgrims visiting its Zoroastrian fire temple (dating to early Sassanian times) and as a commercial and trading center on the famous Silk Road.

Upon the site of the Zoroastrian temple the Jame Mosque was built during the Saffarian period (866-903 AD) and adjacent to this mosque is the tomb of Mirza Naiim, a mystic and astronomer who lived three hundred years ago.

Ancient Bam, or the Arg-i-Bam, at its peak of political, economic, and military power had some 11,000 citizens living in 400 houses within its city walls, which still stand much the way they did hundreds of years ago.

Since the city's inception, judged to be between 250 BC -224 AD, Bam has thrived as an energetic market place and a focal point for the region.
 Architecture And Technology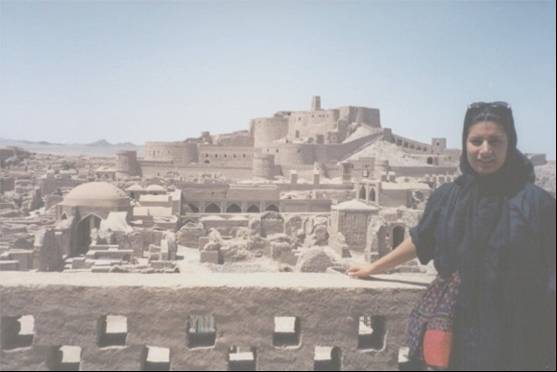 When you strolled through front gates, you came face to face with ancient Bam.

Houses, schools, mosques, gymnasiums, and bathhouses stand in the same places they did centuries ago.

These structures maintained their allure, and they had the rare ability to give visitors a most inspiring adrenaline rush at first sight.

Mud and sand stone buildings held much of their original shape.

 Little imagination was required in viewing the site and grasping how these people went about their daily lives.

The superb archways and narrow dirt paths between apartment blocks, shops, markets and mosques provided the privacy and intrigue that made this historical site Iran's most treasured.

 Reason For Decline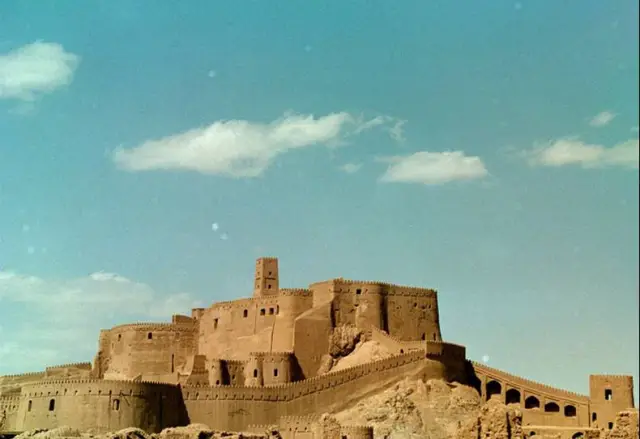 Bam declined in importance following an invasion by Afghans in 1722 and another by invaders from the region of Shiraz in 1810.

The city was used as a barracks for the army until 1932 and then completely abandoned.
Present Status
30,000 people were killed and thousands more were injured on 26 December 2003 when the 6.5 magnitude quake razed the ancient Silk Road city, making it Iran's worst recorded disaster ever, rendering some 200,000 people homeless and damaging or destroying some 42,000 housing units.

People are still recovering from this disastrous catastrophe.

Most buildings in the affected area were constructed by sun-dried brick masonry with extremely poor seismic resistance.
Photos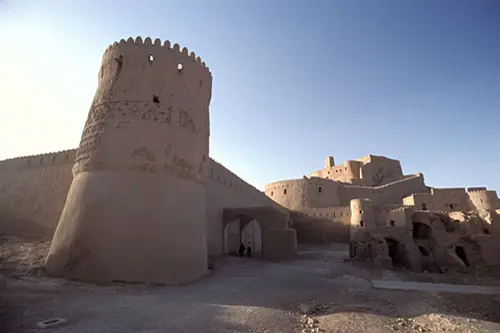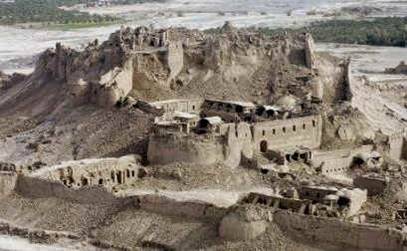 Analysis For Future
Steps are being taken to restore this area. It has been listed as a world heritage site, therefore careful steps should be taken to restore this ancient city.

It is the only city with such unique architectural qualities.
 Construction Techniques
 When you consider the material that is used to construct Bam, it is even a wonder so much of the city still stands.

 The red desert clay, mixed with straw and "other organic materials", looks like it will come apart if anyone just looks at it.

And perhaps it's a good thing it doesn't rain here very often.

Located in southeastern Iran, 200 kilometers south of Kerman, the ruined city of Arg-e-Bam is made entirely of mud bricks, clay, straw and the trunks of the palm tree.

The existence of life in the oasis was based on the underground irrigation canals, the qanāts, of which Bam has preserved some of the earliest evidence in Iran.

Arg-e Bam is the most representative example of a fortified medieval town built in vernacular technique using mud layers.