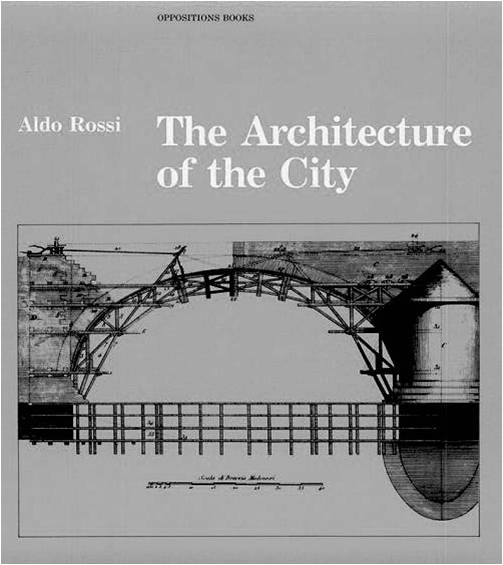 Rossi was born in Milan the 3rd of May 1931.
In 1959 he graduated from the Polytechnic University of Milan.
His book "L'Architettura Della Città", "The Architecture of the City" was published 1966.
Starting in 1975, Aldo Rossi taught at the faculty of architecture in Venice and in the following years he also held lectures regularly at several major American universities.
In 1983, Rossi was nominated Managing Director of the Department of Architecture for  the Biennale di Venezia. Aldo Rossi has won many awards for his research in both architecture and industrial design.
In 1990, he won the The Pritzker Prize
In 1992, he was given the 1991  Thomas Jefferson Medal in Architecture as well as the "Campione D'Italia" Nel Mondo prize. Aldo Rossi died the 4th of September in Milan in 1996.
Philosophy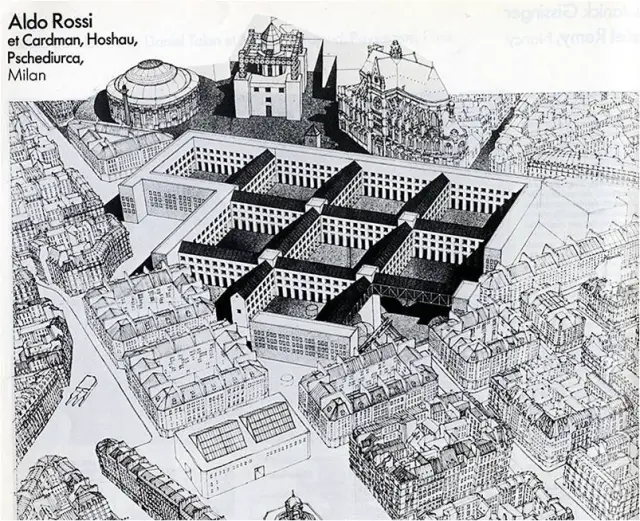 Inspired by the urban landscapes of Italian painters Mario Sironi and Giorgio Morandi, Aldo Rossi produces haunting images in which his buildings and others in the city shrink.
This design shows how the city responds to the city, slightly exaggerated in proportion.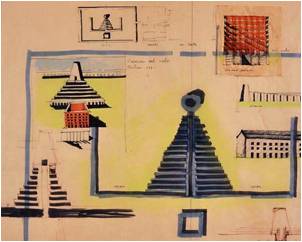 He engages in a determined search for essential forms based on what is refered to as "repetition and fixation." Aldo Rossi attempts to recover the "immovable elements of architecture," not as empty catalogs of forms but as a search for an ageless originality found in formal types.
Some of his designs were heavily inspired by the works of de Chirico and Sironi.
He argued that a city must be studied and valued as something constructed over time; of particular interest are urban artefacts that withstand the passage of time. Despite the modern movement polemics against monuments, for example.
He held that the city remembers its past and uses that  memory through monuments; that is, monuments give structure to the city.
San Cataldo Cemetery, Modena, Italy
It came at a time when architects were questioning the tenets of the Modern Movement.
Unadorned exterior, insistent static volumes and chilly uniformity of negative space is a visual reticence that is solemn, yes, but also eerie and discomforting
The cemetery is the very embodiment of this notion of collective memory, and  Rossi here creates a haunting and enigmatic city of the dead.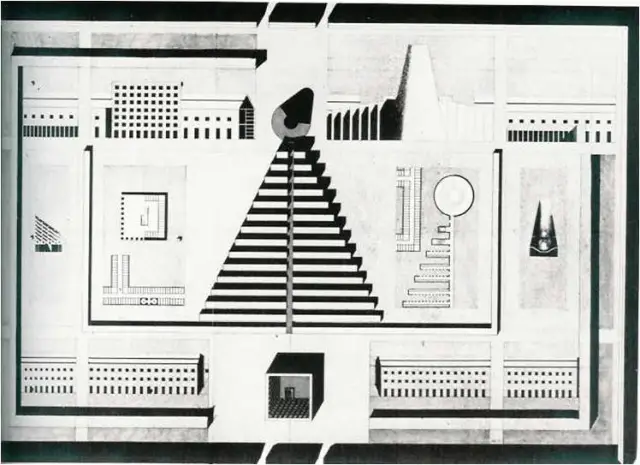 As quoted by Rossi  "One can say that the city itself is the collective memory of its people, and like memory it is associated with objects and places.  The city is the locus of the collective memory."
Rossi envisioned for the "city of the dead"- a free standing red ossuary at the entrance in form of a cube; positioned between the two repositories .
It was envisioned to form a series of repositories like the bone structure in a human.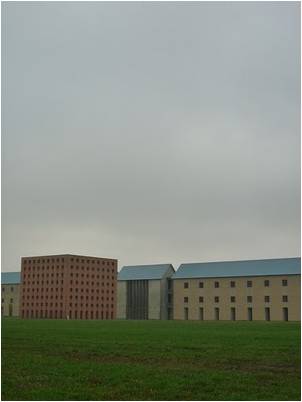 Rossi is syncretic, a human bridge between objective history and sublime subjectivity, rational consciousness and the irrational-unconscious, collective and personal memory—a man whose reconciliation of diametrically opposed imperatives finds him, to borrow his words, "somewhere between logic and biography." Much like his façades and interior spaces, Rossi's syncretism is deceptively simple
Despite the vigour, and, at times, sheer chaos of colour, line and form, they reveal a deliberateness and consistency characteristic of a man developing a code language.
other drawings his beloved enamel coffeepot is also bisected to reveal a brick wall and staircase
Bonnefanten Museum
1990-94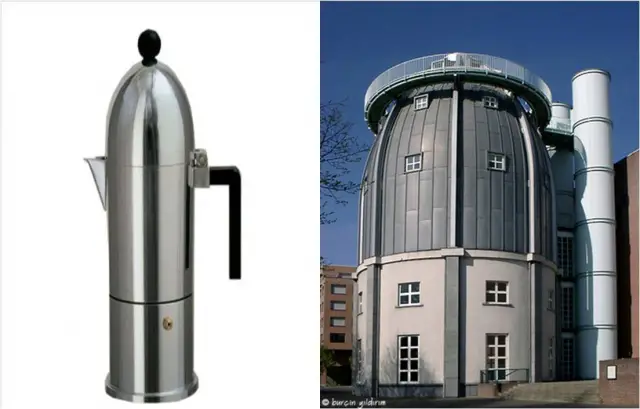 A design derived overlapping/ similar  to his coffee pot designs
A three-dimensional incarnation of a de Chirico
One of five buildings clustered on a triangular parcel intersected by two new streets on the Monte Amiata site.
Designed an elongated slab with a continuous outer corridor, or ballatoio—a building form popularized in the 1920s and one "as recognizable to Italians as town houses are to the English."
Result was a nearly 200meter block of two- and three-story flats raised on thin rectangular piers enclosing a public arcade.
Gallaratese Quarter II, Milano, Italy

It was one of his first projects, for a housing complex on the outskirts of Milan (Gallaratese 1969-1974)
Teatro del Mondo -Venice Italy, 1979-80

Built earthily on the edge of the water, it is  a light floating octagon theatre.
Its structure expresses the solid certainty of inert matter, against the fluid, watery agitation of life around.
Determined to survive in memory the way its masonry withstands time, and it hides its timeless monumentality behind a casual conjunction of schematic pieces bordering on the picturesque in the coloristic cube of the seaside tavern.
The mineral impassivity of its geometry is what freezes its forms in a still landscape.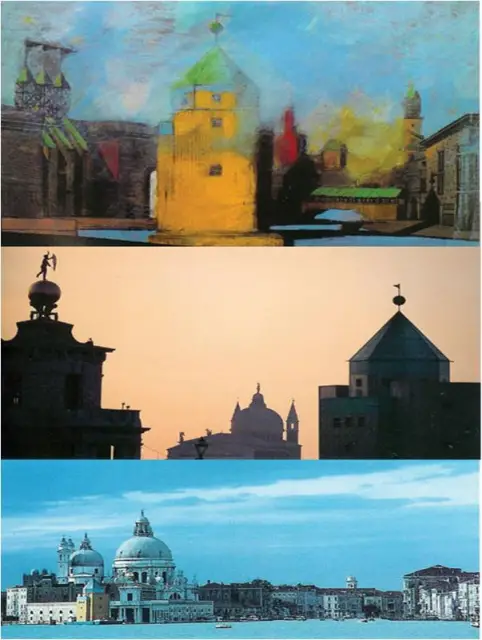 The idea was to recall the floating theatres which were so characteristic of Venice and its carnivals in the 18th century
He often employed archetypal forms in an attempt to re-establish a connection with the collective memory of the urban environment.
The form includes a conical dome, and a composition of basic geometry, often seen in all his designs
Simplified architectural elements give a sense of longing.
volumes – cube, cylinder, and prism – and their elemental identities as towers, columns, … out of his theoretical base came designs that seem always to be a part of the city fabric, rather than an intrusion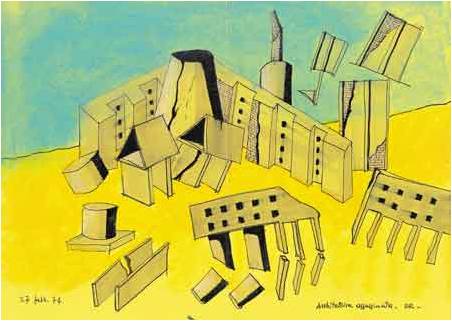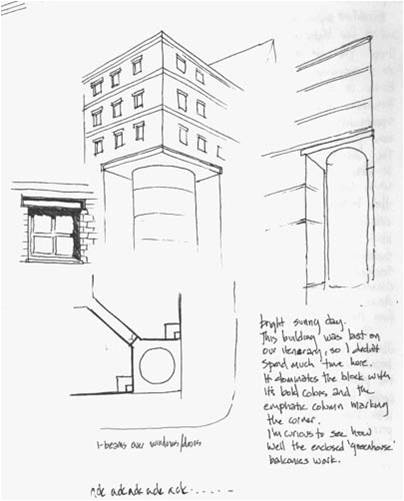 Later he repeated this design feature in  one of his housing designs in germany which was a more livelier building and more to do with existence and nurturing of life.
Cast in rough cement and composed of the parts of an ancient coffin, its roof-shaped lid having slid off and come to rest on a stump of a column and a thin access.
Design also shows recessed windows with cornices.
Flat roof with conical tower tops
Sudliche Friedrichstadt Housing Complex, 1981, Berlin, Germany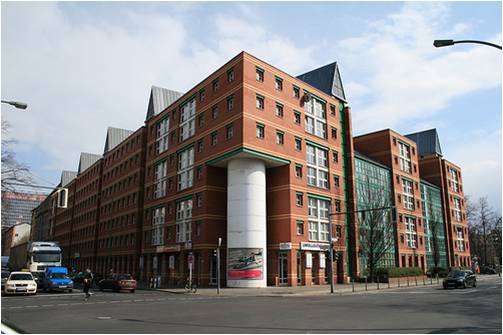 Hotel Il Palazzo, Fukuoka, Japan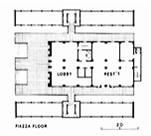 SECTION                                                                                 DETAIL
Built in 1987 in Japan
Built in Post-Modern style in an urban context
Comprises mainly of brick masonry with expressed steel lintels
Reinterpretation of classical orders again with cornices and recessed windows.
Flat roof, Squarish plan and red in color (like the Ossuary in San Catalado)
Art Gallery Fukuoka, 1989, Japan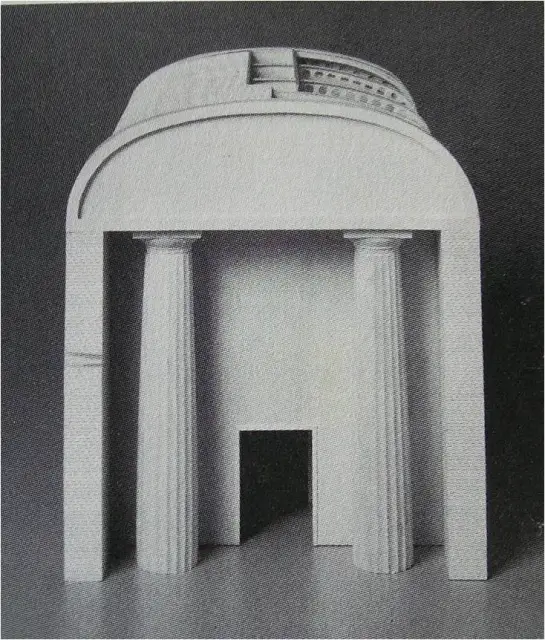 It was built in 1989.
The walls are clad with corrugated metal, which contrasts the two 26ft tall doric columns.
Behind this grand portico is the stucco facade, framed by two brick fin walls.
Inside are two floors of open display space. It is built to stand for only three years.
A semi circular  roof also seen in his earlier works  like Bonnafanten Museum and cultural centre in Milan.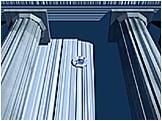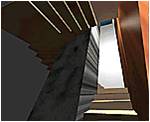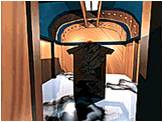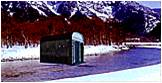 Monument in Piazetta Manzoni, 1988, Italy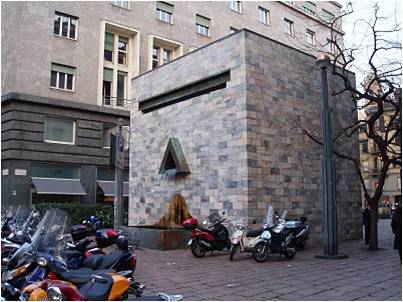 A triangular source of water added as a feature in many of his buildings
Flat roof
Use of tiles
Casa Aurora, Headquarters, 1884, Italy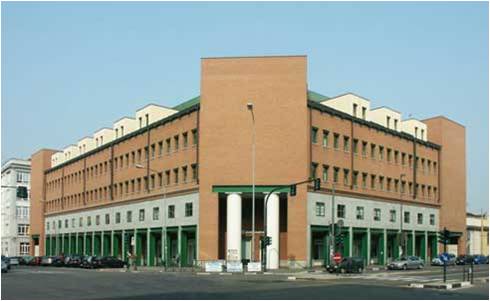 Use of corner columns and design of entrance from within.
Blank façade at entrance
Red façade-exposed brick
Use of various geometries in the same complex
Octagon block (Teatro del Mondo)
Portico (Casa Aurora)
Tower (San Catalado)
Triangular skylights (Berlin Housing)
Square design with recessions (Centro Torri Centre)
Deutsches Historisches Museum, 1988, Germany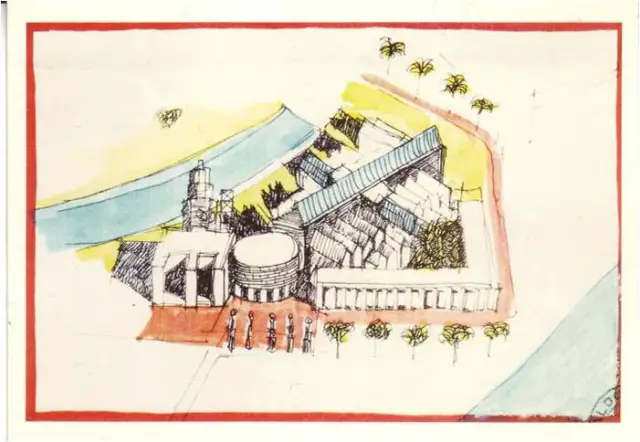 Ca' di cozzi, Verona, Italy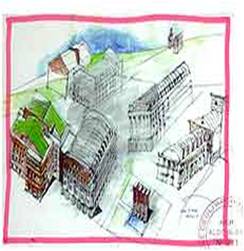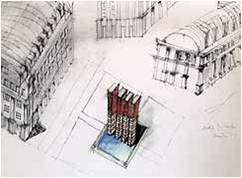 This was his last architectural project.
The whole area measures 67,00 mc. He was asked to create a  district with shops, offices and apartments.
This project has been based on three main elements: the green open space of the hills,  the hierarchy among residences and offices, and finally the reference to,  not the copying of, Venetian Architecture.

SECTION                                                                                                      ELEVATION
The idea is that the entire district is constructed with local materials.
Semi circular and triangular roof top
Use of cornices and columned portico
Recessed windows
All his projects have seen to have many similar features  which also derive from the use of local materials available to him
Other Designs By Him…

The recurrence coffeepots in his increasingly well known drawings eventually induced the Italian firm Alessi to commission him to design a line of coffeepots which are very symbolic of his design methodology, coming across at  one glance at them.eg: 'La Conica'- Express Coffee Maker. His inspiration which finally got converted into his architecture and designs.