Though it looks like some sort of painting by a drunk painter. But this is a real house located in Rezydent Shopping Center in Sopot, Poland. It is claimed to be the most photographed building in Poland. It is spread to an area of 4,000 square meters. Designed by Architect: Szotynscy Zaleski
The Crooked House
---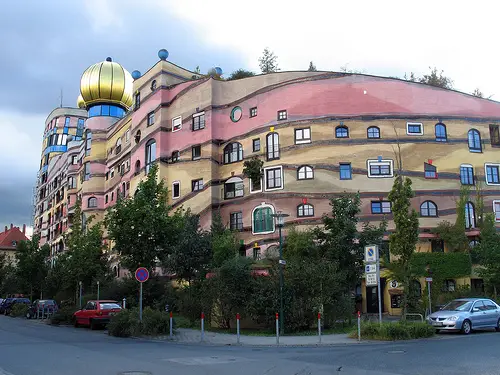 2. Forest Spiral – Hundertwasser Building
Architect: Heinz M. Springmann
This is a residential building complex located in Darmstadt, Germany. The building has a unique façade which doesn't follow a regular grid pattern and the windows appear as if they are dancing out of line and appear out of order.  It was designed by Viennese artist Friedensreich Hundertwasser and finally planned and implemented by architect Heinz M. Springmann. It contains 105 apartments, an inner courtyard, a small artificial lake and also a playground for children. The building has 12 floors.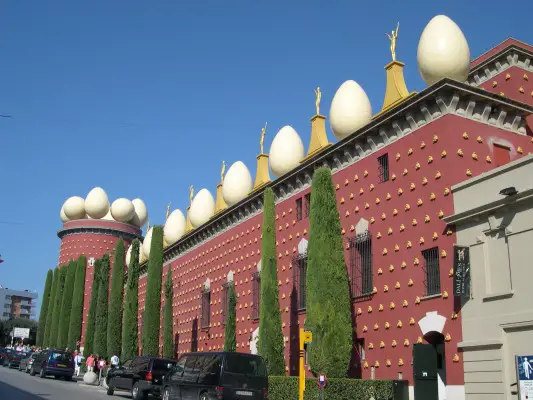 3. The Torre Galatea Figueras (Spain)
The first things you notice are the giant egg sculptures along the roofline. Then it hits you that the Salvador Dali Theater Museum in Figueras, Spain, is no ordinary building. The museum's tower, Torre Galatea, was named for the surrealist artist's deceased wife, and Dali himself lived there until his death in 1989. Interestingly, the museum sits next to the parish church where Dali was baptized in 1904; he is buried in an unmarked crypt in the museum's main exhibition hall.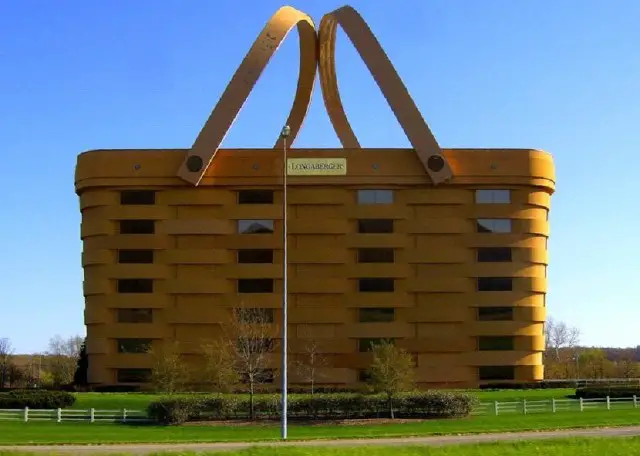 4. The Basket Building (Ohio, United States)
This may look like a picnic basket kept in the park. But this actually is a 7-story building which is Longaberger's Home Office located in Newark, Ohio. This monument is in-fact world's largest basket. Its 192 ft. long by 126 ft. wide at the bottom, spreads to 208-ft. long by 142-ft. wide at the roofline.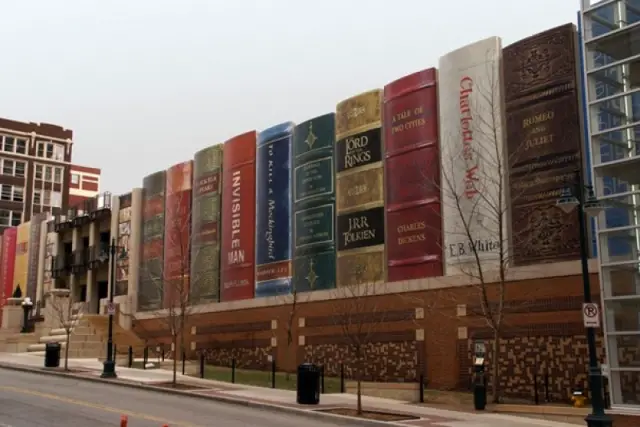 5. Kansas City Public Library (Missouri, United States)
This installation is permanent, on a much larger scale, and is designed to conceal the library's car park. Here the public were asked to nominate books that they felt represented Kansas City. The library was founded in 1873 A.D, and is the oldest and the third largest public library in Kansas City area.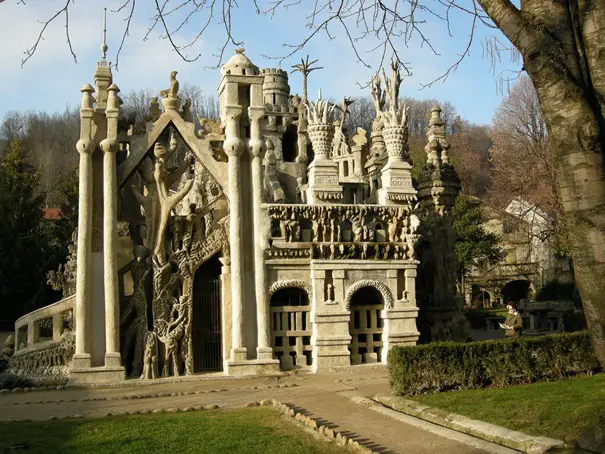 6. Ferdinand Cheval Palace a.k.a Ideal Palace (France)
Cheval began the building in April 1879. He claimed that he had tripped on a stone and was inspired by its shape. He returned to the same spot the next day and started collecting stones.
For the next 33 years, during his daily mail route, Cheval carried stones from his delivery rounds and at home used them to build his Palais idéal, the Ideal Palace. First he carried the stones in his pockets, then a basket and eventually a wheelbarrow. He often worked at night, by the light of an oil lamp.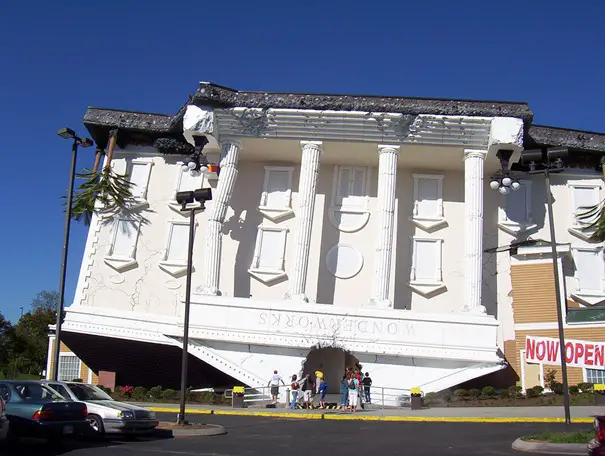 7. Wonderworks (Pigeon Forge, TN, United States)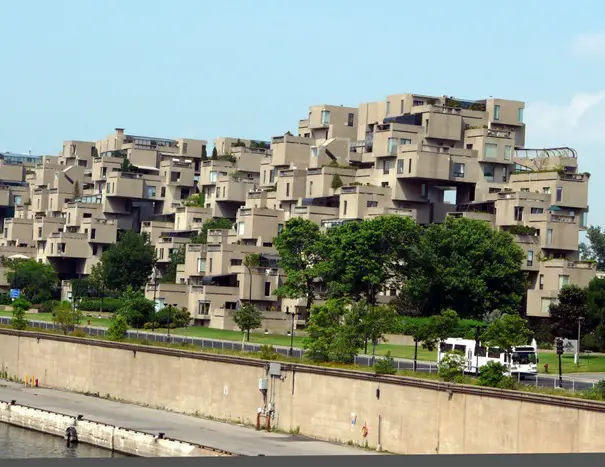 8. Habitat 67 (Montreal, Canada)
Architect: Moshe Safdie
Habitat 67 is a one-of-a-kind housing complex located in Montreal, Quebec, Canada.
The building was realized as the main pavilion and thematic emblem for the International World Exposition and its theme, Man and His World, held in Montreal in 1967.
It is built as a part of Expo-67.
It was designed to integrate the variety and diversity of scattered private homes with the economics and density of a modern apartment building.
The project was designed to create affordable housing with close but private quarters, each equipped with a garden.
The building was believed to illustrate the new lifestyle people would live in increasingly crowded cities around the world.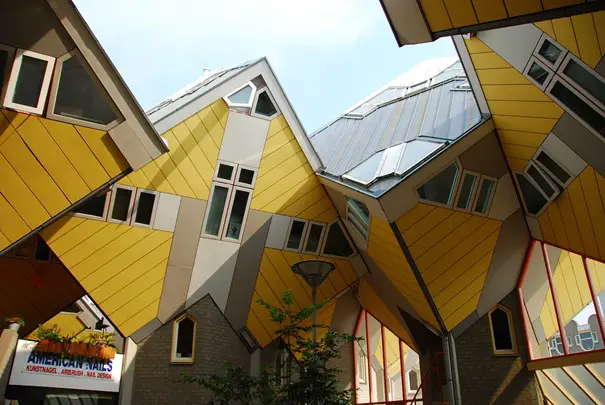 9. Cubic Houses (Rotterdam, Netherlands)
Architect: Piet Blom
This is a housing designed on top of a pedestrian bridge. The main idea behind this is to create a forest of cubes (abstract trees) as each cube represents an abstract tree.
The cubes are tilted and sit on hexagon-shaped pole structures. The cubes contain the living areas, which are split into three levels. The triangle-shaped lower level contains the living area.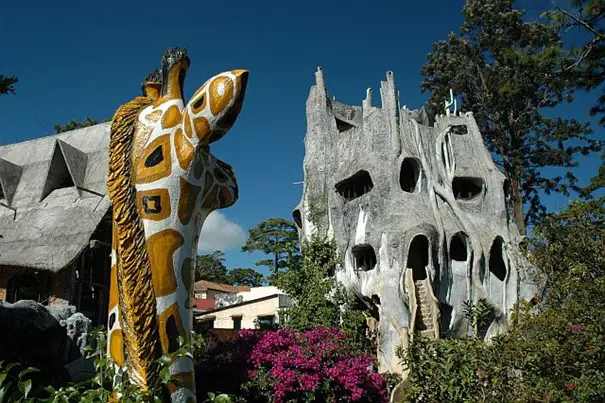 10. Hang Nga Guesthouse (Crazy House), Vietnam
This fantastical place is like a journey into the world of Alice and Wonderland. Designed by a woman artist who hangs around the grounds, it is one of wonder.
The house is owned by the daughter of the ex-president of Vietnam, who studied architecture in Moscow.
It does not comply with any convention about house building, has unexpected twists and turns, roofs and rooms. It looks like a fairy tale castle, it has enormous "animals" like a giraffe and a spider, no window is rectangular or round, and it can be visited like a museum.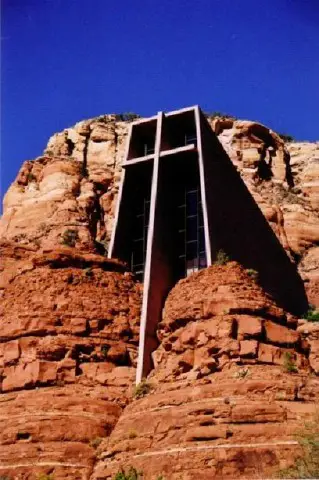 11. Chapel in the Rock (Arizona, United States)
This beautiful Roman Catholic church is literally built into the rock. The views from outside are unbelievable but the serenity inside is awesome.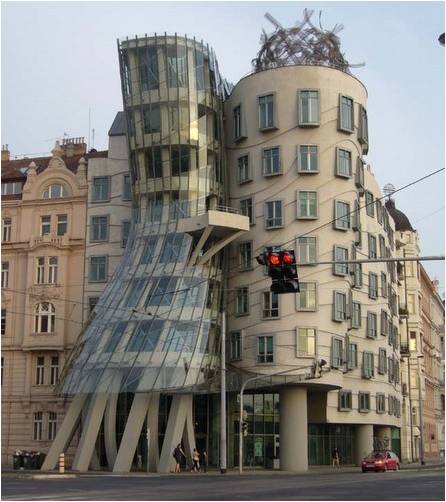 12. Dancing Building (Prague, Czech Republic)
Designed by: Architect Vlado Milunić in co-operation with Canadian architect Frank Gehry on a vacant riverfront plot.
The building was designed in 1992 and completed in 1996.
A modern, glass building surrounded by historic architecture.
The top floor of Dancing House is home to one of the city's leading restaurants, Celeste Restaurant.
Diners can enjoy delightful cuisine and magnificent views over the river and up to Prague Castle.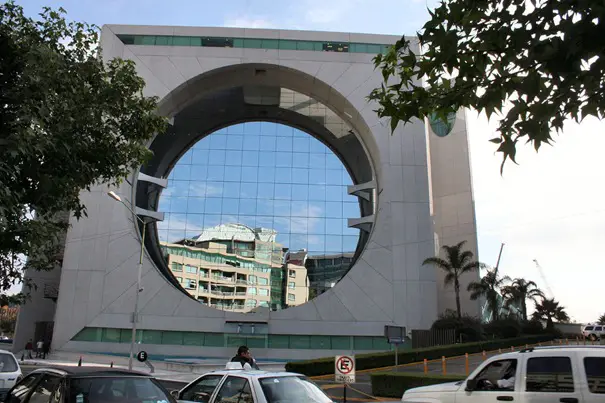 13. Calakmul Building Or La Lavadora (The Washing Machine), Mexico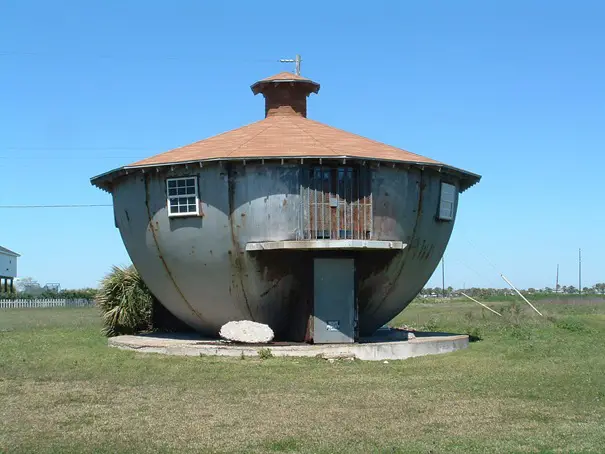 14. Kettle House, Texas, United States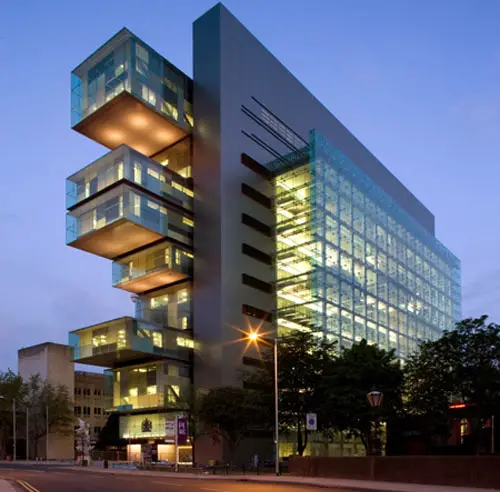 15. Manchester Civil Justice Centre, United Kingdom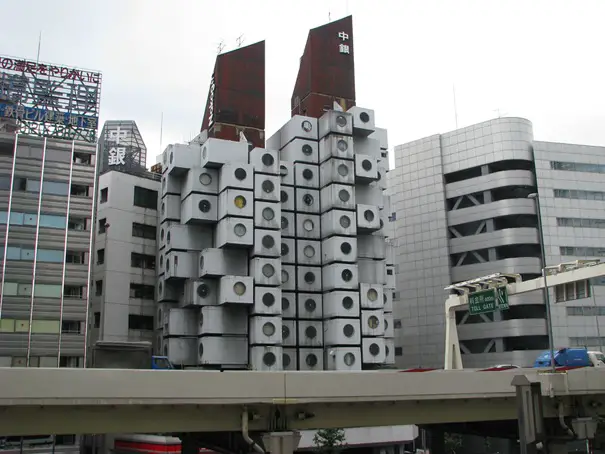 16. Nakagin Capsule Tower, Tokyo, Japan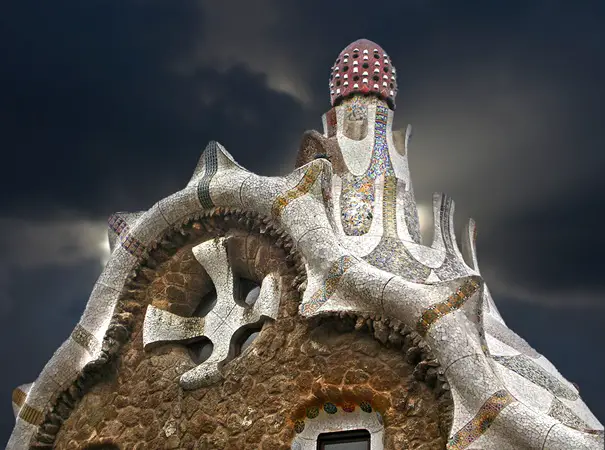 17. Mind House (Barcelona, Spain)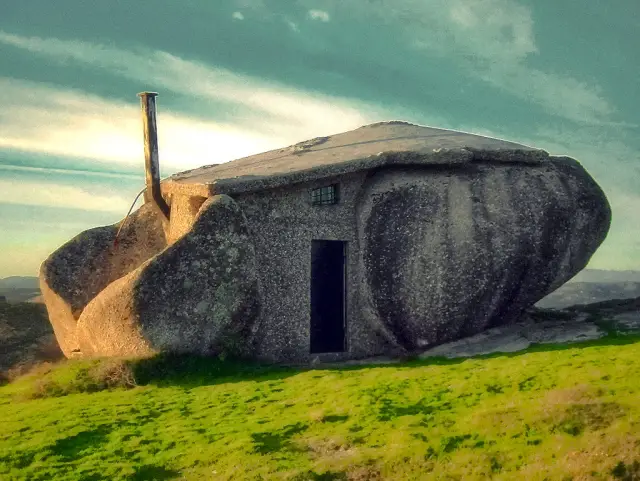 18. Stone House, Guimarães, Portugal
This fake looking awesome stone house is located in Fafe, Guimarães (Portugal).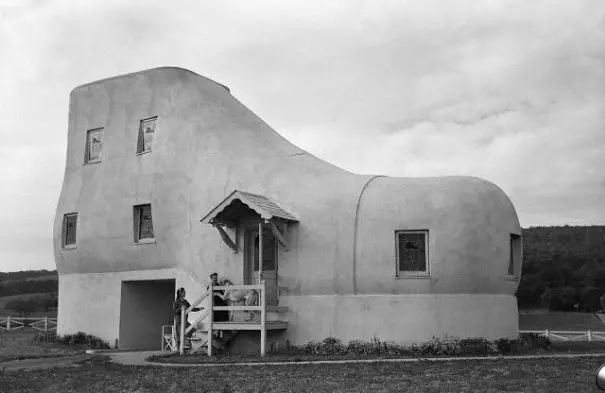 19. Shoe House, Pennsylvania, United States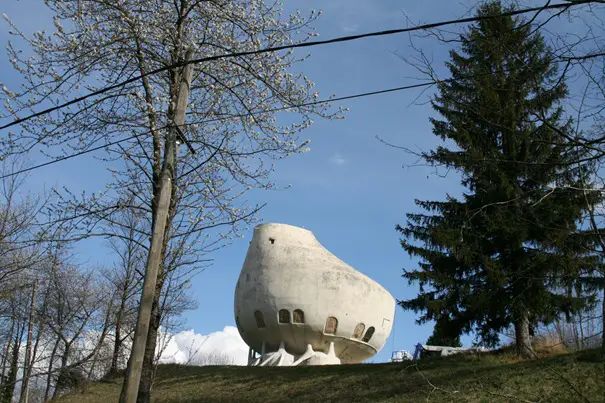 20. Weird House in Alps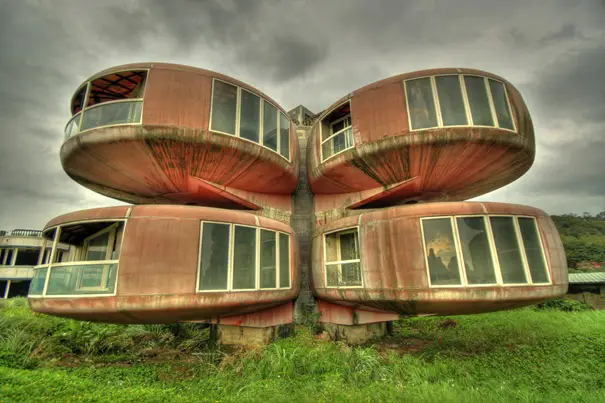 21. The Ufo House, Sanjhih, Taiwan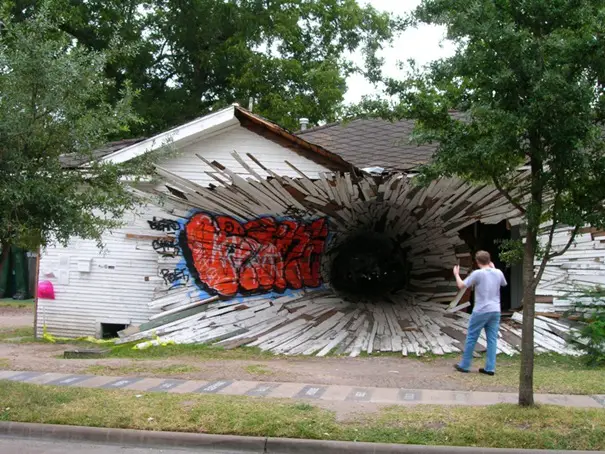 22. The Hole House, Texas, United States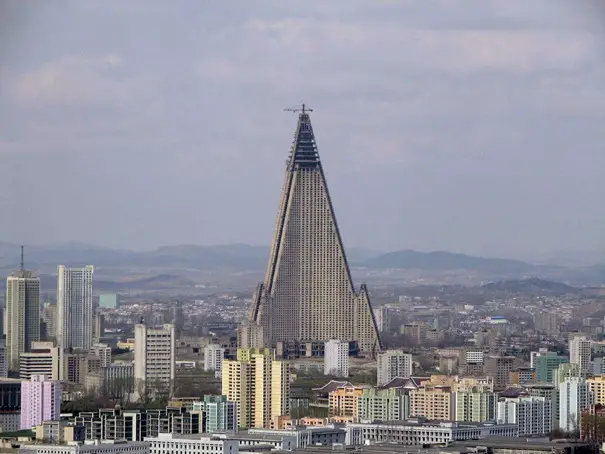 23. Ryugyong Hotel, Pyongyang, North Korea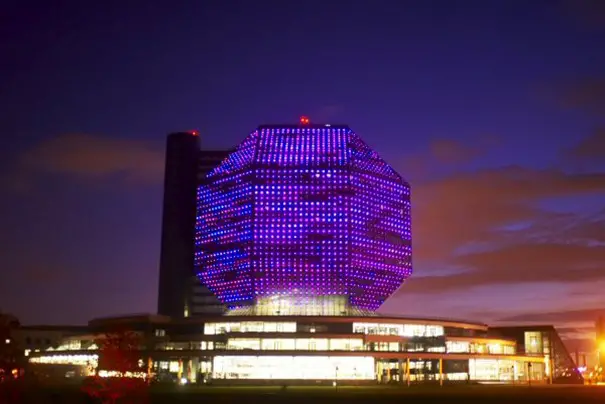 24. The National Library, Minsk, Belarus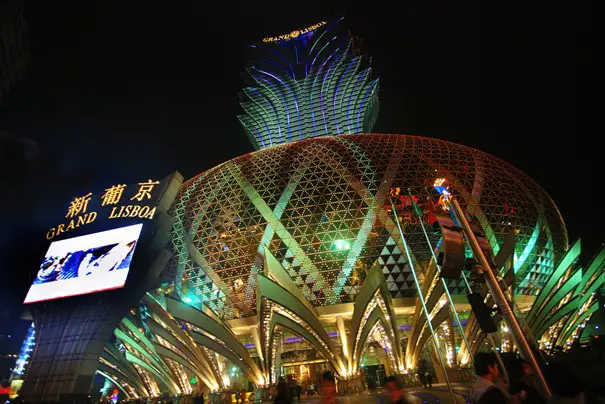 25. Grand Lisboa, Macao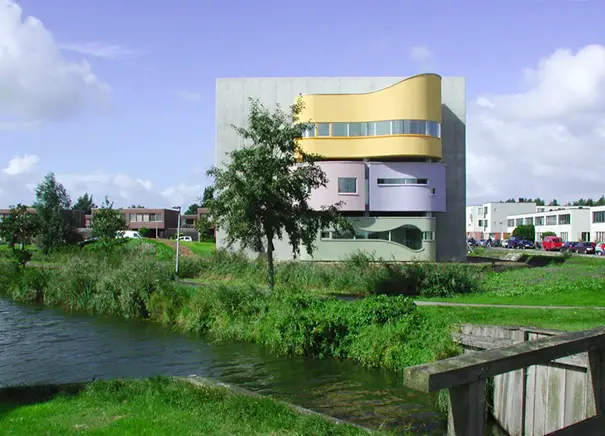 26. Wall House, Groningen, Netherlands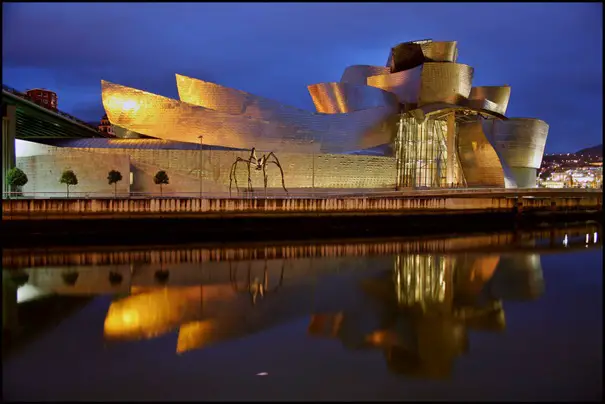 27. Guggenheim Museum, Bilbao, Spain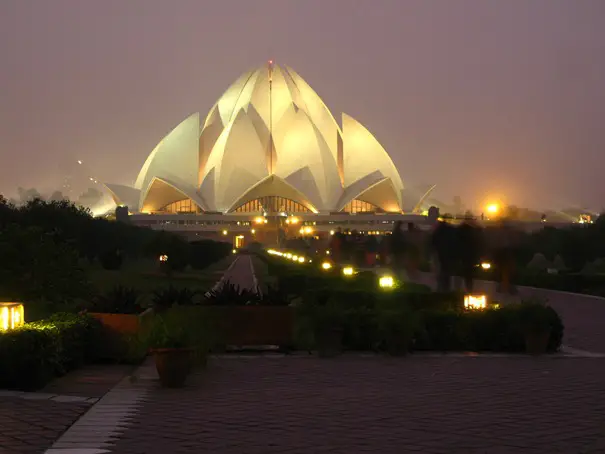 28. Bahá'í House of Worship (Lotus Temple), Delhi, India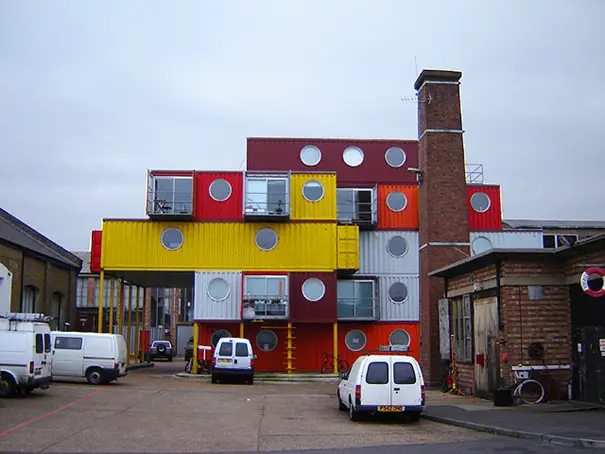 29. Container City, London, United Kingdom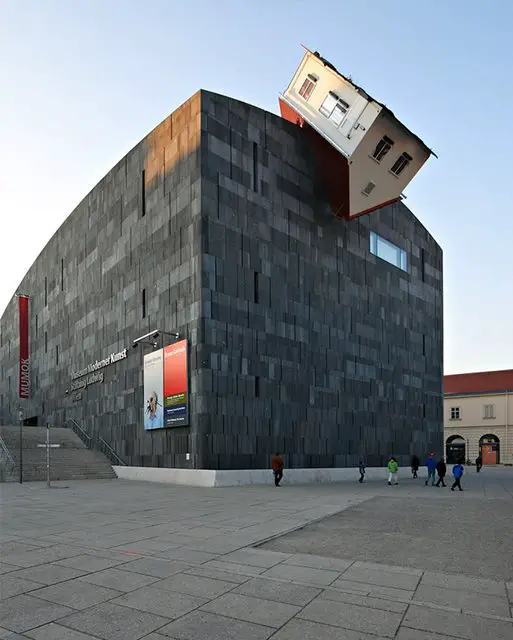 30. Erwin Wurm: House Attack, Viena, Austria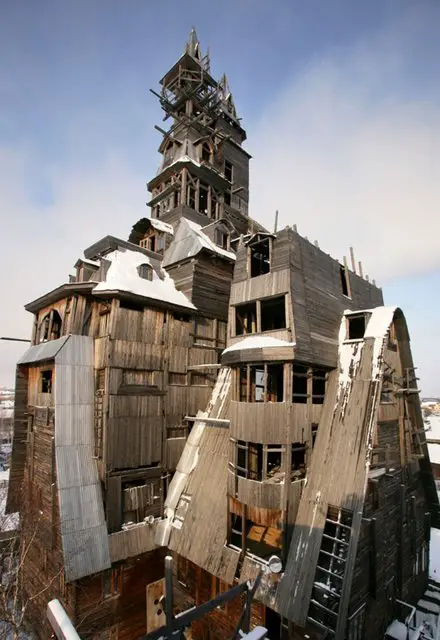 31. Wooden Gagster House, Archangelsk, Russia
32. Air Force Academy Chapel, Colorado, United States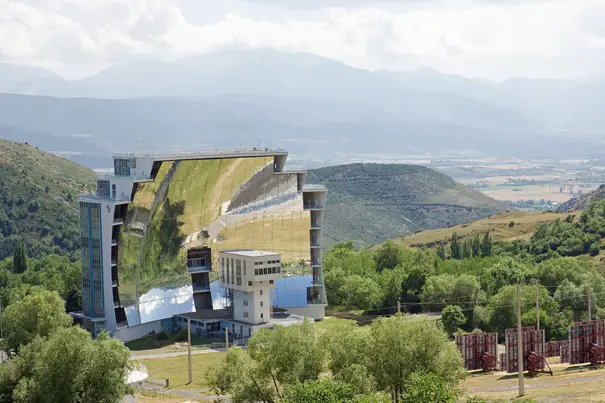 33. Solar Furnace, Odeillo, France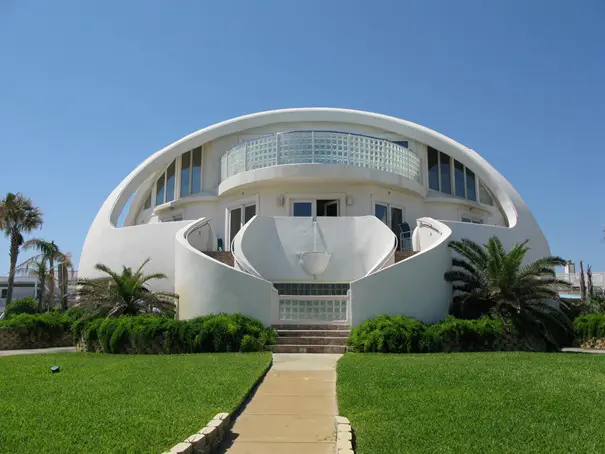 34. Dome House, Florida, United States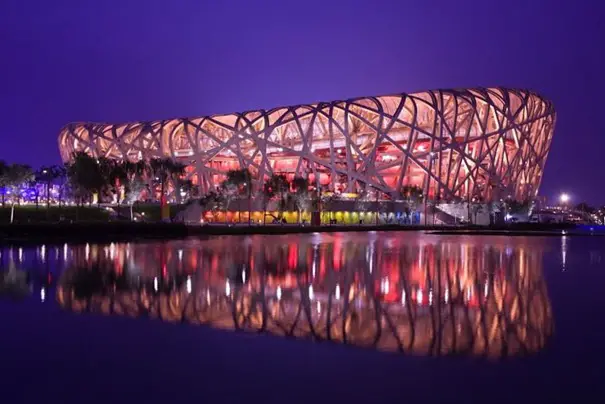 35. Beijing National Stadium, Beijing, China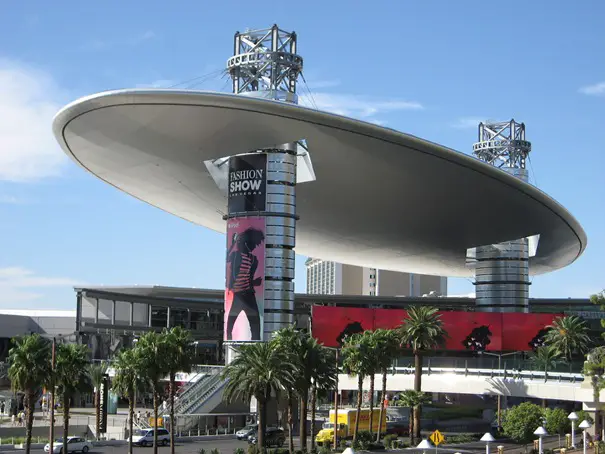 36. Fashion Show Mall,Las Vegas, United States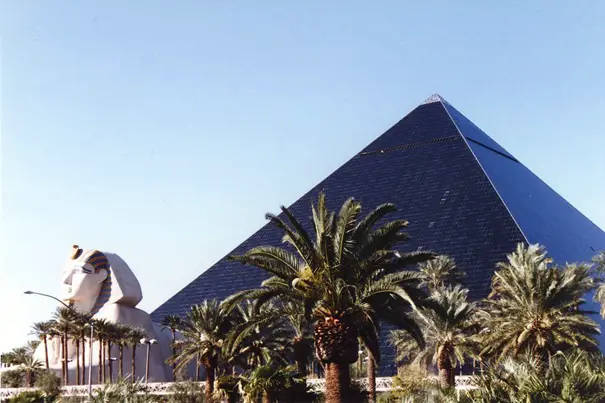 37. Luxor Hotel & Casino, Las Vegas, United States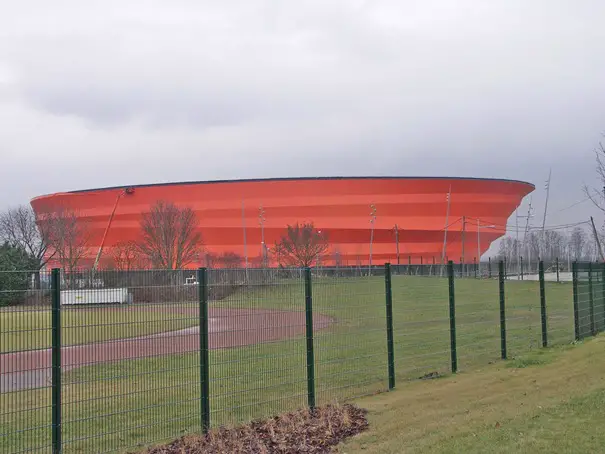 38. Zenith Europe, Strasbourg, France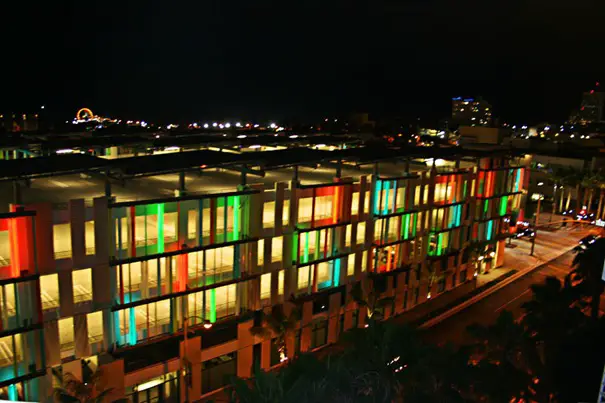 39. Civic Center, Santa Monica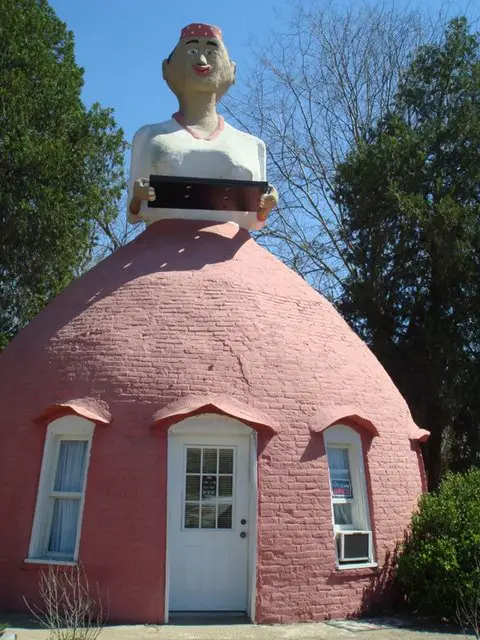 40. Mammy's Cupboard, Natchez, MS, USA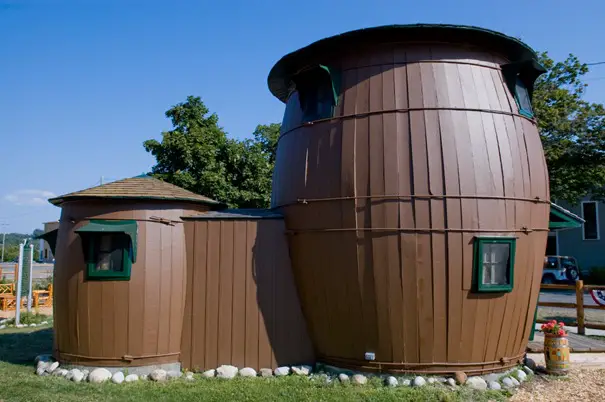 41. Pickle Barrel House, Grand Marais, Michigan, USA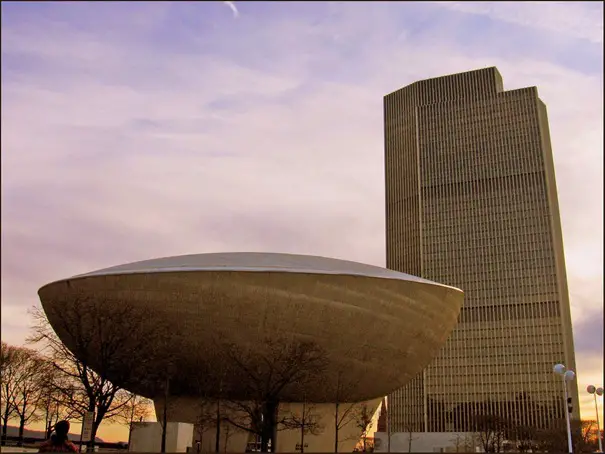 42. The Egg, Empire State Plaza, New York, USA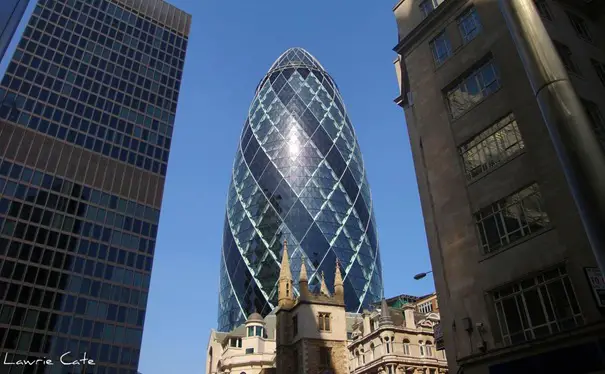 43. The Gherkin Building, London, UK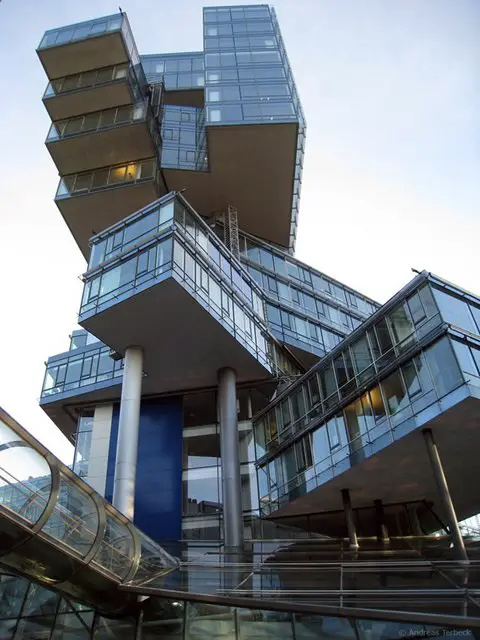 44. Nord LB building, Hannover, Germany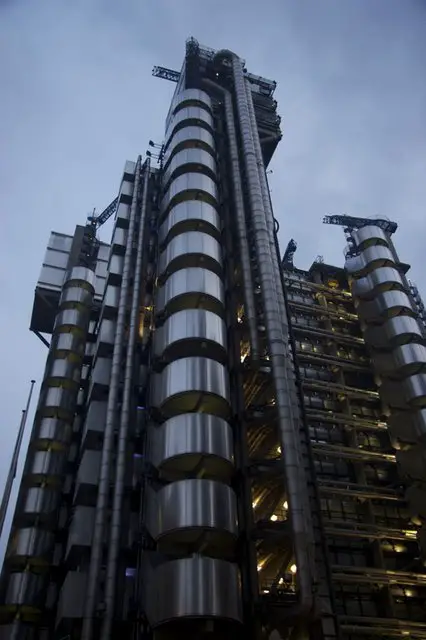 45. Lloyd's building, London, UK
46. Druzhba Holiday Center Hall, Yalta, Ukraine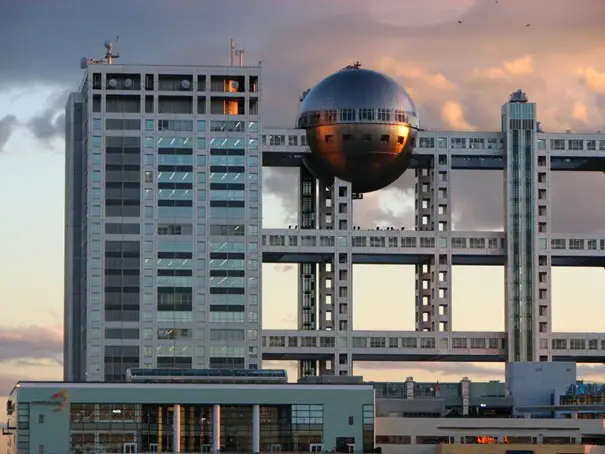 47. Fuji television building, Tokyo, Japan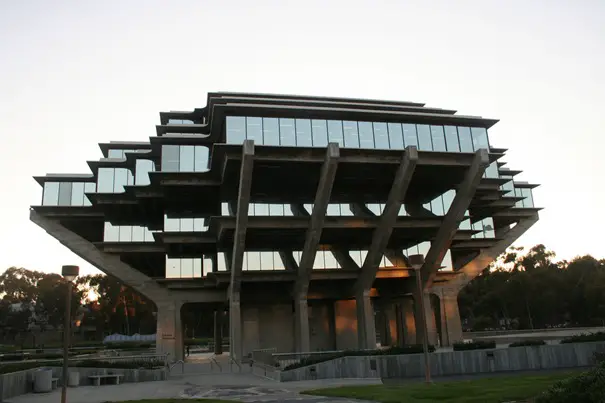 48. UCSD Geisel Library, San Diego, California, USA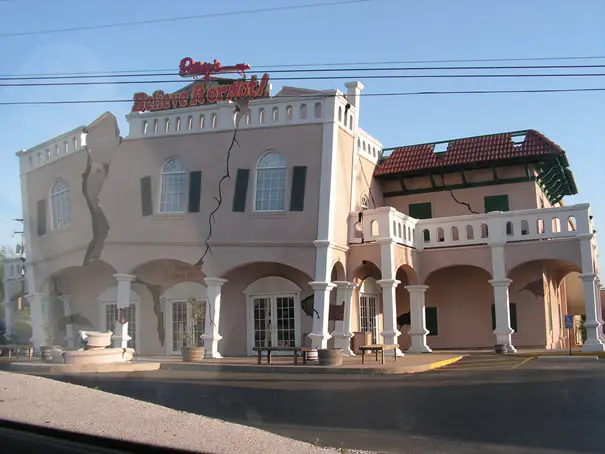 49. Ripley's Building, Niagara Falls, Ontario, Canada
50. The Bank of Asia (Robot Building), Bangkok, Thailand