What probably started as the use of banana leaves and hay stacks to provide cover from the sun and rain, roofing has become one of the most important features of a house or a building. The roofing style depends on several factors such as architecture, purpose, location and availability of roofing materials etc. If you have planned to remodel your house's roofing it might be a perfect time to make changes, not just in the design, but change in the roofing material as well. The roofing materials can make a huge difference in the look and functionality that a roof serves. There are several types of roofing materials which are commercially available and it would be a wise decision for you to know the best types available. Listed below, are a few of the most popular types of roofing materials.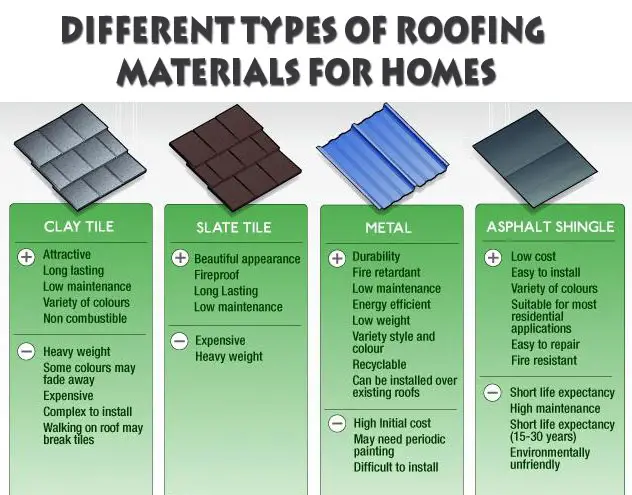 1. Metal Roofing
While more commonly used for warehouses, with the advancement of modern technology, metal roofing is now available in attractive styles for houses as well. Metal roofing is not only one of the strongest roofing materials but is also resistant to termites and other wood-boring insects. Nevertheless, metal roofing can be a bit on the expensive side and installation requires highly experienced trained personnel.
2. Asphalt Shingles
Also known as composite shingles, these are the most popular of all the roofing materials. The tiles are made of fiberglass mopped with asphalt and granules. Asphalt shingles are easy to install, cheap on the budget and come with a 20-30 year warranty. The best advantage lies in its popularity as it is available with most sellers and stores. It can also be replaced by any roofing company in case a single or two goes missing.
3. Slate Shingles
Slate is a variety of stone that is easy to split in thin sheets and makes an ideal material for roofing. While many cheaper alternatives for slate are available like the rubber slates, slate shingles are for the people who will not settle for anything else. Slate shingles are real stone and must be installed with utmost care. Slate shingle roofing is a popular choice for roofing in Portland and other places in the US.
4. Green Roof
Being the latest in roofing technology, green roofs are simply covered with a special waterproof material with adequate drainage. The feature that makes the roof 'green' is its ability to support plant growth and extensive growth such as moss. Green roofs act as a natural thermal insulator and puts back oxygen in the air. Moreover, polycarbonate sheet roofs can also do the same job. It can absorb the excess rainwater and act as a natural garden that supports the growth of plants and creepers.
5. Clay Tiles
One of the most durable materials available for roofing, clay tiles are resistant to fire, rain, mould and decay. It is however delicate and cannot be walked on. Nevertheless, clay roofing is a popular choice for mansions built in an Italian or Spanish style, and is a popular choice in the US. One must be aware that although clay roofs are easy to maintain post installation, they are heavy and installation can be expensive.
Choosing the roofing material is important and can totally change the look of your house. The abovementioned roofing materials are few of the most popular choices for roofing in the market. Irrespective of the material used, poorly installed roofing can be dangerous and can prove to be a costly affair down the road. Hence, one must be careful while choosing the roof installation services for best results.