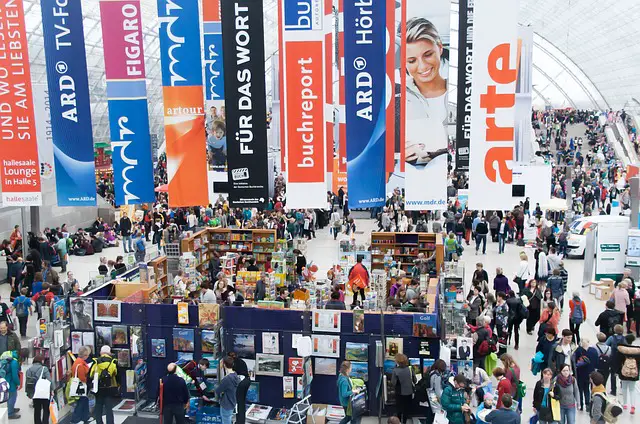 Image Credits nile (pixabay), CC0 1.0
An exhibition is a place to showcase the collection of items, arts like paintings, drawings, sculptures, crafts, trade shows and interactive arts. Exhibition booths are spaces undertaken by any brand to showcase their products. So, how do you get started with this form of marketing your brand and product? Well, an exhibition booth must have a theme along with collection of items to be displayed to attract and gain the attention of the audience. There are some pointers that can be kept in mind whilst such an activity is to be undertaken.Few tips to make your exhibition stall attractive and appealing:
1. Selection of a Space & theme with colors and lights
A striking spot for the stall including a banner defining the theme of the show will be of paramount attraction. Theme of the stall can vary depending upon what products are displayed or sold in the booth. Promotional offers or sales are the arresting part of any stall or booth. Therefore the banner of the booth should include the promotional offers if there is any, apart from the information like name of the stall and other required details of the stall.
Booth name must be catchy and appealing to the visitors and correlated to the products displayed/ being sold. Opt for attractive, eye catching and captivate colors for designing of a banner. Exerting vigorous colors will lead to multitudinous curiosity. Illuminating the stall with dazzling and colorful lights will be another standpoint. Additionally adorning and furnishing with radiant lanterns, standard lamp and side lights will ablaze the booth. Anterior of the stall or booth must be mind boggling and pleasing the customers to at least explore the stall.
2. Flash mob performance to get the attention
Flash mob can be one of the most unusual and wonderful event that one can plan at their stalls in exhibitions to enchant the customers. A human body can hear faster than they see. Therefore dance and music will be the foremost feature that will foregather massive crowd.
Form a team of dance troop that can practice dance on different folk songs and famous albums and perform right in front of the stalls. To be peculiar, this troop can dress up with a costume and accessorize with head caps, that showcase the brand or logo or stall name and maintain the theme of the stall.
3. Engage visitors by adding some activities
Including interesting games like blindfold and guess the product or item, simple lottery contest, auction or bidding of unique and vintage items etc. can be few activities to keep the crowd engaged with the stall. Advertising sky balloons or hot air balloons can also lead to surge of crowd. Mascots can be another surprising detail to engage the visitors or customers. Arranging refreshments or offers like 'free goodies upon a valid purchase' for the visitors will not only entice them but also keep them involved in our products.
Why always go for looks that are eye-catching by using extreme steps? Even simple and subtle looks and décor of the Exhibition Booths could actually do the intended trick!
4. Deliberate display of the products
Deciding on some relevant aspects like choosing the color scheme of the booth too would hold the key to success. You can check out some designs by The Halo Group to get an idea. Going for all very gaudy, or too plaintiff a look – both can be a dampener. Hence, to choose them in tandem with the spirit of the product would hold the right formula to right and plentiful of attention. A few more pointers –
Systematic expositions of the products will upswing the exhibits.
Arrangement of products to be displayed is predominant.
Products or items should be organized within the sight of the visitors.
Correlated products should be exhibited together for the customers comfort.
Products must be in hand reaching of the customers.
Products display stands or racks should be of superior and first rate quality for effectiveness that will add uttermost value to the stall.
If there are multiple products in the stall, correlated products can also me themed and exhibited for massive convenience.
5. A host for interaction
Communication is the backbone of any organization and is a key to good relationship, be it a tradesman and customer association. No visitor or customer would like to be unattended, so having a host i.e., either a salespersons or a person providing information on the products displayed. Interactive exhibition will not only engage but ensures the visitors or customers satisfaction which in turn is the premier goal of any organization.
Exhibition Booth is one aspect that could muster a lot of creativity and define the brand's presence in the right spirit of the product in its sincerity. Even though digital marketing and media marketing have now spread to an unimaginable reach, some of the classical or the 'old' forms of marketing are pretty much alive and kicking! So, what are you still waiting for?