Photo by Pexels, CC0 1.0
As important as the food and drinks are, the interior of a restaurant or bar plays a very important role in making sure the guests have a good time. We've all been mesmerized one time or another by the beautiful interior of a particular restaurant, be it the way lamps are arranged or how the tables are set, restaurants and bars do need to have a certain charm associated with them to make you feel more invited. Check out 15 of the most amazing interior designs of bars and restaurants in the world.
1. Truth Café, Cape Town, South Africa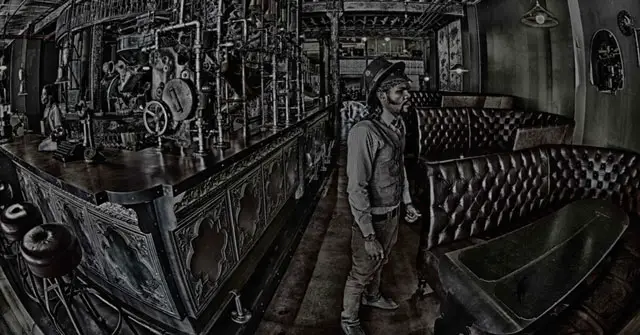 Image Source 
Deemed by the Telegraph to be the best coffee shop in the world, Truth Café in Cape Town is home to tall pipes filled with coffee beans and antique machinery that will take your breath away. Add to that the taste and aroma of coffee from all over the world, and the brown leather couches are going to feel like the most inviting thing in the world at Truth Café.
2. Astor Grill, Doha, Qatar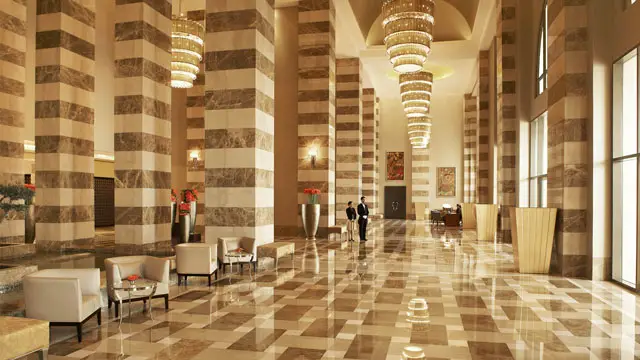 Image Source 
This New York Steakhouse and grill in Doha is known as Astor Grill which has an unbelievably beautiful interior in keeping with the delicacies served there. With an open grill kitchen and a relaxing dining area, Astor Grill brings delightful leather seating areas and pine wood hanging elegantly down the ceiling to create a mesmeric atmosphere.
3. Bicycle Bar, Bucharest, Romania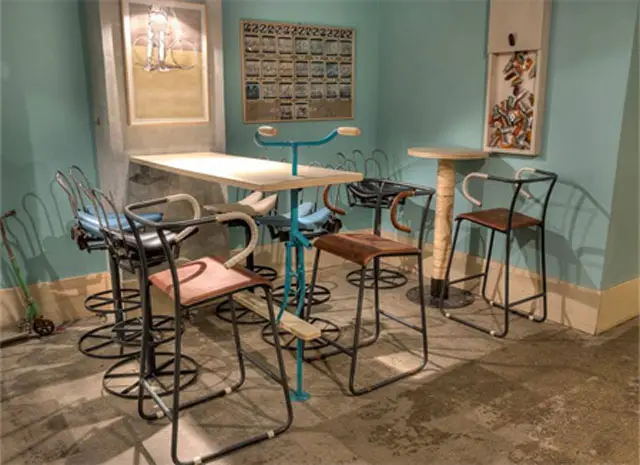 Image Source 
Used bicycles and metal junk are recycled into a beautiful interior at Bicycle Bar in Bucharest. Contemporary art and a colourful splash in this restaurant and bar make it a lovely place to dine in. Sit on chairs of bicycles around tiny and large tables alike to enjoy the delighting ambience of this bar in Bucharest.
4. Café Ki, Tokyo, Japan
The monochrome interior of this restaurant where table and chair legs are extended to look like trunks and branches of trees, Café Ki in Tokyo is a unique restaurant to dine in. The atmosphere is so basic yet unusual that you just can't take your eyes off of it. Leafless trees sitting on a wooden floor with branches that also act like coat-hangers, Café Ki is an experience of unmatched inimitability.
5. The Jane Restaurant, Antwerp, Belgium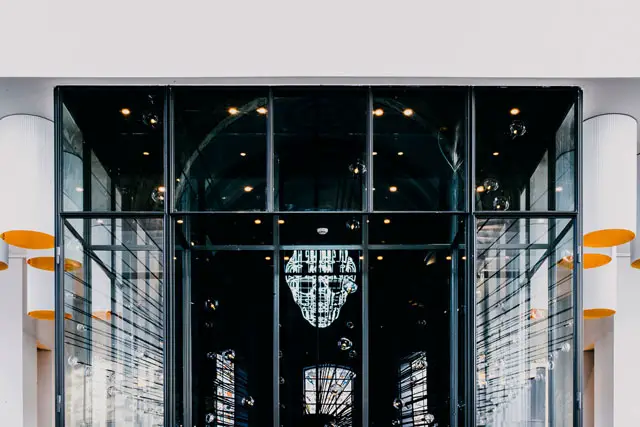 Image Source 
An ancient chapel renovated into a restaurant, the Jane in Antwerp is a beautiful restaurant where the main altar leads to an open kitchen in the place of worship, while tables are arranged in a systematic and elegant manner around the chapel area, turning it into a shrine of delicious food and drinks. Just visit this website to find out more.
6. Bangalore Express Restaurant, London, England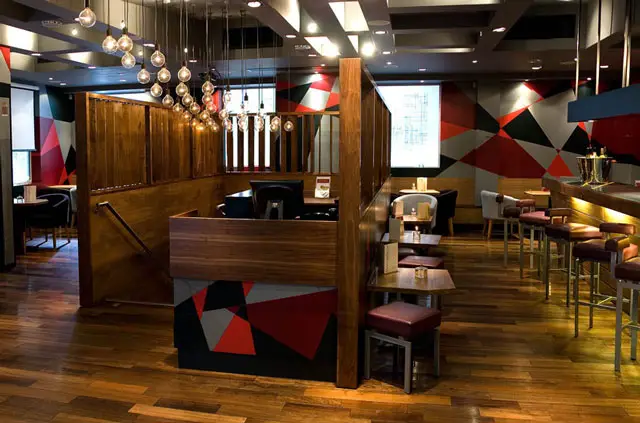 Image Source
Craving some traditional Indian cuisine within a wooden interior where you can dine in comfy booths, benches or regular tables. An enviable looking bar, cosy seating areas and two floors perfect for any sort of outing, Bangalore Express is a funky restaurant where you can have the time of your life.
7. Blue Frog Lounge, Mumbai, India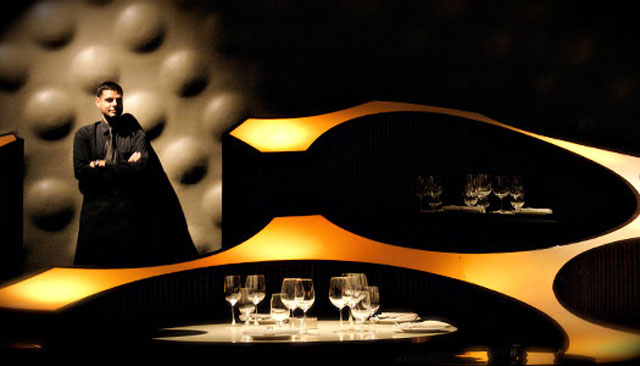 Image Source
Live music, delicious food and drink, lights that dance to the music and an interior that will make a photographer fall in love, Blue Frog Lounge in Mumbai, India, is a perfect paradise for music lovers. Lavish booths, sprawling tables and glamorous walls are just a smidgen of what you can expect at Blue Frog Lounge. Luxury finds a new definition at this paradisiac.
8. Pakta Restaurant, Barcelona, Spain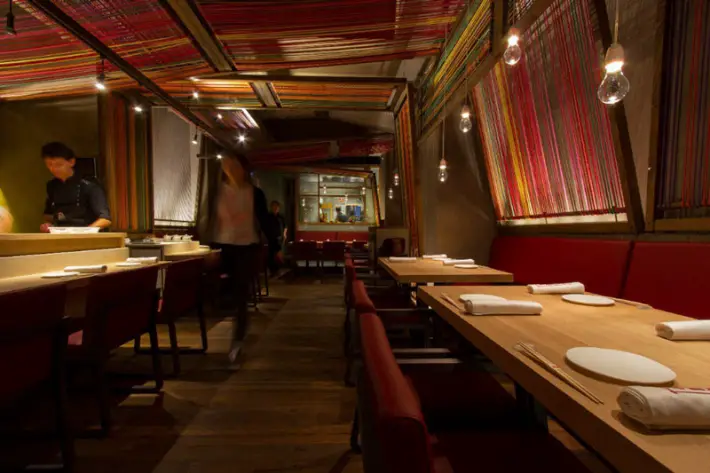 Image Source 
If Barcelona's beauty wasn't enough to entice you, Pakta Restaurant is sure to make you never want to leave Spain. Just like it's unique cuisine of Peruvian and Japanese, the interior is a mix of colourful textiles that will calm your very soul. Don't be surprised if this splash of colour within the tavern-like restaurant takes your breath away from time to time, for it is one of the many things at Pakta Restaurant that will leave you utterly entranced.
9. Electric Bar, Paris, France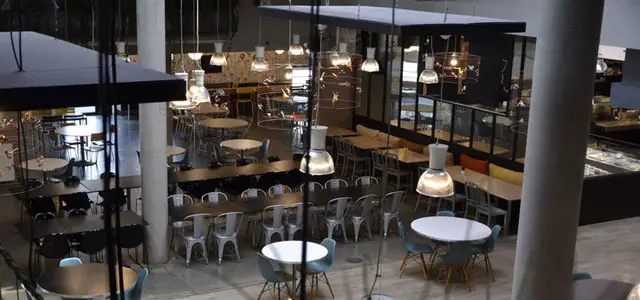 Image Source 
Paris's very own Penthouse Bar and Restaurant, Electric Bar is home to an innovative sort of interior. Cables and lightning projectors hanging securely down the ceiling, along with gothic looking dark trees settled within the area, it's got all you need to keep you rooted until you've had more food than you'd intended to. There's a soundproof music room, an enviable view of the city from the top, and a terrace with a dance floor.
10. Le Pain Frances Restaurant, Gothenburg, Sweden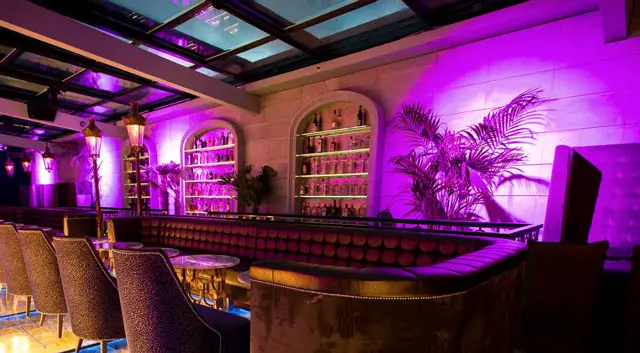 Image Source 
Experience Paris in Sweden by visiting the Le Pain Frances Restaurant in Gothenburg, enough to send your mind into overdrive about how enchanting the place truly is. It is nothing but delightful to dine in this restaurant where the elegant French interior will make you feel like royalty. Velvet chairs, beautiful artwork, sofas and mirrors paired with delectable cuisine, everything in Le Pain Frances Restaurant is absolutely gripping and enjoyable. It's as much a delight to your eyes as it is to your taste buds.
11. Chocolate Bar, Opole, Poland
What's better than eating chocolate? Watching it drip down walls of course! At Chocolate Bar in Opole, you can sit before a wall that looks like melting chocolate, and the unique part about this place is that nothing else is needed to increase its allure. The interior is otherwise simple and elegant, with the illusion of melting chocolate on the walls that takes the crown, and that's what makes Chocolate Bar such a beloved place in Poland.
12. Ozone Bar, Hong Kong, China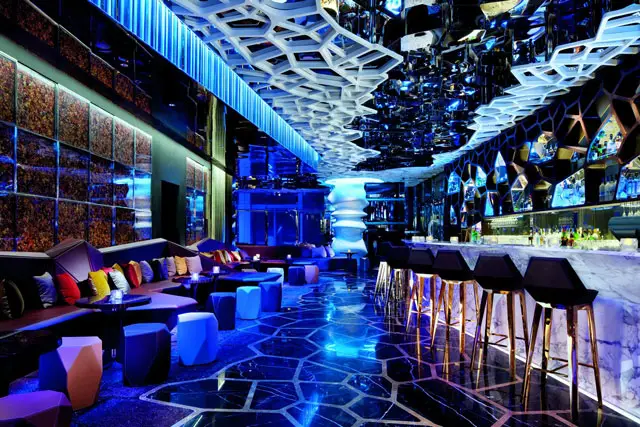 Image Source 
Aztec cobwebs and a reputation of being the highest bar in the world Ozone Bar in Hong Kong is the stuff of your dreams. The mystical interior of Ozone Bar is filled with shades of mesmerizing blue and stunning lights giving major restaurant goals to any visitor. Add to that some signature cocktails and a view of the city that is incomparable, Ozone Bar is nothing short of enlivening.
13. 5-Cinco, Berlin, Germany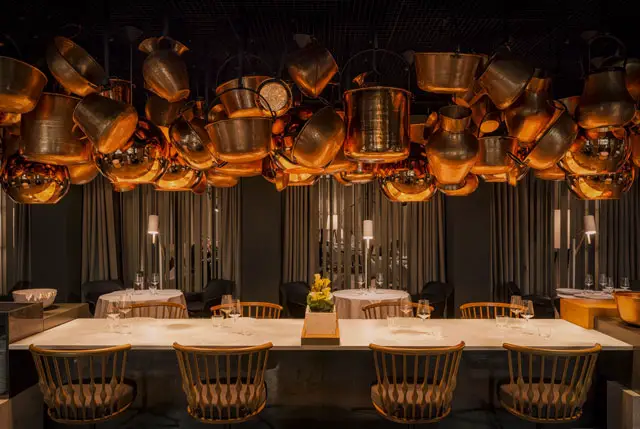 Image Source 
This world-renowned restaurant provides such delectable Mediterranean cuisine that you'd already end up making plans for the next time you wish to visit one of Germany's most wonderful dining spots. Decked with beautiful artwork and lamps hanging overhead in the form of pots and pans, 5-Cinco takes the cake in interior design that is just as mesmeric as the food.
14. Rocambolesc Cafe, Girona, Spain


Image Source 
Another one of Spain's masterpieces is the Rocambolesc Café in Girona, where your childhood fantasies come to life in the form of an interior inspired by the movie Charlie and the Chocolate Factory. Candy Cane pipes, walls filled with ice cream cones and chocolate jars, there's nothing that won't widen your eyes in Rocambolesc Café.
15. The Design Bar, Stockholm, Sweden
Talk about a colourful environment that looks like you're sitting in the exterior of the city, The Design Bar in Stockholm is the epitome of quirky art. Balloons representing clouds, walls bedecked with paintings of trees, a mix and match of colours in separate areas and what not, this bar and restaurant is sure to bring a smile to your face.
If you're wondering whether it is the right time to pack your bags and head to one of these destinations so you can dine in the most beautiful of restaurants, rest assured, no time is the wrong time to hit any of these amazing spots in the world!