Staircases have been an essential part of architectural design and our very homes since their very existence, sometime in the Stone Age. Stairs were an important invention that allowed humans to access the higher reaches of lands. When it comes to house design and architecture, staircases play an important part. Regardless of their great utility, it can be a really tough task to utilize the space that is left underneath the stairs. While several staircase designs like spiral staircases can be utilized to save the maximum space that a staircase occupies, it often becomes a problem for house owners to put the space under the stairs to use. That is why we have listed 10 superb ideas to use the waste space under the staircase.
1. Book Shelf With Reading Area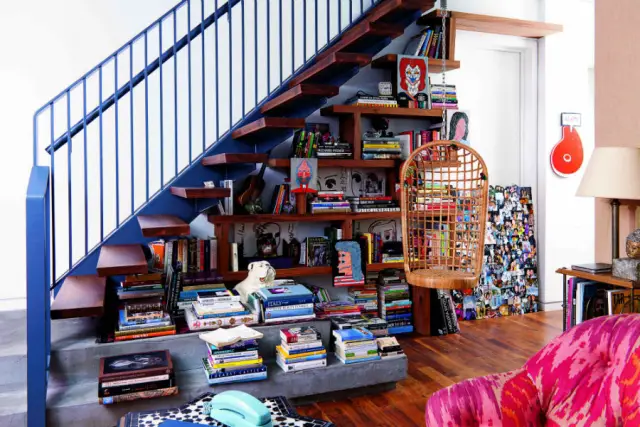 Image Credits @ booksforbetterliving.com
Storing the books under the stairs is a brilliant idea as showcased in the picture, is a perfect example of how an indoor staircase can be utilized into a cozy and comfortable reading area with the collection of your favorite books.
2. Wine Storage Space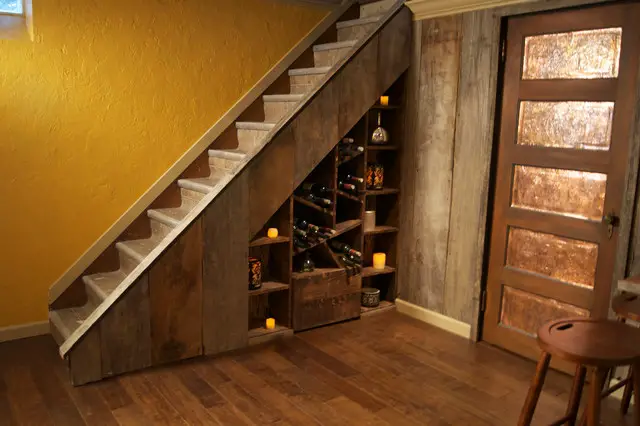 Image Credits @ bess.net
If you're a person who loves to drink and collect the various premium wines from all over the world, you might want to opt for this basic yet simple design idea. If your house does not have a wine cellar, the space under the staircase can be easily turned into one as exemplified in the above picture.
3. Small Restroom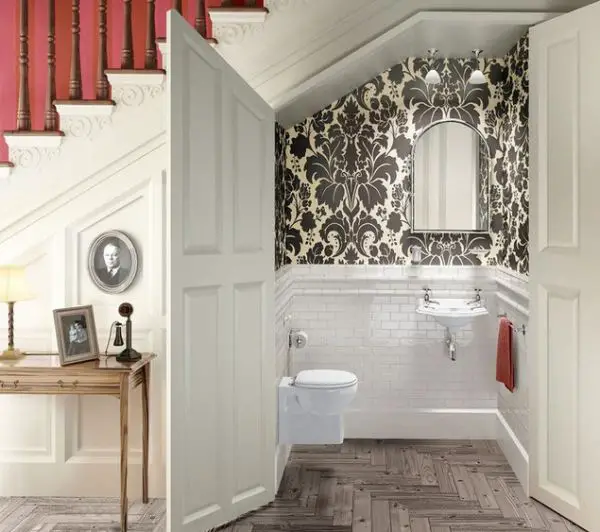 Image Credits @ homedit.com
Modern architectural ideas and utility designs have made it possible to cram the most essential of facilities in the smallest of spaces. The wall mounted washbasin and the toilet, makes it possible for the small space under the stairs to be utilized into a convenient washroom for guests.
4. Small Chilling AreaStudy Area Below Stairs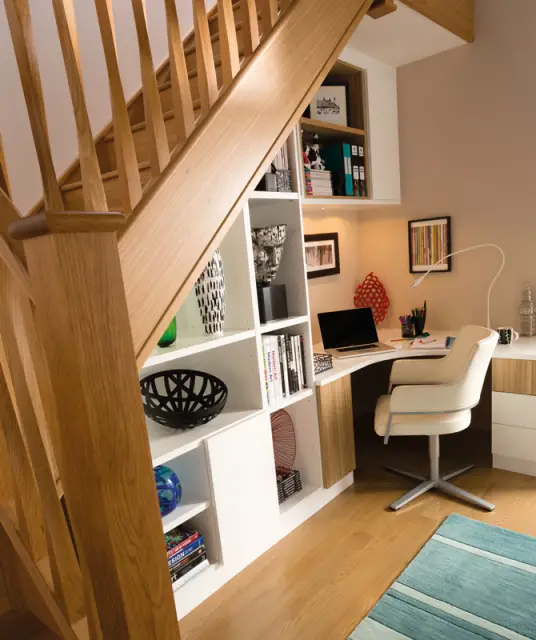 Image Credits @ nevillejohnson.co.uk
The place under an indoor staircase can be utilized into a dreamy chilling area as showing in the image above. These make great places for having a quiet moment with a book and a cup of hot cocoa during those chilly winter nights or to dream a day away as it rains outside.
5. A Minibar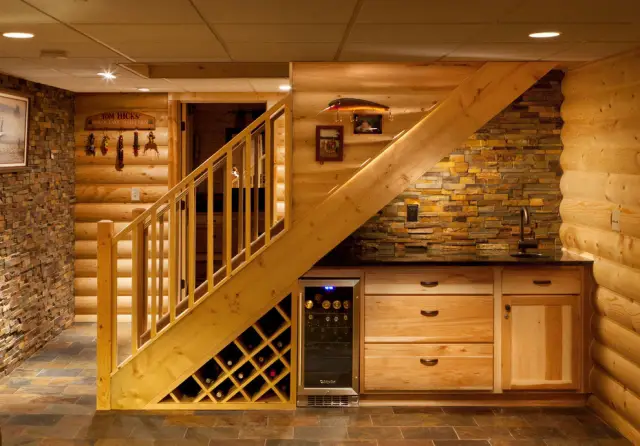 Image Credits @ houzz.com
If you love hosting small parties at your place, but do not have the space to setup a large bar to feature and store your favorite drinks. You can now setup a smart and convenient mini-bar under the staircase as shown in the picture. It is a perfect place to chill out with your friends on a warm summer afternoon or a cocktail party with close friends.
6. A Shoe Rack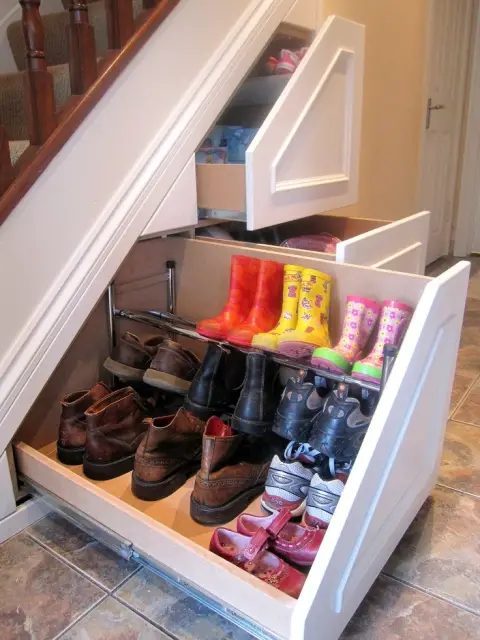 Image Credits @ cultivor.com
If the staircase is placed outside your house, it can be a perfect place to store shoes. This can be really helpful for the people with wooden floors who wish to maintain the aesthetics of their home by walking barefoot indoors.
7. A CD Case/Vinyl Rack
The wasted space under the staircase no matter how small can be utilized for several purposes. A CD/Vinyl/Tape rack, that can be conveniently stacked under that previously spider infested area under the stairs. The area can be effectively utilized into an entertainment corner with your favorite music, displayed elegantly.
8. Aquarium
Keeping fishes as pets goes back to ancient Rome and ancient China. With the invention of Glass panes, it became a popular fashion to keep fish as pets. According to the Chinese architectural principal of Fengshui the petting of fishes improves the flow of positive energy in a house. The place under the staircase can be a perfect place to install an aquarium.
9. A Small Kitchen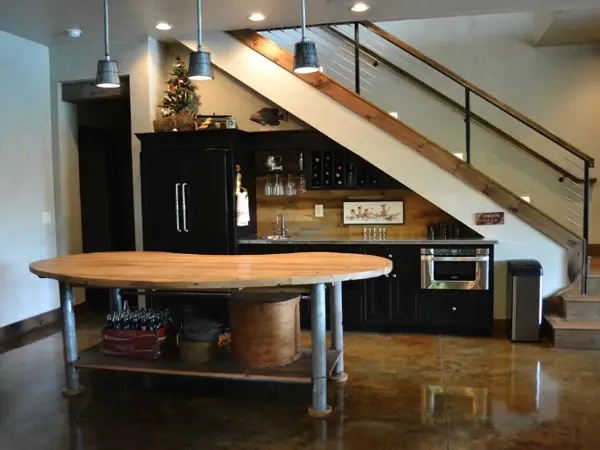 Image Credits @ onekindesign.com
In mood of a small snack and do not wish to go to the kitchen to make your favorite sandwich? Then the mundane space under the staircase can be converted into a convenient mini-kitchen to suit your late night hunger-pans effectively. MelodyHome.com features kitchen furniture and fixtures that are perfect for the small space under your staircase.
10. The People Under The Stairs
I am just kidding people, although this was a great movie. With the plethora of incredible space saving ideas to utilize the place under the stairs, the abovementioned ideas (save for the last one) are few of the most popular and useful ideas.