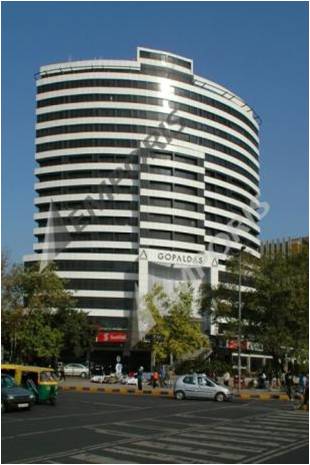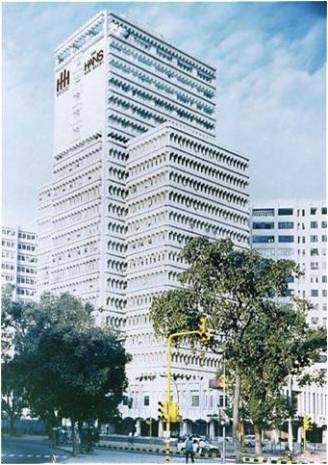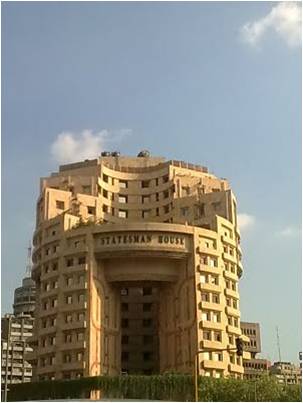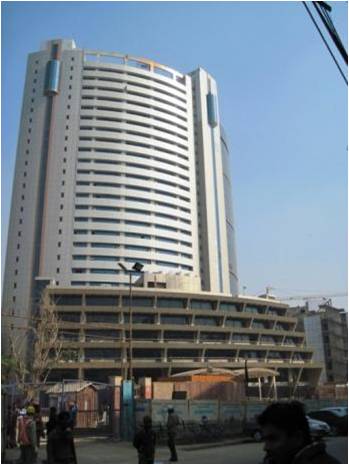 F.A.R., GROUND COVERAGE AND HEIGHT PERMISSIBLE AS PER BYE-LAWS
Connaught Place Extension, Minto Road and Ranjit Singh Road – The size of the plot will naturally depend on tha layout of the commercial area but any further sub-division of plots in the Connaught place and its proposed extension area not desirable.
Maximum FAR (Connaught Place and its extension) 150 Maximum floor coverage for all the floors shall be 25% except in the case of hotels where for ground and first floors, an additional coverage of 5% will be permissible.
Maximum height : no restriction (subject to approval by A.A.I. and fire department).

---
Function and technique, may be restricted to the patterns of culture on one hand and to the patterns of technology on the other. But, in the expression of form, one is free to communicate desired personality and concepts.
Princial responsibility in the form of style is to create meaningful form. When form is spoken of in the arts, not only the physical shape, size, and mass of a work are meant but also all the elements that contribute to the work's aesthetic structure and composition.
Many of these may be without a fixed form of their own – a rest in music, a line in painting, a space in architecture–and gain significance only as they are organized into the finished product. The basic formal elemts of architecture in the sense are space and mass. Organizing these elemtents into a composition, and the principal means by which they are given expressive quality are scale, light, texture, and color.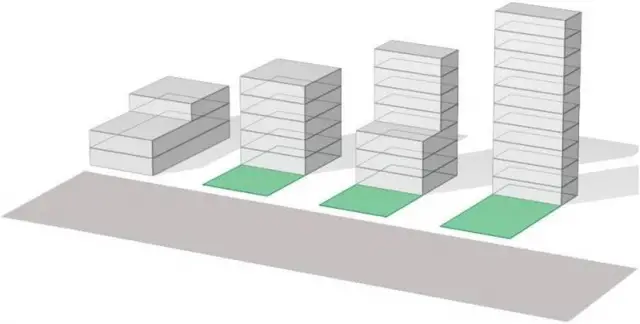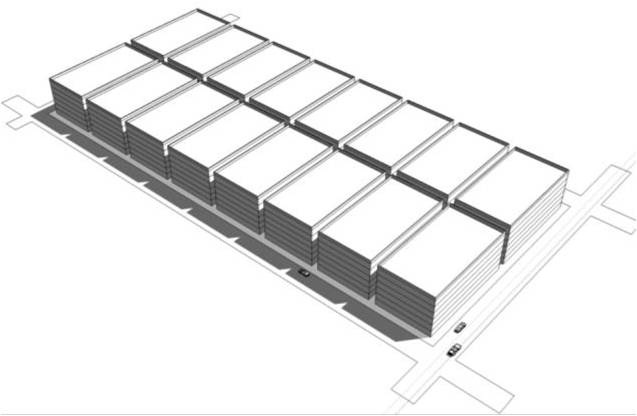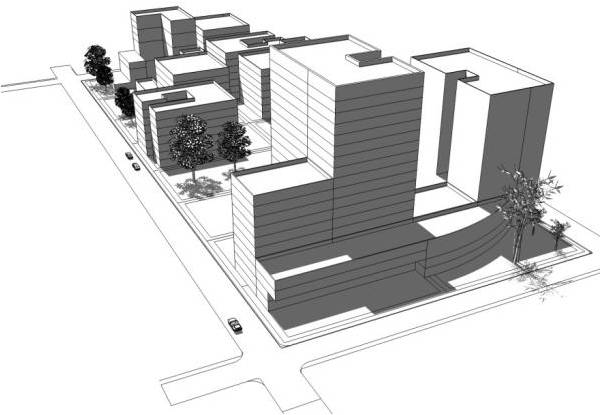 Different ways of utilizing same FAR value.                             Resultant forms of old rules(left) and new rules(right)
FAR is a modern and effective tool used in many developed and developing countries to bring about a desirable growth in the urban areas. As the relationship between the amount of permitted floor area and the area of the plot, it estimates number of users and therefore amount of utility and amenity required in an area. Thus FAR for an area is determined on the basis of the bearing capacity of the area in terms of existing and projected service and infrastructure facilities, traffic generation and road capacity, desired use and density, grain and three-dimensional form, use type, etc.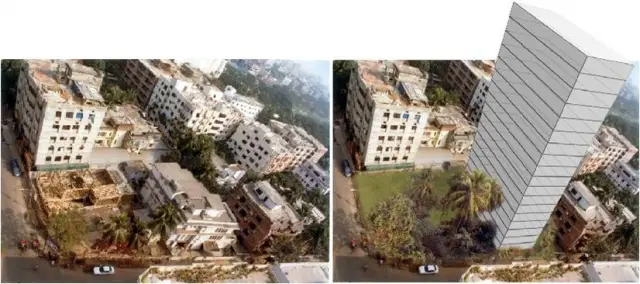 Manipulation of FAR to create more open surroundings.
Thereafter, FAR for an area is translated at individual plot levels in terms of road width, plot size and occupancy type. This is done both to maintain the desired form and density in an area based on sustainable capacity, and also to encourage or discourage certain type of development in certain areas.
FORM AND BYE-LAWS
Building bye laws in Delhi do not permit verticality of buildings. The tallest building in Delhi, the M.C.D. Civic Centre is only 28 floors high.
To cope up with these restrictions most of the architects have devised a simple strategy.
Maximize ground coverage (to control building cost)

Optimize floor area of upper floors (to gain desired height)

CIVIC CENTRE (Delhi, India)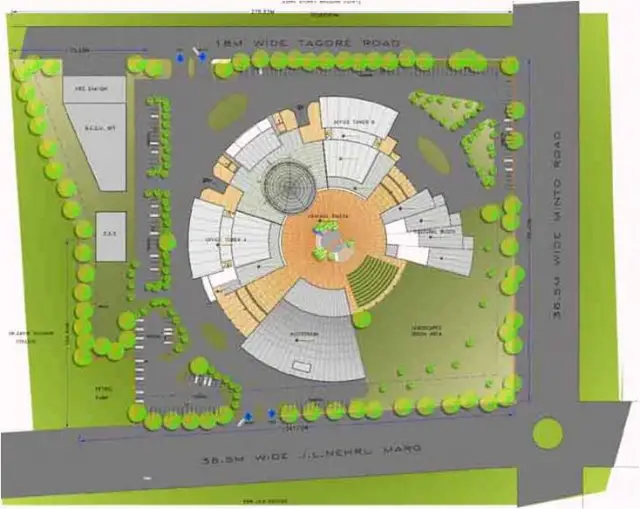 Site Plan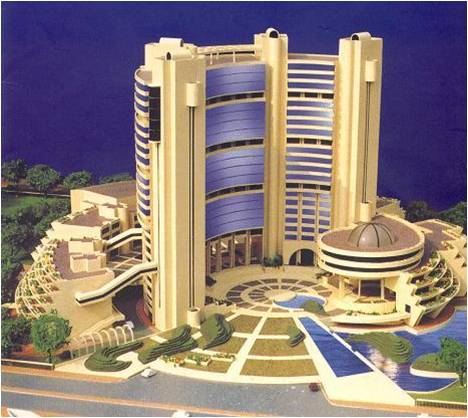 Site Area – 46,702 sq.m.
  Ground Floor Area – 10,973 sq.m.

  Ground Coverage – 23.5%

  Height   – 91 m.

  F.A.R – 148.38     
Ground Floor Plan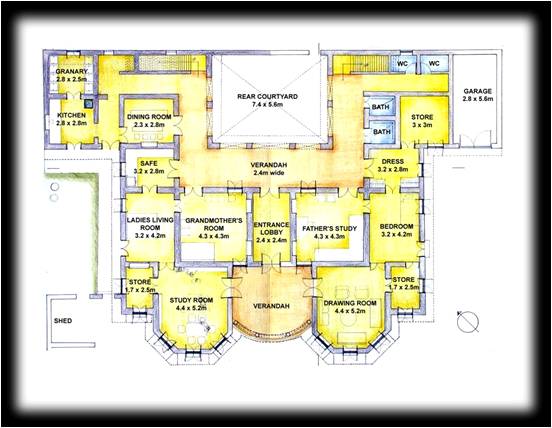 The configuration of the floor space permits use of one consolidated space or partition into smaller modules. The floors are such that accessibility to the circulation core is less than 25 m of walking distance.
The average area of the typical floor in multistoried block is approximately 2800 sq. m. and that of a six-storey block is approximately 1000 sq. m.
The floors are such that accessibility to the circulation core is less than 25 m walking distance.
The maximum wall-to-wall depth is 20 m in the six storey blocks and 18 m. in the tower block to ensures adequate daylight and minimize artificial lighting need.
ELEVATION AND FORM TREATMENT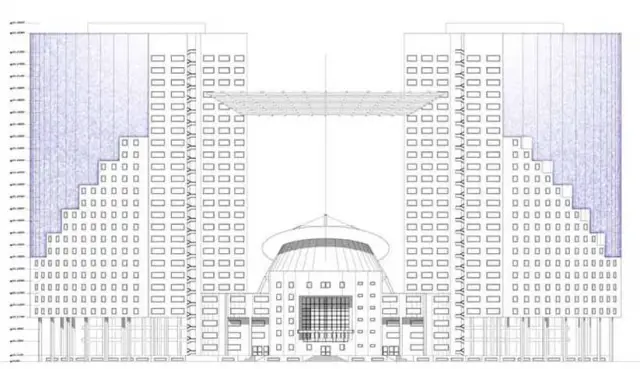 The uniform rise of the building giving a mundane appearance has been counter-attacked by providing a 6 storey circular semi ring along the periphery. Also this mundane character is broken by provision of alternate solid and voids in the form of balconies on every floor.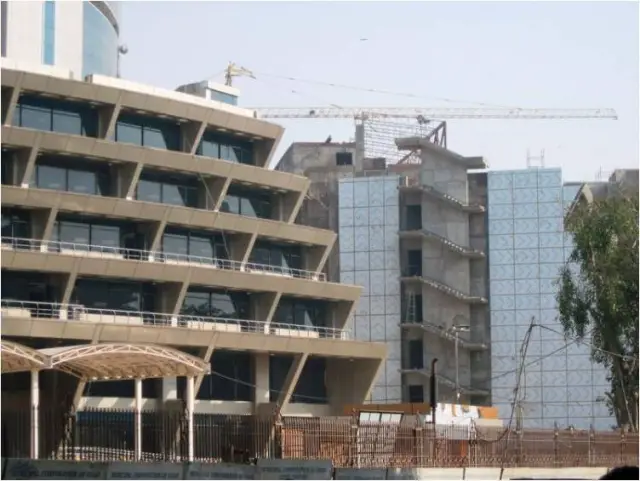 The terraces have been appropriately extended to increase the terrace area of the upper floor, while shading d lower terrace.  These terraces are covered by pergolas to allow day lighting but cut away direct solar heat gains.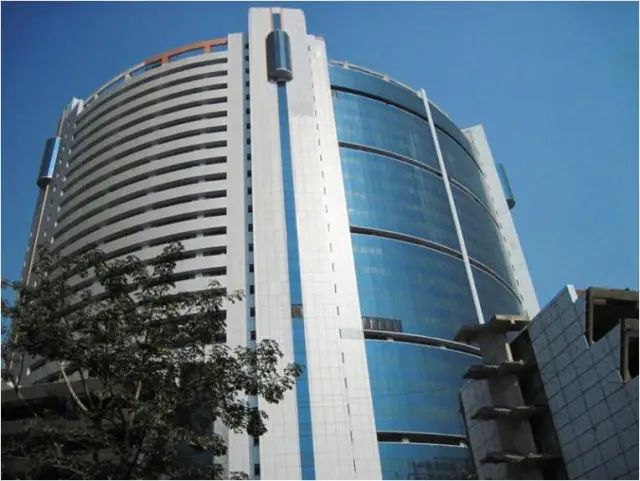 HANSALYA BHAWAN (Delhi, India)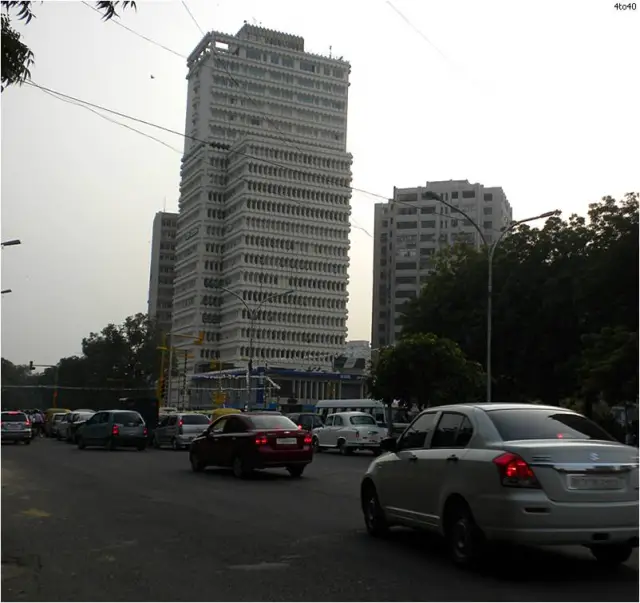 Situated on Barakhamba road, the Hansalya Bhawan is a office cum hotel building. It follows an orthological plan with smaller cuboids coming out of a central cuboidal tower. It also follows the norm of covering 25% on the lower floors and lesser floor areas on upper floors.
Year of completion – 1971

Floors in building – Office (G+14 floors), Hotel (15-21 floors); Total – 21 floors

Height – 88m

Floor areas – 100 sq.m. and above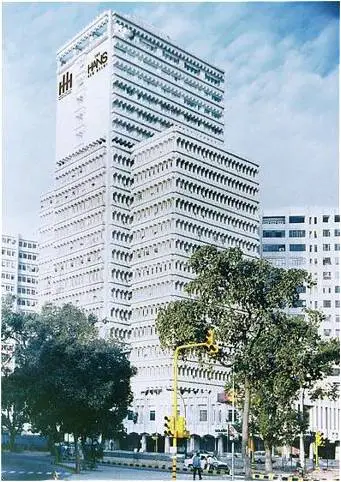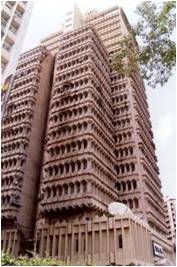 STATESMAN HOUSE (Delhi, India)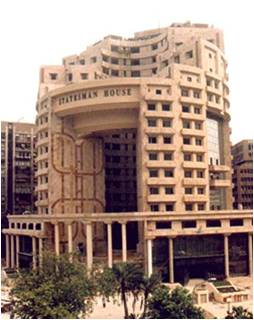 Situated on Barakhamba road, the Statesman House is a high-rise building with a circular plan at the bottom which ends up to a segment of a circle. It has a central court which helps it fulfill the need of 25% ground coverage and also provides stack cooling in the building and reduces the load on the HVAC system. The building is centrally air-conditioned with the provision of vibration proof area for printing press in basement. The building has 3 basements and 17 upper floors.
Floors in building – 17 floors and 3 basements

Architectural Height – 72 m.

Total built up area – 29600 sq.m.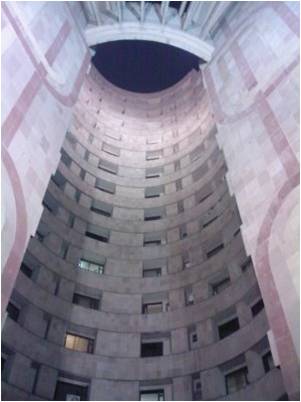 Central Void Space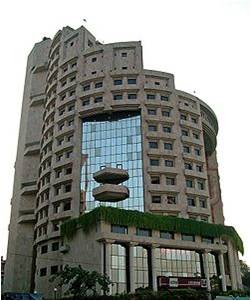 Reduction of Floor Area on Upper Floors Using Terraces
GOPALDAS BHAWAN (Delhi, India)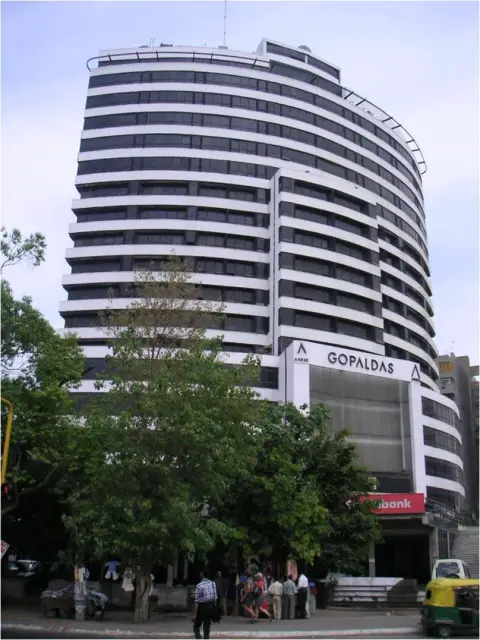 Situated on Barakhamba  road,  Gopaldas Bhawan  is a high-rise which has almost become the face of contemporary architecture in Delhi. Following a leaf shaped plan for the tower, the Gopaldas tower gets curves and corners. Recessed windows make the façade interesting. This building also has lower floors as having more floor area as compared to the upper floors. Due to  a slender tower plan the building gets height without flouting the bye laws.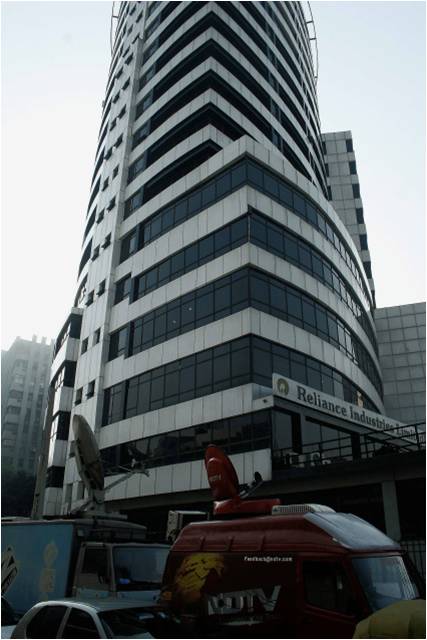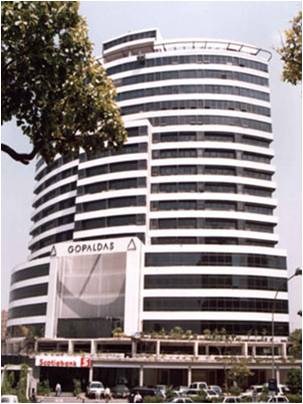 SOME OTHER ATTEMPTS AT FORM
SUITE VOLLARD (Curitiba, Brazil)

Architect: Bruno De Franco

Finished: 2001

Floor Count: 15

Height: 50.0 m.

Use: Residential
Each floor can individually rotate both clockwise as well as anti- clockwise. The rotation is controlled by the owner of the apartment by the mere push of a button. Each rotation takes a full hour.
The first two floors of the building are an Executive Center. The rest  of the floors are residential apartments.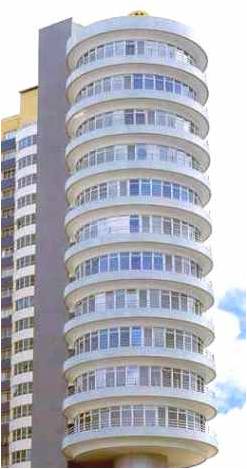 The apartment rings rotate around a static core used for building services, utilities, and all areas which require plumbing like the kitchen and bathrooms.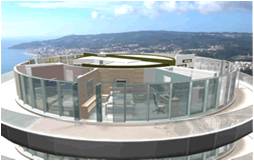 Each apartment has 2885 sq.ft of space and surrounded by 323 sq.ft of glass balconies that give access to all rooms through doors placed at every 90 degrees.
The façade of the building is built with vinyl frames attached to the revolving metal structure of the floor and of the ceiling to facilitate smooth and noiseless functioning. Vinyl frames that ensure thermal insulation and up to 50% of energy saving, even with the use of AC and heating systems. Noise reduction ranged between 35 and 50 dB.
Plan of Individual Apartment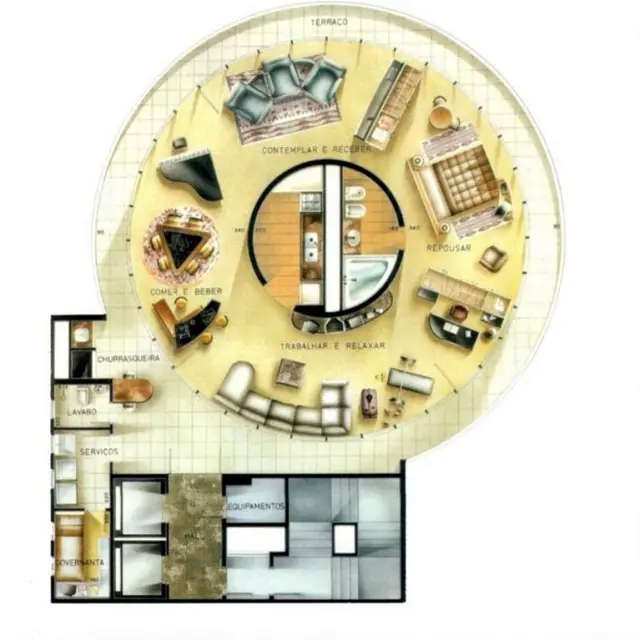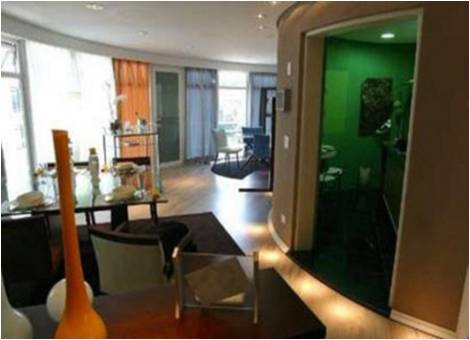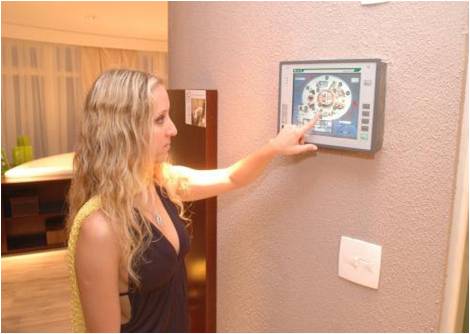 THE ROTATION CAN BE CONTROLLED BY THE TOUCH OF A BUTTON
The concept of this proposal is to spin a metallic platform rolling over a rigid concrete structure.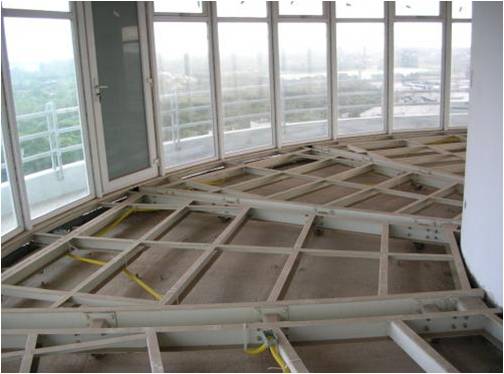 FRAMEWORK OF ROTATING PLATFORM OVER CONCRETE SLAB
The mechanical system is simple and consumes far less energy.

Each apartment consumes 0.370 kWh at full speed and fully loaded. 

Low weight and low maintenance, Compact.

Demands low space allowing more floors for the same building height.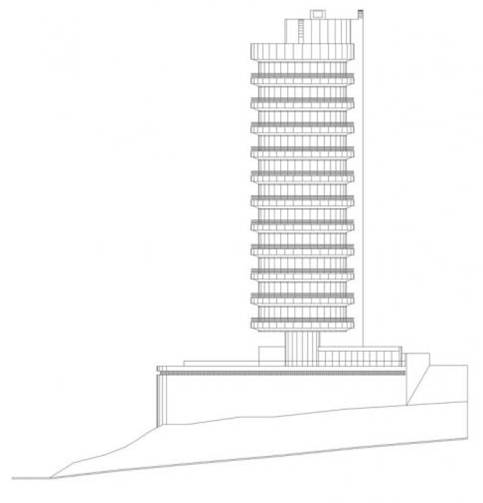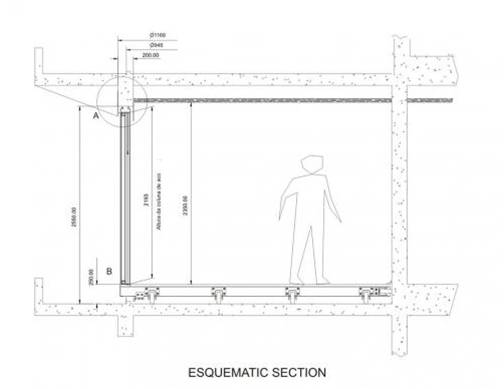 ELEVATION
A 958 ft² metal platform was laterally structured with vertical metal struts attached to its base. The upper part is telescopically fastened to a curved guide that is fixed to the concrete slab. The lateral sealing can then rotate together with the platform.
A system of cogwheels and roller chains effects the rotation. Each apartment has its own independent engine system, which can be engaged with a remote control. A complete clockwise or counterclockwise 360º turn takes one hour and the system is equipped with a programming timer. The load limit for good engine performance is 150 kgf/m², totaling 13t.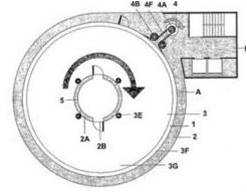 CN TOWER (Toronto, Canada)
 
Coordinates: 43.6426°N 79.3871°W

Status: Complete

Constructed: 1973–1976

Use observation, telecommunications,

attraction

Height:

Antenna

or spire:

553.33 m (1,815.4 ft)

Roof: 457.2 m (1,500.0 ft)

Top floor: 446.5 m (1,464.9 ft)

Technical details:

Floor count 147 (equivalent)

Elevators 6

Companies involved:

Architect(s) John Andrews Architect

WZMH Architects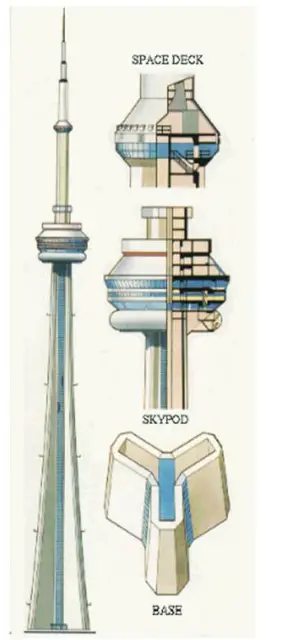 Since it opened 21 years ago, the CN Tower has been a source of pride of accomplishment for Canadians. It is truly a wonder of modern design, engineering and construction. At a height of 553.33m (1,815 ft, 5 inches), it is the World's Tallest Building and Free-Standing Structure, an important telecommunications hub, and the centre of tourism in Toronto. Each year, approximately 2 million people visit the world's tallest building to celebrate its achievement, take in the breathtaking view and enjoy all of the attractions the CN Tower has to offer.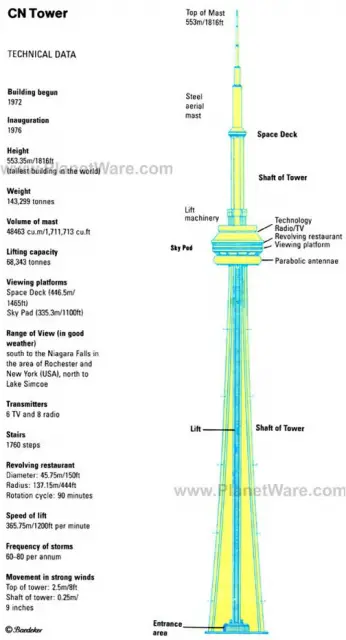 Fire safety

–The CN Tower has had a perfect record against fire due to a carefully conceived design, interior monitoring system and diligent security force. In the event of fire, emergency generators supply power for the elevators and other devices. Emergency fire pumps send water to the top of the Tower at a rate of 2,273 litres a minute. Two reservoirs containing 68,190 litres of water are also maintained in the SkyPod.

Elevator control –The CN Tower's six high-speed elevators are linked to their own elaborate control system. In the event of a power failure, five 450 KW diesel generators supply emergency power within 10 seconds. If the elevator exceeds a certain speed or starts to fall, the most can drop is 1.83 m due to plodding devices which automatically jam into the elevator shaft.

Wind resistance — Like all tall, narrow buildings, the Tower sways in extreme wind conditions but it can withstand winds of up to 260 mph (418 kph) and two ten-ton swinging counterparts, mounted on the antenna, ensure that it never exceeds acceptable conditions. The armour-plated windows on the observation levels and restaurant were carefully designed for extreme wind tolerance with outside panes of 95 cm thickness and inside panes of 64 cm thickness.
 
A Vertical Ecosystem Structure (VES) is a freestanding structure that when incorporated into a larger structure will absorb the building's structural loads and create conditions for vegetation to prosper.
A vertical landscape provides the following advantages: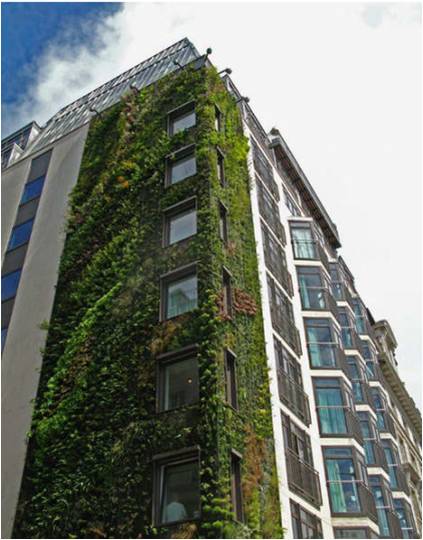 By

incorporating a vertical landscape into the design of a structure, an architect can have the added green benefits of a roof garden while still being able to place photovoltaic arrays on the roof to receive the optimum amount of sunlight the site can provide.
With a roof garden, the additional load of the vegetation must be transferred to the shear walls, but with a vertical landscape the load is already on the wall, which allows heavier types of vegetation and also more diverse types of vegetation than on a roof garden.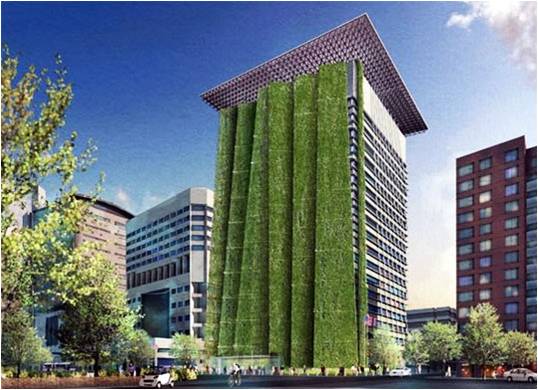 Vertical landscapes are much more adaptable than a roof garden because a vertical landscape can be oriented in different directions.



The higher a building is the smaller the ratio between wall space and roof space, so in most cases a vertical landscape could provide a larger area for vegetation and thus more vegetation.


More vegetation

lowers the impact of Heat Island Effect on urban environments, so vertical landscapes would help alleviate this problem.

 
ACROS FUKUOKA (Japan)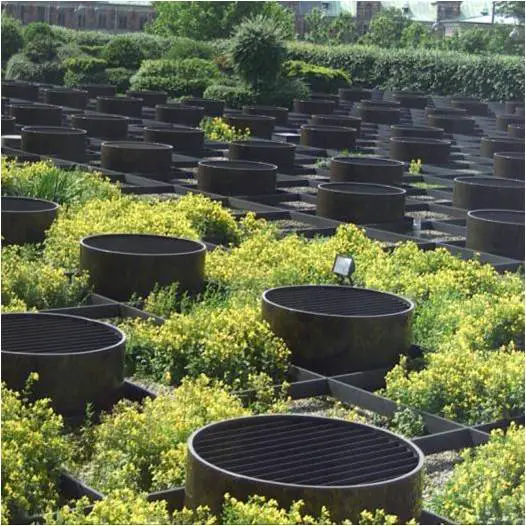 From one side, the ACROS Fukuoka building looks like a normal, glass-walled Japanese high-rise office building. But on the opposite side is one of the most impressive green roofs in the world. The building was erected on the very last patch of green in the city center, so architects Emilio Ambasz & Associates wanted to incorporate the green space into the building's design. The green roof features over 35,000 plants from 76 species and merges with the large park at ground level.