As a carpenter, it's very important to have all necessary tools within reach at all times. You can't always use a toolbox or bag and carry it around while working. So getting the best carpenter tool vest with pockets is an essential investment to make. They're best to balance the tools weight evenly, leaving the hassle of pulling or adjusting your tool belt.
These vests are especially designed to hold various sizes' hand tools within numerous pockets, pouches and slots. Some of these also have an additional loop for holding a hammer. These are made with highly durable and breathable material for added comfort and convenience. And if you're also planning to invest in good tools for your workshop, you can go over the handyman guide for best reviewed products and much more.
Check out the best Carpenter Tool Vests with Pockets below:
The STANLEY FATMAX FMST530201 is a top-quality vest that ensures your safety as well as convenience with its highly functioning built. It features multiple storage compartments and pockets for easy organization of all your tools. The breathable air mesh material allows proper ventilation and comfortable working even in hot temperatures. The adjustable shoulder strap ensures customized fit and higher comforting mobility. Added light reflective safety strip helps in high-visibility and ensures more safety.
Multiple storage compartments 
Mesh material 
Adjustable shoulder strap 
Reflexive neon strip
Highly durable, versatile and secure
Tools might fall while bending
It is made with a breathable mesh material and multiple compartments and pockets for all storage needs. The reflective neon strip ensures more safety and visibility.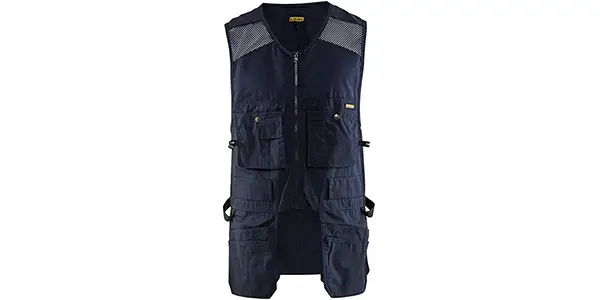 The Blaklader Kangaroo Vest is constructed with a combination of polyester, cotton and mesh-fabric to ensure durability. It is lightweight and also guarantees extra comfort and keeps the wearer cool. The secure zip-up closer and hammer loop at the sides are definite additional perks. It has plenty of pockets both at the front and hip area for every tool. It even includes two big pockets with button closure for securely keeping necessary items.
Durable material 
Large pockets with buttons 
Breathable mesh fabric 
Side hammer loop 
3 colour options
It is made with highly durable and breathable material. It has a large number of pockets to ensure space for every necessary tool, it also features a hammer loop.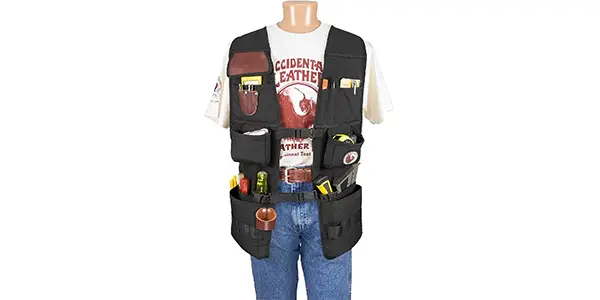 The Occidental Leather 2575 Oxy Pro is a superior quality and dependable vest made with high-quality material. Constructed for extra comfort with the open back design for more breathable air flow. The readily available option for left-handed workmen is the most unique feature. It comes with 28 pockets providing ample space for tools and also has additional loops and attaching points. The 2 adjustable belts across the front area and straps makes it more convenient and easy to fit.
Open back design 
Equal weight distribution 
Wide shoulder and adjustable straps 
Buying option for left-handed men 
Durable and secure
It is made with durable material and an open-back design for added breathability. It also features over 28 pockets and tool holders for storage needs.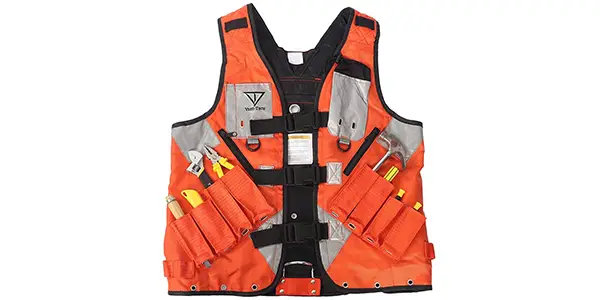 The Hersent Heavy Duty Vest is a multi-purpose, durable and strong design vest. It comes with 16 pockets for tool organization and easy access. The adjustable shoulder and side straps provide an easy customized fit and maximum comfort. It also has reflective strips in the front and back which works as a high visibility and safety measure. It features an additional loop at the back for the hammer and two large pockets for the user to be more versatile.
Durable vest 
Comfortable design 
Reflective strips 
Adjustable custom fit 
Multiple pockets
Only available in Small to Xl size
It has 16 pockets for multiple storage needs and provides a lot of room for your tools' organization. The additional features of loop and reflective strip makes it more versatile.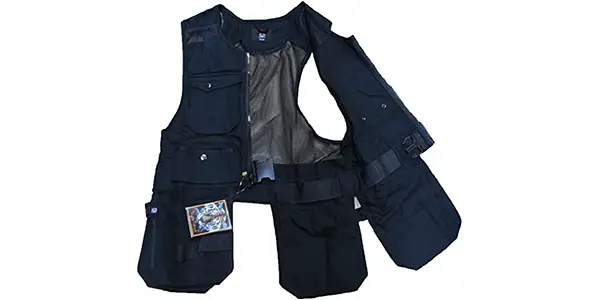 The Tiger Trends Work Vest Pockets Pro is made with a mixture of durable cotton and polyester material. It has a front zipper closure and can be machine washed for easier use. It features heavy duty breathable mesh on the back and built-in shoulder pads for comfort and air circulation. It comes with 4 hanging tool pockets inside the belt which eliminate weight on shoulders. And also has a specially designed pocket for measuring tape.
4 hanging tool pockets
Breathable mesh material
Special pocket for measuring tape
Machine wash
Zipper closer
Less suitable for left-handed
It comes with 4 hanging pockets which equally distributes the weight and eliminates stress on shoulders. It can be easily machine washed and the breathable material provides extra comfort.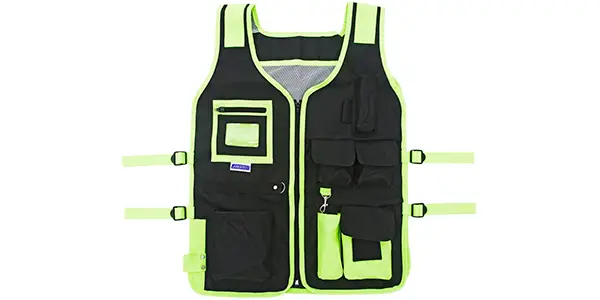 The JORESTECH Tool Vest is constructed with heavy duty black nylon material which is long-lasting. It features multiple pockets and pouches for hammer, nails and flashlight for easier access. The pockets also have gear loops and clip points that keep tools secure and well-placed. It also comes with an adjustable side strap and 2 reflective strips at the back for custom fit and more safety respectively. The vest comes in two colours- orange and green to choose from.
Adjustable straps
Multiple pockets
Clip point and loops
2 reflective strip
Machine washable
It has multiple pouches with clip points for keeping your tools more secure. The adjustable strap and reflective strip is additional for comfort and safety.
Frequently Asked Questions
1. What should a carpenter have in his tool belt?
A carpenter must have these basic tools in his belt:
Claw hammer
Chalk line
Carpenter's pencil/pen or Sharpie
Putty knife
Lineman Pliers
Utility knife
Nail sets
Screws
Cold Chisel
Speed square
Torpedo level
4-in-1 screwdriver
Electrical tape
2. What tools does a finish carpenter need?
Since finish carpentry requires a lot of careful woodworking, it needs a variety of measuring and marking tools. These includes:
Hand saws
Jigsaws
Circular saws
Knives
Chisels
Planers
Hammer
Screwdriver
Power drill
Sander
Nail guns
Air compressors
Tape measure
Speed square
Combination square
Spirit or bubble level
Marking knives
Scribing tools
Digital angle gauges
3. What is the most useful woodworking tool?
Many power tools are necessary for woodworking, but the table saw is the most useful and versatile among all. It is used for making straight cuts and with addition of any jigs, it can help in performing numerous tasks with precision and repeatability. You can use a table saw for roughing out small parts from larger pieces, smoothing out the edges and even trimming the pieces to the final size. It is best suited for making rip cuts and even cross cuts across a wooden board and for re-sawing thick logs into thinner boards.
4. How do you wear a tool pouch?
The best way to wear a tool pouch includes the following steps:
First, make sure to buy a tool belt with excellent quality pouches and pockets and all required features.
Inspect the tool belt before every use, make sure it's not dirty or damaged.
Organize your tool pouches properly according to your preference, based on whether you're a left or right-handed man. For right-handed men, the buckle should be on the left side and the main pouch on the right side, and vice-versa for left-handed men.
Now, put your main tools at first hand or on your dominant side, and auxiliary tools on the opposite side. Keep primary tools like claw hammer, carpenter pencil or pen, chalk line, pliers, utility knife, etc. in the main pouch. And secondary tools like speed square, nail sets, cold chisel, jigs, screwdrivers in the other pouch.
Make sure that you don't carry any extra tool which you don't need since larger weight can create back pain and other issues.
You should also free-up your hands while climbing, put all tools in pouches. And you can also consider a change of mass centre and turn your belt occasionally to reach out for tools.
Try to properly wear the belt by strongly locking the buckle, and make sure the fitting is not too loose or too tight.
After wearing the tool belt, make sure the handles, pounces and suspender rings are outside the belt to avoid discomfort.
5. Which tool is often kept on a carpenter's belt and used to take measurements?
Most carpenters carry a tape measure or measuring tape on their belt for taking every go-to measurement required for their work. It is like a flexible ruler which is used to measure the size of the wood, it consists of a ribbon of cloth, plastic, fiberglass, or metal strip with linear measurement markings all over it.
6. What are the different ways in taking care of the carpentry tools?
Every carpentry tool would last for a longer period if you take proper care of it. Here are some different ways to do that:
Always store your tools properly – You can either get or make a pegboard or drawers unit to store your tools and keep them more organized. You can also store the power tools in their respective cases which they come in, they're usually made of reusable plastic and are sturdy.
Keep your tools dry – This is one of the most important tip, you need to keep your tools dry and never keep them away while they're wet. This can result in rusting, so always try to keep them dry and even if they get wet, dry them with a dry rug.
Watch out for repairs – You should regularly inspect your tools and immediately repair any cracks, rust, chips, tear and other damages.
Clean your tools regularly – Always try to clean your tools after every use, and if you can't do that, then at least wipe them down at the end of each day's work. You can use soap and water or damped cloth, but make sure to dry them well before putting them away. You can also lubricate every big tool within some days and use air compressors to blow off any extra debris.
Conclusion
There are a lot of Carpenter Tool Vests with Pockets available in the market, but we've provided the best rated products for you. They're made with highly durable material and custom fit design. All of these have multiple pockets and pouches for keeping every woodworking tool.
Additionally, they also provide extra comfort and convenience with breathable material construction. They're all under budget without compromising on the quality.